Survivor Remembers Years of Pain

By Arthur Williams
Prince George Free Press [Canada]
January 17, 2007

http://www.pgfreepress.com/portals-code/list.cgi?paper=26&cat=23&id=812819&more=

For Pearl Stelmacker, residential schools are not a part of the distant past but a significant and traumatic part of her life.

Stelmacker spent six years of her childhood at one of the most infamous residential schools in Canada – Alberni Indian Residential School in Port Alberni.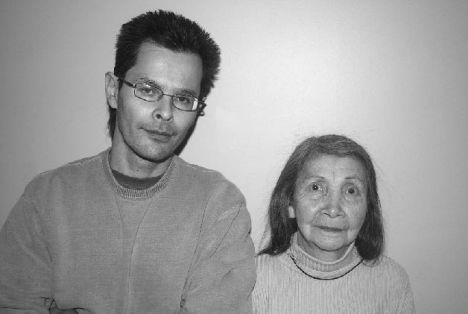 Pearl Stelmacker (right) and her son, Max, spoke with the Free Press about how the residential school system impacted their family.
Photo by Arthur Williams/Free Press


In 1995, Alberni Indian Residential School supervisor Arthur Henry Plint – who worked at the school from 1948 to 1968 – was convicted of 18 counts of indecent assault against aboriginal students. Plint was sentenced to 11 years in prison and is now out on parole.

Stelmacker now lives in Prince George, but she was born in the Gitxsan village of Kispiox, northwest of Hazelton. She was born in 1938 and was sent to the residential school at the age of nine.

"They [the priests and nuns from the residential school] would go into the village with a black car. When parents saw that, they hid their children like my mother did," Stelmacker said. "We didn't understand why they wanted us to hide. Mom wouldn't let them in the house. [But] they put a lot of pressure on my dad."

Stelmacker and her sisters and brother were taken to Prince Rupert to board the ferry to Vancouver Island. Her mother, grandmother, aunts and great grandmother were there to see them off.

"[The residential school officials] were there beside my family to make sure we got on the boat," she said.

When she arrived at Port Alberni she spoke no English, and had struggled in public school because she is hearing impaired.

"I was very scared – very frightened. I was kind of in shock," Stelmacker said. "No one explained it to me. I couldn't hear what the teachers were saying. I had to watch the other students to see what book we were working on."

It took until Grade 3 for her sister to convince the teachers Stelmacker couldn't hear.

"I taught myself, mostly. By the time I was in Grade 4 I cheated. A teacher caught me and I got a licking," she said. "By Grade 7 or 8 I could speak and lip-read English."

The students were put into 30-person dorms. Every morning started with chores, then a meagre breakfast.

"The food wasn't good. Every day for breakfast we got white bread – no butter – milk and porridge. No fruit. During my late teens, once a week we got apples, oranges and candy. Those who were sexually abused got more," she said.

Stelmacker was warned by family members never to talk in their own language.

"Our relations took us behind a closed door and said don't ever talk in our language or you'll get beat up," she said. "There was this big, tall lady. She'd bite her tongue when she hit you. She'd use a two-by-four stick to hit the little kids."

Stelmacker was frequently bullied by teachers, staff and her peers because of her disability. The woman slammed her head into a wall for taking an apple off the ground, she said.

"It ruined my left eye," Stelmacker said.

Although she was being sexually molested, many of her peers – and her own brother – weren't so lucky. She and others had encounters with Arthur Plint.

"It was terrible. He took this girl the same age as me – she was small for her age, she still had to wear little girl's clothes," Stelmacker said. "She was cleaning the residents – they had private houses – and his wife wasn't around. And he grabbed her, threw her on the bed and raped her."

At the time she was 14 years old and didn't know anything about sex or rape, she said. She was never told about puberty or how it would change her body.

"I got my period – I didn't know why I was bleeding," she said. "We weren't allowed to talk about it."

Once, after hurting her finger, she went to Plint's office to have it looked at.

"He pulled my hand towards his groin. I yanked back and this is the result," Stelmacker said, holding up her twisted index finger.

Almost as bad as the physical and sexual abuse was the emotional abuse, she said.

"They were saying our culture was bad – our parents were bad, and that was why they took us away," she said.

When she and the other students returned home in the summer, things were different there too, she said.

"It caused problems in the family. People were sad – depressed," she said. "Some turned to alcohol. The second year my mom and dad split up. There was so much strain in the family."

From then on she was to alternate summers between her father and her mother's homes.

"The Indian agent said there had to be a woman in the home, so he [her father] would go to the bar and pick up any woman so we could come home," Stelmacker said. "Mom couldn't afford to take us home, so every other summer we had to stay in Port Alberni."

The second half of this series will look at how her time in the residential school affected Stelmacker's life, and the lives of her children, after she left the school.