Harvard's Hubris Skewered in New Campus Mag

By Gayle Fee and Laura Raposa
Boston Herald [Cambridge MA]
March 20, 2007

http://thetrack.bostonherald.com/moreTrack/view.bg?articleid=189579

Harvard University has given the world seven U.S. presidents, 75 Nobel Prize winners, Bill Gates and Matt Damon, (even though the last two never graduated).

But when you've been around for almost 400 years, there are bound to be a few skeletons in the old Crimson closet. And 02138, the new maggie targeting the Ivy League school's influential grads, has come up with a hall of shame that's sure to leave Harvard Crimson-faced.

The "Hubris Hall of Fame," an annual list of "the most egregious cases of Harvard Hubris in recent memory" includes former Boston Cardinal Bernard Law, who was the pointman in the Archdiocese child-sex scandal, chick-lit plagiarist Kaavya Viswanathan, corrupt former Mexican President Carlos Salinas de Gortari and former Enron CEO Jeffrey Skilling, now in the slammer.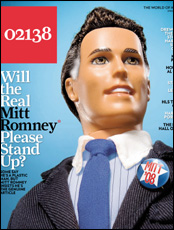 This is the cover of the new 01238 campus magazine that targets influential Harvard grads.


"The key for us was finding that unhealthy element of arrogance and often the incompetence that accompanied that arrogance," said Bom Kim, president and founder of 02138. "It wasn't hard to find a lot of examples."

Of course, Law isn't exactly a new story. He beat feet to Rome after it became clear that the leader of Boston's archdiocese was covering up for abusive priests in dozens of cases of sexual misconduct with kids. But the cardinal's connection to Harvard - he graduated in 1953 with a degree in medieval history - isn't widely known.

"It's not something that Harvard goes out of its way to publicize," said Kim. "He was a no-brainer."

Law's hubris, says the maggie, was "imagining the pomp and majesty of the Church would protect him."

Onetime head of the class of 2008, Viswanathan's debut novel "How Opal Mehta Got Kissed, Got Wild and Got a Life," made her the Next Big Thing in chick lit until it was revealed (by the Harvard Crimson) that sections of the book were lifted - verbatim - from two novels by Megan McCafferty.

Kaavya's hubris, according to 02138, was telling a reporter "she'd had no literary influences."

"She rose so quickly and it all unraveled just as fast," said Kim. "It was too good a story to pass up."

The ex-Mexican prez (Ph.D. 1978) was, er, honored for causing "one of the worst economic disasters in Latin American history" while Skilling (MBA 1979) got his props for telling Larry King that Enron was in "great shape" when he left there. Ah, no.

Other inductees include Paul Bremer (MBA, 1966), onetime head of the Coalition Provisional Authority in Baghdad ("disbanded the Iraqi Army rendering thousands of young men, many of them with guns, unemployed and ill-disposed towards America,"); Kaleil Tuzman, (1994) the dot-com entrepreneur who invited a film crew to record his govWorks.com's ascent, only to burn through $60 million in venture capital in a spectacular bust; Andre Shliefer, (1982) the Harvard economics professor and Russian adviser charged with international insider trading; and Mayflower scion Richard Whitney (1888) whose thieving ways sent him to Sing-Sing.

So is there something about Harvard that breeds over-the-top hubris?

"Harvard people are competitive by nature," said Kim. "And competition can bring out the best in people as well as the worst in people."

But Kim added that there was "no shortage of candidates" for the Hall of Fame.

File Under: Crimson In Triumph Flashing?

Food for thought

So how did uberchef Todd English get the good word yesterday that his PBS show, "Food Trip with Todd English" was nominated for an oh-so-prestigious James Beard Foundation Award? On his BlackBerry, of course!

"Wow, that's cool," said the toque titan, as he checked his PDA during lunch at Kingfish Hall at Quincy Marketplace.

English's first "Food Trip" will vie for a Beard in the "Television Food Special" category at the May 7 awards gala in the Apple. While at the fab foodie fest, the Olives kitchen king - the group's first Rising Star Chef in 1991 - will take charge of the elegant eats prepared by other Rising Star alum at the preawards gala for giddy gastronomes.

And speaking of Rising Star Chefs, Radius' own Patrick Connelly will vie for the honor this year with a galaxy of others from Chicago, New York and San Francisco.

More local nominees making the Food Trip to Lincoln Center in May include: Ana Sortun of Oleana in Cambridge whose book, "Spice," is competing in the international cookbook category. The "Cooks Illustrated" gang who produce PBS' "America's Test Kitchen" in Brookline are in the running for Best National Television Food Show. And local chefs Michael Leviton from West Newton's Lumiere and Frank McClelland from L'Espalier and Marc Orfaly of Pigalle and Marco will fight it out for Best Chef: Northeast.

Food Fight!

Contact: trackgals@bostonherald.com