Former Local Priest under Investigation
Former Priest at St. Mary Accused of Misconduct with Minor

By Amy Flowers Umble
Free Lance-Star [Fredericksburg]
May 8, 2007

http://fredericksburg.com/News/FLS/2007/052007/05082007/282158

A former priest at St. Mary Catholic Church in Fredericksburg has been temporarily relieved of his duties while the Arlington Diocese investigates allegations of misconduct.

The Rev. Christopher Buckner, 54, served at St. Mary from 1992 to 2000 before leaving to become a faculty member with the Catholic Distance University.

An accuser came forth to allege that Buckner engaged in "inappropriate conduct with a minor between 1992 and 1994," according to a news release from the Arlington Diocese. The diocese extends from Frederick County, Md., to Spotsylvania County.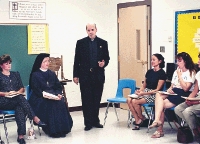 The Rev. Christopher Buckner, a former priest at St. Mary Church, talks to Holy Cross Academy staff in 1998.
Photo by Suzanne Carr Rossi


The accusation of abuse involved a parishioner at St. Mary, director of communications for the diocese, Soren Johnson, said yesterday.

Buckner has denied the allegations, the news release said.

The diocese has reported the accusations to the authorities, and Buckner has been placed on administrative leave while the diocese investigates the claims.

Buckner was a priest at St. Mary when Holy Cross Academy opened in southern Stafford in 1998. He was also known for leading annual pilgrimages to Jerusalem.

Under a policy updated in 2003, any priest that is determined to have abused a minor will be permanently removed from ministry.

The diocesan Child Protection Policy is online at arlingtondiocese.org, under Child Protection and Safety. Anyone who knows of misconduct or abuse can notify the diocesan victim assis- tance coordinator,

Patricia Mudd at 703/841-2530.

Amy Flowers Umble: 540/735-1973 Email: aumble@freelancestar.com