Defrocked Priest Sentenced in Fort Collins

By Mike Hooker
CBS 4
May 30, 2007

http://cbs4denver.com/topstories/local_story_150152323.html

(CBS4/AP) Fort Collins, Colo. A defrocked Roman Catholic priest was sentenced Wednesday to 14 years to life in prison on charges that he sexually abused a teen boy.

Jurors convicted Timothy Joseph Evans, 44, in March of two counts of sexual assault on a child by a person in a position of trust and one count of sexual assault on a child with a pattern of abuse.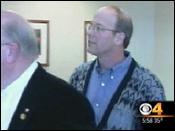 Timothy Evans (file)
Photo by The CBS4


Evans was accused of inappropriately touching a 17-year-old parishioner on two occasions on church property while serving as priest at St. Elizabeth Ann Seton Church in Fort Collins. Evans was a priest there from 1998 to 2002.

Three other witnesses testified at trial of similar accusations.

"I deeply regret the pain that these damaging events have caused." Two men who say they were victims of the former priest were in court and they echoed prosecutors, who say Evans is a master manipulator who used his victims' religious faith for his own sexual gratification.

"The nature of the crime was not just about the touch," victim Dana Rotkovich said. "The difference was the amount of grooming and what he did in preparing the victims along the way. That's what made the crime so heinous."

During the sentencing hearing Wednesday, District Court Judge Jolene Blair referred to the victims as credible, honorable young men who had the courage to testify.

Evans was scheduled to be sentenced Thursday in a similar case in Jefferson County. He was convicted there in April of sexual assault on a child by a person in a position of trust.

In that case, he was accused of sexual assaulting a 16-year-old boy between 1995 and 1997 while assigned to the Spirit of Christ Parish in Arvada.

"I was, and am, a joyful servant of the lord," Evans said in court rather than apologizing. He then asked the judge for a compassionate and healing sentence.

More than 50 people sent letters to the judge in support of Evans with some in court, pleading with the Blair for the lightest possible sentence.

With mandatory sentencing, Blair didn't have much leeway, having to choice but to sentence Evans 10 years to life as the minimum.

Evans' attorney, Joseph Gavaldon, said if he wasn't a priest, he might not have gotten any prison time.

"Fourteen years is better than 20," Gavaldon said. "But at the same time, my argument is still that I think the sentencing is very severe."

Evans was removed from parish ministry in Fort Collins in 2002 and was defrocked in 2003.

In a written statement, Denver Archbisop Charles Chaput said, "I deeply regret the pain that these damaging events have caused."