LI Bishop to Head National Catholic Panel

By Bart Jones
Newsday
December 4, 2007

http://www.newsday.com/news/local/ny-libish1205,0,7988297.story

Bishop William Murphy has been elected head of a prestigious domestic policy committee that will help the U.S. Catholic church shape positions on issues ranging from welfare to health care to the death penalty.

Murphy, the head of Long Island's 1.4 million Catholics, was elected to the post by fellow bishops on Nov. 15 during their general meeting in Baltimore, the Diocese of Rockville Centre announced Tuesday.

Murphy's election will give him a relatively powerful post to help shape and disseminate church positions on many hot-button issues, said David Gibson, a church analyst and author of a book on Pope Benedict XVI.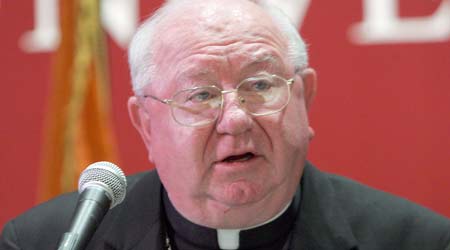 Bishop William Murphy of the Rockville Centre Diocese at Adelphi University in October.
Photo by Howard Schnapp


The Domestic Policy Committee of the U.S. Conference of Catholic Bishops "is a major platform for the bishops conference on the most contentious issues of the day, ranging from abortion to immigration," Gibson said. "It's a committee that can make headlines."

Murphy's post, which he will handle in addition to his duties as bishop here, will include drafting and sending letters to government agencies or even the White House expressing church positions on social issues of the day.

Murphy gained much of his expertise on church social teachings when he served on the Pontifical Commission for Justice and Peace in Rome from 1974 to 1987, including as undersecretary from 1980 to 1987.

Murphy could not be reached immediately for comment. Some of his critics said they doubted many people would listen to his pronouncements.

Phil Megna of the Long Island Voice of the Faithful, a group of Catholics calling for greater accountability from the church hierarchy, said Murphy and others had lost credibility because of the sex abuse scandal and cover-up, among other reasons. "The problem is nobody listens [to them] because they don't have their own house in order," Megna said.

But others said Murphy remains highly regarded by many of his fellow bishops, reflected in his election to the new post, which he will hold for the next three years effective immediately.

Phyllis Zagano, a senior research associate-in-residence at Hofstra University who specializes in Catholic studies, said Murphy has an excellent grasp of Catholic doctrine that will serve him well in the post.

"I can't think of anyone who knows Catholic social teachings better than Murphy," Zagano said. Zagano said she has heard Murphy deliver scholarly papers "that are absolutely extraordinary" on church social teachings.

He is seen as an orthodox church conservative, although one who is restrained in his pronouncements, Gibson said. The pope "doesn't want fire-breathers," Gibson said. "He doesn't want flame-throwers."

Contact: bart.jones@newsday.com