Catholic Church Deacon Charged with Incest

WTOP
December 12, 2007

http://www.wtopnews.com/index.php?nid=598&sid=1309024

SILVER SPRING, Md. - A Catholic Deacon is under arrest and charged with 10 counts of incest from alleged incidents that occurred 40 years ago.

Montgomery County Police arrested 71-year-old Dan Paul Stallings at his home in Silver Spring on Tuesday.

Police say during the 1960s and 1970s, Stallings had a sexual relationship with an underage girl in his family. The alleged abuse took place outside of his ministry and did not occur on church property.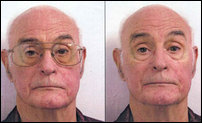 Dan Paul Stallings is a Deacon at St. John the Evangelist Catholic Church.



Stallings has served as a Deacon at St. John the Evangelist Catholic Church, located at 10103 Georgia Avenue in Silver Spring, since 1986.

Police believe that due to his active participation in the in the Catholic Youth Organization and other positions working with children, Stallings may have had inappropriate contact with other kids.

The Catholic Archdiocese says it performed background checks on Stallings and that the alleged abuse happened before he was ordained.

Stallings is currently being held at the Montgomery County Detention Center on $250,000 bond.

Anyone who has reason to be concerned about inappropriate contact with Dan Stallings should contact Montgomery County Police Family Crimes Division Detective Katie Ellis Leggett at 240-773-5426.