SNAP Wants More Details from Idaho's Catholic Diocese on Priest's 'Misconduct'
Church Officials Say Rev. Raul Covarrubias Didn't Break Any Laws and the Matter Will Remain Private

By Bill Roberts
Idaho Statesman
January 3, 2008

http://www.idahostatesman.com/newsupdates/story/253645.html

Idaho's Catholic Bishop Michael Driscoll should provide more details on the misconduct of a Mountain Home priest who has been placed on administrative leave, a national support group for victims sexually abused by clergy said Wednesday.

But church officials said the case involving the Rev. Raul Covarrubias, who was pastor at Our Lady of Good Counsel Parish in Mountain Home, is a personnel matter and won't divulge details.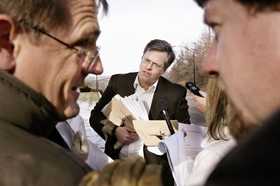 Michael Brown, communications director for the Roman Catholic Diocese of Boise, center, speaks at a press conference Wednesday afternoon in front of the Diocese offices in Boise, as David Clohessy, Executive Director of SNAP, left, and David Olson confer. Clohessy's organization, the Survivors Network of those Abused by Priests, seeks to hold the church accountable in cases of priest sexual abuse. In particular, Clohessy would like more information regarding a Mountain Home priest.
Photo by The Idaho Statesman


"This kind of secrecy is reckless," said David Clohessy, national director of SNAP - Support Network by those Abused by Priests - who spoke at a news conference in front of the diocesan office. "In this case initially, the diocese put this priest on suspension without saying what type of offense, when it occurred, where it occurred ... and even now they refuse to give any of those details."

Clohessy was surrounded by a handful of supporters. One carried a sign that read "Cronyism + Concealment = Corruption."

A church investigation determined last month that Covarrubias had engaged in "misconduct" but officials declined to discuss the specifics. The investigation - which included the diocese sexual misconduct review board, dominated by lay people - concluded that there was no sexual abuse of minors. Church officials said they did not notify authorities after a review of the case by an independent private investigator showed that no laws were broken.

Once those determinations were made, the case became a personnel matter, church officials said.

Covarrubias is in a "professional program" and is not actively involved in any church ministry, said Michael Brown, diocese spokesman.

Brown accused SNAP of being inaccurate in its statements. He said church officials addressed the Mountain Home parish in September after learning about allegations against Covarrubias. Driscoll also addressed the congregation personally when the diocese concluded its investigation.

"Every media in the state of Idaho received this statement," Brown told Clohessy. "I'm not sure exactly what is expected of this diocese to get this message out. We would much rather sit down and discuss these things with you before misinformation goes out into the media."

Bill Roberts: 377-6408