Priests Say Braxton Used Vatican Money for Vestments

By Tim Townsend
St. Louis Post-Dispatch
January 23, 2008

http://www.stltoday.com/stltoday/news/special/srlinks.nsf/story/C14BFA76D8A5F71E862573D800807DCE?OpenDocument

Belleville — Bishop Edward Braxton's purchase of ceremonial garments with about $8,000 in donations to a Vatican fund strictly dedicated to world outreach led Belleville Diocese priests to seek an explanation Monday.

"We attempted to discuss it," said one member of the diocese's Presbyteral Council. "But no progress was made. The bishop did not want to talk about it."

As long ago as a diocesan finance council meeting Nov. 17, Braxton was asked how he had paid for the vestments, according to sources who were there. Braxton told the council the cost of about $8,000 was paid from a fund for international mission work, said the sources, who asked not to be identified because council members take an oath of secrecy.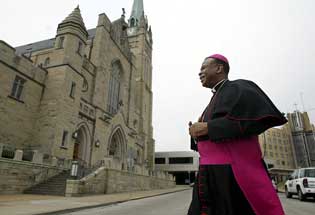 Bishop Edward K. Braxton
Photo by Gabriel B. Tait


Braxton, two deacons and two priests who were being ordained in a ceremony in May wore the new garments.

Statutes issued by the Vatican and authorized by the pope strictly govern the flow of Propagation of the Faith money from dioceses to the fund's New York headquarters, and on to Rome.

"Offerings given by the faithful for a specified purpose may be used only for that purpose," the statutes say.

Last month, the 16 members of the finance council signed a letter to Braxton, expressing concern about the expenditure, according to the Rev. Dennis Voss, pastor of St. Liborius Church in St. Libory. The council sent a copy of that letter to the papal nuncio, the pope's representative to the U.S., in Washington.

Multiple calls by a reporter to several diocesan leaders, including Braxton, were not returned.

Braxton has told the diocese's chief financial officer, William Knapp, that Knapp's five-year contract will not be renewed for a third time when it expires in June. Knapp is popular with many priests, and in deanery meetings last week they spoke out forcefully for the bishop to reconsider.

"We strongly recommend that Mr. Knapp's employment … be continued as he desires," according to the minutes of the East St. Louis deanery meeting. "This will enable him to complete the work he has begun recently on issues of financial transparency. We believe that his departure at this time will only cause more suspicion among the laity and presbyterate concerning the finances of the diocese."

Priests of the West Deanery also called recently for Knapp to be rehired and called on the finance council "to report openly and honestly the alleged misappropriation of funds reported at the November 17, 2007 meeting."

The provider of the new vestments was House of Hansen, in Braxton's hometown of Chicago, which makes "custom tailored clerical garments," according to its website. An employee there said Braxton ordered five sets of vestments, a mitre and a tunic last year.

The Rev. Benjamin Stern, parochial vicar at St. Dominic Church in Breese, was one of the two men ordained in May. He said that he didn't know whether the vestments he wore were new but that "the bishop was talking at one time about getting a new set."

Monsignor James Buerster, pastor of St. Boniface Church in Germantown, is the former pastor of the cathedral in Belleville. He said he was still working at the cathedral when the new vestments arrived last spring. The old ones were bought more than a dozen years ago, he said.

The confrontation between Braxton and some of his priests reflects tension that began with the start of the bishop's tenure. But some of those priests see Braxton's tampering with Propogation of the Faith money as crossing an inviolable line with the Vatican.

On the second-to-last Sunday of October — called World Missions Sunday — parishes around the world take up a collection to be distributed to about 1,150 dioceses and territories that are considered underserved by the church. All of Africa and most of Asia are included.

Worldwide, donations reach as high as $120 million per year, according to Monsignor John Kozar, national director for the U.S. office of the Society for the Propagation of the Faith, in New York. About 40 percent comes from U.S. dioceses.

The director of the Propagation of the Faith office for the Belleville Diocese is the Rev. John Myler, rector of St. Peter's Cathedral. He did not return several calls seeking comment.

A source on the finance council said the money Braxton spent came from a single bequest, not a collection.

Monsignor Francis Xavier Blood, director of the fund office for the Archdiocese of St. Louis, said its parishes raise about $350,000 a year. There are about 104,000 Catholics in the Belleville Diocese and 555,000 in the Archdiocese of St. Louis.

Contact: ttownsend@post-dispatch.com | 314-340-8221