Former Teacher Looks to Reverse Pleas to Assault
Terry Sullivan Now Claims He's Innocent of Sexually Abusing Several Teenage Boys

By Phil Ray
The Altoona Mirror
January 24, 2008

http://www.altoonamirror.com/page/content.detail/id/503970.html

HOLLIDAYSBURG — Terry Sullivan, who served more than a year in prison for indecent assault of several teenage boys, now says he is innocent and wants to withdraw the no-contest pleas he entered three years ago.

Sullivan, a former high school basketball coach and math teacher, is on parole. A condition of his sentence is that he must register as a sexual offender under Pennsylvania's version of Megan's Law.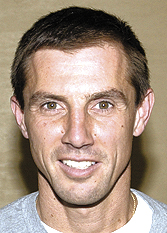 Sullivan



During his trial, Sullivan was represented by Altoona attorney R. Thomas Forr Jr., a partner in the law firm that includes Sullivan's father.

In a petition filed late Tuesday in the Blair County Prothonotary's Office by Altoona attorney Thomas Dickey, Sullivan stated that Forr was an ineffective counsel.

The petition also charges that Sullivan was not fully informed about Megan's Law.

After Sullivan entered his no- contest pleas, a psychologist with the Pennsylvania Sexual Offenders Review Board performed an assessment and determined that Sullivan was a sexually violent predator. He must register as a sexual offender for life.

The psychologist, William Allenbaugh of DuBois, said Sullivan became close to his teen victims through a process he described as "grooming."

Allenbaugh said Sullivan took the boys on trips to play golf and to attend Penn State football games and plied them with alcohol.

Sullivan is asking that he be permitted to withdraw his no-contest pleas, that his sentence be set aside and that he be granted a jury trial.

Forr was not available for comment Wednesday.

Sullivan's case came to the attention of state police as a new school year was about to begin in 2004.

Sullivan resigned as a math teacher in the Hollidaysburg Area School District and boys basketball coach at Bishop Guilfoyle High School.

When it came time for trial, he entered no-contest pleas to indecent assault, unlawful contact with a minor, corruption of a minor and selling or furnishing alcohol to a minor.

Dickey's request was filed under the Pennsylvania Post-Conviction Collateral Relief Act. The next step will be for a Blair County judge to hear Sullivan's complaints to determine legally if he should be allowed to withdraw his pleas.

Mirror Staff Writer Phil Ray is at 946-7468.