Pius Ncube Admits Sex Scandal on Video

Zimbabwe Guardian
March 23, 2008

http://www.talkzimbabwe.com/news/117/ARTICLE/1945/2008-03-23.html

DISGRACED Roman Catholic Archbishop Pius Ncube made a shocking admission to the sex allegations involving a married woman despite his earlier claims that the charges were orchestrated by the state in order to prevent him from speaking out on human rights, the Zimbabwe Guardian can reveal.

Archbishop Pius Ncube, for long the most outspoken critic of President Robert Mugabe made the shocking revelation to Frontier Africa TV — an independent film production company — just before he boarded a plane for the Vatican in November 2007.

The video has now been released only a week to the crucial harmonised elections in Zimbabwe.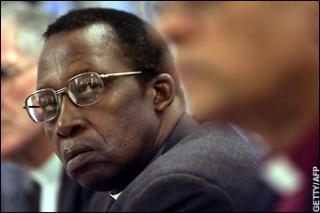 THE disgraced Roman Catholic Archbishop Pius Ncube made a shocking admission to the sex allegations involving a married woman



In the video, Ncube apologised and spoke out fiercely against President Mugabe ahead of the March 29 elections.

"It is true, I do admit that I did fail in keeping God's commandment with regard to adultery," admitted Pius Ncube in the interview. "Having failed in keeping the Seventh Commandment Thou shalt not commit adultery, I would like to apologise to you, I'd like to apologise that so many of you were praying for me, for the fact that so many of you standing with me in fact suffered so much."

Ncube was reported to have been involved with Rosemary Sibanda — a married woman and member of his parish. It was reported that Sibanda herself admitted that she had an affair with the Archbishop.

On the advice of his lawyer Ncube had denied the allegations although Zimbabwean TV had been showing a compromising video of Ncube and Sibanda repeatedly over a number of days. These events led to Ncube's decision to resign from his post.

He was subsequently secretly summoned to the Vatican in November last year.

It is mandatory for an Archbishop to offer an explanation to the Vatican when such allegations are made.

Ncube is said to have admitted also to Pope Benedict XVI that he broke his vow of celibacy.

The former Archbishop's apology was directed to the people of Zimbabwe, mainly the Catholic Community who had followed his leadership for many years.

Ncube has disappeared from the political scene in Zimbabwe, where he had gained notoriety by criticising harshly president Mugabe and his government.

His disappearance could simply be the application of a Church rule that bans priests and bishops from taking part in politics. Canon law forbids members of the clergy from participating directly in politics although Ncube has been heavily involved in the politics in Zimbabwe.

Canon 401, section 2, of the Code of Canon Law, prohibits Ncube from further work until the Vatican has given the greenlight.

His lawyer could have also advised him against political activity until he had met with the Pope.

Ncube is unlikely to be permitted to return to Zimbabwe until later this year where he will most likely be allowed to practise as an ordinary priest and not an archbishop.

Frontier Africa TV has a year-long relationship with the Archbishop. They were making a documentary on the archbishop last year when the story broke.

Frontier Africa TV is an independent broadcast company run by three journalists, who are also its directors - Patrick Barth, Fred Bridgland and David Pratt. They are based in London and Johannesburg.

Supporters and members of Ncube, who did not believe the allegations, and who thought they were malicious and untrue, will now be left in the cold after the revelations. Many of them had sprung to the defence of the archbishop.

Many of the critics thought the government of President Mugabe was trying to divert attention from Zimbabwe's woes by publishing Pius Ncube's story.

The Zimbabwean newspaper last week published a story on the Archbishop saying he had refused to be silenced by the Zimbabwe government. In what they called several "sting operations against him by the Mugabe regime," the paper said Ncube had called for a 'mass uprising' "if voting is rigged in favour of the ruling Zanu PF."

This story will not be received well by Wilf Mbanga, the editor of the paper, who had always defended the archbishop and labelled the story a 'lie' and labelled Ncube a 'victim of the state'.

President Mugabe has called Ncube a half-wit and a liar. After the March 2005 elections, Ncube repeated his call for a peaceful rebellion. Referring to Mugabe, he said "I am praying that he goes home gently; At 84, he has lived a full life."

Pius Ncube is now believed to be resident in the United Kingdom until his fate is decided.

He has since been interviewed on the BBC's Heaven and Earth Programme speaking against President Mugabe and the forthcoming elections.

See an extract from the 15-minute documentary below: