Attorney: Diocese Overlooked Earlier Sex Abuse Claims

By Sam Hemingway
Burlington Free Press
May 5, 2008

http://www.burlingtonfreepress.com/apps/pbcs.dll/article?AID=/20080505/NEWS/80505021

A former high-ranking official in the state's Roman Catholic diocese told a Burlington jury Monday the diocese did not look into reports that the Rev. Edward Paquette molested boys in Massachusetts years before coming to Vermont.

Monsignor John McSweeney, who was chancellor of the Vermont diocese and handled details of priest hirings for then-Bishop John Marshall in the 1970s, testified he did not know about such allegations until he reviewed church documents recently.

The documents, which chronicle the steps the Vermont diocese took while considering whether to hire Paquette in 1972, include several mentions of the alleged misconduct in letters from out-of-state church officials to McSweeney.

"Wasn't that a red flag for you to say the diocese ought to take a look at this," attorney Jerome O'Neill asked McSweeney.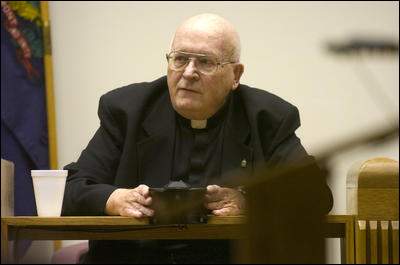 Monsignor John McSweeney testifies at Rev. Edward Paquette's trial in Chittenden County Superior Court today.
Photo by Emily J. Nelson


"In retrospect, yes," McSweeney.

The exchange came as the second priest abuse trial in five months opened in Chittenden County Superior Court. Of the 32 priest sexual abuse cases filed against the diocese since 2002, 19 involve claims that Paquette molested altar boys during a six-year stint as a parish priest in Rutland, Montpelier and Burlington.

In the present case, O'Neill represents a former altar boy at Christ the King Church in Burlington who claims he was repeated fondled by Paquette at the church in the late 1970s.

The individual, now 40 and living in Lakewood, Colo., is seeking financial damages from the diocese on grounds it failed to adequately supervise Paquette and instead put him in a position to molest youths.

The diocese contends it made personnel decisions based on the best information it had at the time and should not be held liable now for incidents that occurred 30 years ago. It also argues the lawsuit should have been filed years ago. Paquette is not listed as a defendant in the case.

The Burlington Free Press does not identify the alleged victims of sexual crimes without their consent.

In an opening statement before an eight-man, four-woman jury, O'Neill said that his client, as an altar boy, was among nine boys fondled by Paquette. He said his client was groped between 40 and 100 times in the years 1976 to 1978.

The incidents took place inside the sacristy at the church, a room next to the pulpit, O'Neill said. The conduct involved "rides" during which Paquette would bounce or swing a boy around while holding them in such a way that he would have his hand on the child's genitals.

O'Neill said the youths' nickname for Paquette was "Father Pockets."

"He does what they call a 'pony ride,'" O'Neill told the jury, describing one of the rides and gesturing as he spoke. "He's sitting in a chair ... and he puts them on his thigh and reaches over with his hand and grasps their genitals and moves them around."

O'Neill cited internal church documents with notations about how Paquette had molested young males at dioceses in Fall River, Mass., and Fort Wayne, Ind., before applying for a job at the Vermont diocese in 1972.

Kaveh Shahi, a lawyer for the diocese, told the jury during his opening statement that what Paquette did was "wrong, immoral and illegal" but said it was an oversimplification to apply today's standards to events that occurred in the 1970s.

"The decision makers were ill advised and did not have the understanding and sensitivity that we now have, that society has gained over the years," Shahi. "These events happened 30 to 40 years ago."

Shahi said an Indiana psychiatrist assured Marshall before Paquette was hired that he had been successfully treated for his "homosexual" problem. The treatments in Indiana included 11 electric-shock therapy sessions, Shahi said.

Tom McCormick, another diocesan attorney, questioned McSweeney late Monday and cited a series of documents showing the efforts by Marshall and the diocese to address Paquette's problems after his arrival in Vermont.

The documents showed Marshall was in ongoing contact with a therapist who was working with Paquette.

In April 1978, Marshall suspended Paquette from priest work after a number of parents at Christ the King Church in Burlington complained and it became clear that Paquette had not been candid with his therapist about his conduct.

Marshall, who was bishop for the Vermont diocese from 1972 to 1992, died in 1994.

Contact Sam Hemingway at 660-1850 or e-mail at shemingway@bfp.burlingtonfreepress.com