Nun Sentenced for Stealing from Omaha Archdiocese

By Christopher Burbach
World-Herald
July 11, 2008

http://www.omaha.com/index.php?u_page=2798&u_sid=10379041

Sister Barbara Markey went into court Friday expecting that her fall from grace was about to end with a sentence of probation.

Sister Barbara Markey

Instead, the floor fell out from under the Catholic nun and her fall continued - into a jail cell.

Douglas County District Judge Thomas Otepka sentenced the 73-year-old Markey to three to five years in prison for embezzling money from the Archdiocese of Omaha. She had pleaded guilty to felony theft by deception of more than $1,500.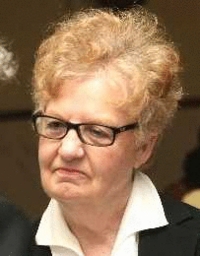 Sister Barbara Markey



Although archdiocese officials had accepted $125,000 in restitution, they had accused Markey of embezzling as much as $800,000.

Not sending Markey to prison, Otepka said, would have depreciated the seriousness of the crime and promoted disrespect of the law.

Otepka rejected Markey's attorney's request to suspend the sentence until Monday until she could get her affairs in order. Deputies escorted her to the Douglas County Correctional Center immediately after the sentencing Friday morning. She will be assigned to a state correctional facility and must serve at least 18 months before being eligible for parole.

In issuing the sentence, the judge also rejected an argument from her attorney, J. William Gallup, that the crime was a momentary flaw, caused by a gambling compulsion, in an otherwise exemplary life. Otepka said he considered her many achievements and good works but added that it wasn't like a one-time theft of money left lying on a desk in her office.

Instead, he said, she committed multiple thefts over a long period of time.

Gallup said Markey was shocked and disappointed by what he called a terrible decision.

"I respect the judicial system, but I think it has failed here," Gallup said.

In court, Gallup said the Internal Revenue Service, suspicious of unreported income by embezzlement, had recently audited her records and did not find anything approaching the archdiocese's original numbers.

The former director of the Catholic Family Life Office in Omaha, Markey had entered the guilty plea in March after initially fighting the charges.

Prosecutors had accused Markey of stealing more than $250,000 from the archdiocese, including at least $76,000 in payments and checks made to Ameristar Casino and cash advances of $80,000. The rest of the $250,000 was spent on a condo in Colorado and on gifts for her friends and relatives, prosecutors said.

The archdiocese also had sued her in civil court, seeking more than $800,000. She has disputed the amount and paid $125,000 in restitution to settle the lawsuits.

Markey is a clinical psychologist who co-wrote one of the Catholic Church's most widely used marriage-preparation programs, FOCCUS (Facilitating Open Couple Communication, Understanding and Study).

The archdiocese fired her in January 2006 as director of the Catholic Family Life Office in the midst of a financial investigation.

Douglas County Attorney Don Kleine called the prison term an appropriate sentence, given the amount of money stolen. There has been a lot of white-collar crime lately, he said.

Otepka seemed to be sending a signal, Kleine said, "that when people steal that amount of money, they need to be held responsible for it."

• Contact the writer: 444-1057, christopher.burbach@owh.com