Pope Meets Sex Abuse Victims in Australia: Vatican

AFP

July 21, 2008

http://afp.google.com/article/ALeqM5h_r3e5Pzlwm9bKIprHI3RtnQcPwg

SYDNEY (AFP) — Pope Benedict XVI on Monday held mass with four Australian victims of sexual abuse by priests and listened to accounts of their ordeals, papal spokesman Father Frederico Lombardi told journalists.

The meeting with victims came two days after the pontiff issued a historic apology for what he described as the "evil" of sex abuse by clergy, saying he was "deeply sorry" and calling for those responsible to be punished.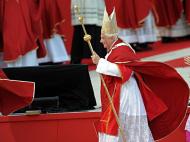 Pope Benedict XVI



"With regard to abuses by members of the clergy, His Holiness Pope Benedict XVI on Monday morning celebrated mass with a group of representatives of victims of sexual abuse," Lombardi said in a message to reporters in Italian.

"The pope listened to their stories and consoled them. He assured them of his spiritual proximity and proposed to continue to pray for them, for their families and for all victims," Lombardi said.

The pontiff met two male and two female victims of abuse in a chapel at St Mary's Cathedral House in Sydney just before flying out of Australia after a nine-day visit for Catholic World Youth Day celebrations.

After the mass, the pope spoke to each of the sex abuse victims in an atmosphere of "respect, spirituality and of intense emotions" during the encounter that lasted one hour, Lombardi said in translated comments.

"With the paternal gesture, the holy father wanted to show again his solicitude towards all those who suffered from sexual abuse," Lombardi said.

Following the pope's unprecedented apology Saturday to victims of abuse at the hands of some Australian priests, Vatican watchers had been eagerly awaiting signs of a further gesture, such as a meeting with victims.

The pope's trip has been partly overshadowed by the controversy of sex abuse in the church.

Lombardi said the pope met with victims of abuse on his last day in Australia in order "not to interfere" with celebrations for World Youth Day that have drawn more than 220,000 young Catholic pilgrims to Sydney.

Some Australian victims of sex abuse by priests had dismissed the pope's first direct and full apology for child sex abuse as rhetoric without action and said he should have apologised in front of victims, not other priests.

"The pope is willing to meet all sorts of disadvantaged people, but not people who have been sexually abused by the church," said victim John McNally, who stood with other victims outside Sydney's St Mary's Cathedral while the pope delivered his apology.

World Youth Day coordinator Bishop Anthony Fisher had late Sunday been non-committal about the possibility of the pope meeting abuse victims.

"The pope's schedule as you know is very packed tonight. What he'll be able to do I don't know in the time he has left to him, but I think he has certainly made his position very clear," Fisher told a news conference.

World Youth Day was launched in 1986 by the late pope John Paul II to help stem the flow of young Catholics away from the once-dominant church in an age of growing secularism in the western world.