Walk to Raise Awareness of Child Sexual Abuse to Pass through Douglas County

The News-Review

September 5, 2008

http://www.nrtoday.com/article/2008809059973

She was only 4 years old. Two teenage boys, whom Virginia Jones knew, took her into a basement. There, they sexually abused her.

Now 49, Jones says she still struggles with emotional aftershocks of the incident.

This weekend, Jones, her two children, and another woman whose life has been splintered by child sexual abuse will be passing through Roseburg.

Their two-day trek from near Myrtle Creek to Roseburg is just part of a Walk Across Oregon that began in Ashland Sept. 1. Walkers will end up in Portland by the end of the month.

Jones, a Portland resident, shared her personal experience in a phone interview. She explained how the walk came about and why it's important to her.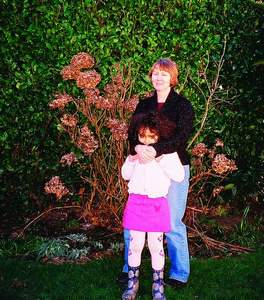 Virginia Jones and her daughter are walking this weekend to raise awareness about child sexual abuse.



Jones feels fortunate she was abused just once, at least compared to other child sexual abuse survivors. But she still has struggled with many of the same challenges as those survivors.

By age 6, she told a family member what happened. She was told, "That's where babies come from." But nothing was done.

By age 9, she was depressed. By high school, she was suicidal, prone to outbursts of anger, and she developed a form of anorexia.

Some survivors cannot trust others. Others, like Jones, trust too much. She believes that contributed to her being date-raped as a young adult.

It was only about seven years ago that she got the help she needed, through her church. She helped found a group, Compassionate Gathering, that offers support for survivors of all kinds of abuse.

For Jones, the Walk Across Oregon is a way to raise awareness of child sexual abuse. She hopes to open people's eyes to how badly survivors need support from organizations like hers, from those around them and from the community.

The idea of having the walk came from another woman whose family has been scarred by abuse.

That woman's two children were sexually abused by a relative from as early as they can remember through their teen years.Although that was almost two decades ago, she has asked not to be named as her children are still terrified their abuser might find them, and possibly hurt them, or her.

That woman talked to The News-Review in a phone interview while she walked from Rogue River to Grants Pass as part of the walk on Thursday.

She said she got the idea for the walk from watching a movie about a 92-year-old woman who had walked across her state to campaign for political office.

"I thought, she's 92, and I'm 63. I can do this."

But her biggest reason to take part in the walk is her children and what she has seen them go through. Like many survivors, one of her children started abusing alcohol, although that child has since recovered. Drug abuse also often plagues survivors.

Another child became suicidal. That child now lives on disability because of mental health issues.

But the woman's frustrations over their situations came to a head when one of her children decided at age 36 to go to the police, and possibly prosecute the abuser.

They said there was nothing they could do. The statute of limitations had run out on filing criminal charges.

"I was shocked," the mother recalled.

To her, the walk — she will take part in every step of the route — is a chance to let others know how the state's statute of limitations hurts children such as hers.

In Oregon, a survivor must file criminal charges by the age of 30 or within 12 years of when the abuse was first reported to police.

The woman said she has been in contact with state Rep. Andy Olson, R-Albany. The representative has been working on legislation that would eliminate the statute of limitations on such crimes, she said.

Both Jones and the woman hope their walk will help survivors in a more immediate way. They hope to raise funds for a Beaverton-based group called the Wintre's Wishes Foundation to offer therapy to survivors.

Jones invited the public to take part in the Walk Across Oregon. "It's open to anyone who is a survivor, a supporter, or just plain interested in the issue and wants to do something about it."

The anonymous walker said child sexual abuse has often been called the "silent epidemic."

Although she acknowledges her children's real fears about being found by their abuser because of her taking part in the walk, the woman said she couldn't let that stop her.

"I won't be silent," she said decisively. " I will speak up."

You can reach reporter Kathy Korengel at 957-4218 or by e-mail at kkorengel@nrtoday.com.