FBI: Evangelist Alamo Arrested in Child Sex Probe

By Jon Gambrell
Yahoo! News
September 25, 2008

http://news.yahoo.com/s/ap/20080925/ap_on_re_us/evangelist_child_porn;_ylt=ApU6IQ2JEOu9TkDOLrvCu2is0NUE

LITTLE ROCK, Ark. - The FBI says evangelist Tony Alamo (uh-LAHM'-oh) has been arrested in Arizona on suspicion of transporting minors across state lines for sexual purposes.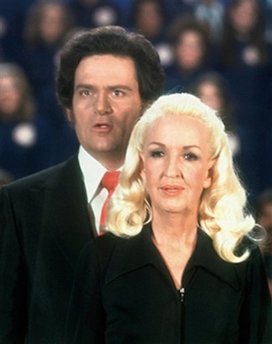 This undated photo made available by Tony Alamo Christian Ministries shows Tony Alamo and his wife Susan.



FBI spokesman Steve Frazier says Alamo was staying at a motel in Flagstaff when agents arrested him Thursday.

Authorities raided the Tony Alamo Christian Ministries compound in Arkansas last week and removed six girls.

Frazier says he did not believe children were with Alamo when he was arrested. He is scheduled for a federal court appearance Friday in Arizona.

Some critics call Alamo's ministry a cult.