Priest Rejects Sex Allegations

By Halle Stockton
Herald-Tribune
January 22, 2009

http://www.heraldtribune.com/article/20090122/ARTICLE/901220364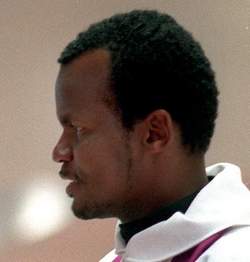 The Rev. Jean Ronald Joseph of Holmes Beach has had his ministerial rights revoked by the diocese.



MANATEE COUNTY - The Rev. Jean Ronald Joseph is on a mission to regain his priesthood.

The Holmes Beach priest's ministerial rights were revoked after allegations of sexual misconduct with a minor surfaced in recent months.

At a public forum Wednesday, Joseph, 44, stood at a podium at Holmes Beach City Hall and spoke to more than 100 parishioners about the accusations and about his feelings of abandonment by the Diocese of Venice.

"I did not do this," he said. "If I had done it, I would tell you."

The public declaration by Joseph was encouraged by people in Fort Myers and Holmes Beach who signed petitions in his support.

The crowd applauded often and waved small white roses for the pastor, who had been working at St. Bernard Catholic Church in Holmes Beach when the accuser reported the alleged misconduct to the Diocese of Venice.

In a letter to the Diocese, which was read aloud by Joseph's attorney Wednesday, the accuser, who is now 31, said he was 16 years old when Joseph asked him to sleep over at the rectory of St. Francis Xavier in Fort Myers.

The letter stated that he slept in the same bed as Joseph and woke up to find the priest touching his genitals.

Joseph denies anything took place. He told the crowd he was "suicidal" when first confronted by the diocese. He said he now must take anti-depressants and sleeping pills to cope.

"I feel betrayed and disappointed," he said, adding that his accuser "was really a part of my family life."

Joseph said he last saw the accuser in May 2008 when the man's mother fell ill.

Joseph's attorney, John Fleck of Bradenton, said the priest is "100 percent innocent."

"When you meet him, you meet sincerity, honesty and the true goodness of a person," Fleck said. "He has nothing to hide."

Barbara Dorris, the outreach director for SNAP, the Survivors Network of those Abused by Priests, said this level of support for an alleged molester could dissuade already frightened victims from reporting crimes.

SNAP has taken an active interest in this case and recently sent a letter to Bishop Frank Dewane requesting he take Joseph's passport and give all information from the diocese's investigation to law enforcement.

No criminal charges have been filed against Joseph. The diocese's review board said it has found the allegations credible and will continue its investigation.

Don and Gloria LaTorre, members of St. Bernard's, said they were stunned when they heard of the allegations.

"Father Ron is a gentle, caring and loving man," Gloria LaTorre said. "I can't imagine he would be capable of what is alleged. It's just not his nature."