Salinas Priest's Supporters Say Molestation Charges Are Untrue
Arraignment Postponed; St. Mary's Parishioners Hold Prayer Session

By Maria Ines Zamudio
The Californian
April 21, 2009

http://www.thecalifornian.com/article/20090421/NEWS01/904210303

Monday's scheduled arraignment of a Salinas priest accused of child molestation was delayed until Wednesday, but that didn't stop several parishioners outside the courtroom from insisting on his innocence.

"Those are false accusations," said Aurora Bravo, while crying outside the courtroom.

"If you went to our church and saw him for what he is, you would know that [accusations] are not true."

The Rev. Antonio Cortes of St. Mary of The Nativity Catholic Church was arrested last week on charges of unlawful sexual contact with a teenage boy.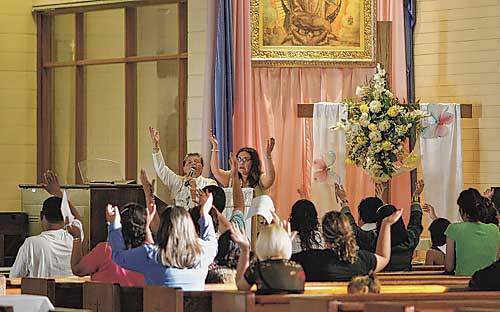 People pray Monday at St. Mary of the Nativity Catholic Church in Salinas for their priest, The Rev. Antonio Cortes, who was charged last week with child molestation. Parishioners said they'll gather to recite the rosary every day for Cortes until his case is resolved.
Photo by Scott Macdonald


On Monday, Jay Hernandez, a Salinas-based attorney, submitted a special appearance request to the court and asked for Cortes' arraignment to be delayed until Wednesday.

The additional time will allow Cortes,

until recently the head pastor at St. Mary's, to determine who will represent him in court.

Cortes is accused of 20 counts in all, including selling liquor to a minor, one felony count of sodomy with a 16-year-old and two counts of child molestation, including a misdemeanor count for masturbating the victim, said Deputy District Attorney Rolando Mazariegos. Police say the abuses took place at the church.

The case has outraged many in the community.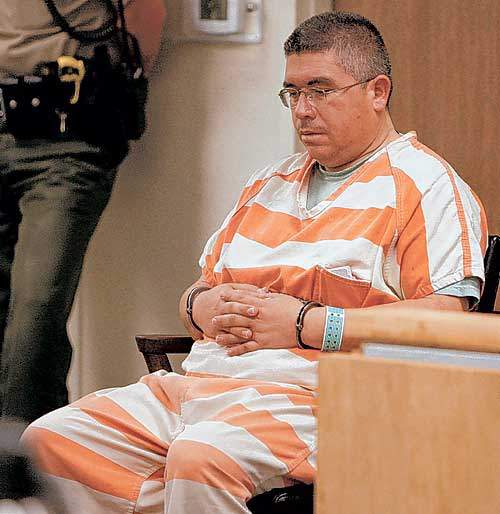 The Rev. Antonio Cortes of the St. Mary of the Nativity Catholic Church in Salinas waits Monday in court for his arraignment on charges of child molestation.
Photo by Scott Macdonald


On Monday, at least 80 parishioners went to Cortes' court appearance and cried outside the courtroom in a show of support.

Maria Reyes said she has a 15-year-old son who has been an altar boy at St. Mary's for five years. She said she feels safe leaving him with Cortes.

"He's always been respectful," she said.

Four hours after the court hearing, parishioners gathered at the east Salinas church to pray. About 60 people recited a rosary for Cortes. Some parishioners said they plan to hold prayer sessions every day at 5:30 p.m. until Cortes' legal troubles are over.

"We are willing to do anything to get him out of [jail]," Bravo said.

Bail for Cortes is $750,000, but Hernandez said he plans to ask the judge to reduce it to $50,000.

It is unclear who will pay for Cortes' legal defense or bail. The Diocese of Monterey County will not pay for a defense attorney or bail, said Warren Hoy, spokesman for the diocese.

Hoy said Cortes received a small stipend while he worked for two years at St. Mary's, a church of roughly 5,000 parishioners.

Cortes has been the head priest at St. Mary's since June 2007 and has been with the diocese for about 12 years, including churches in Gonzales, Greenfield and Soledad, Hoy said.

Cortes, 41, originally met the victim, a church member, when the boy was 14. Then, in February, Cortes gave him alcohol and began molesting him, prosecutors said. On April 14, the priest allegedly sodomized the boy, now 16.

The Salinas Police Department is investigating the case and trying to determine if there are any other victims.