New St. Louis Archbishop Shepherded Conservative Change in His Former Diocese

By Phillip O'Connor
St. Louis Post-Dispatch
April 23, 2009

http://www.stltoday.com/stltoday/news/stories.nsf/religion/story/876965AD88C21CCA862575A10006E58C?OpenDocument

Bishop Robert James Carlson arrived in Saginaw, Mich., in 2005 with a reputation as a rising star sent to reel in a renegade diocese.

Carlson — named archbishop of St. Louis on Tuesday — was a big adjustment for the Saginaw Diocese, which over four decades had become what some considered among the most liberal in the country, priests and parishioners there say.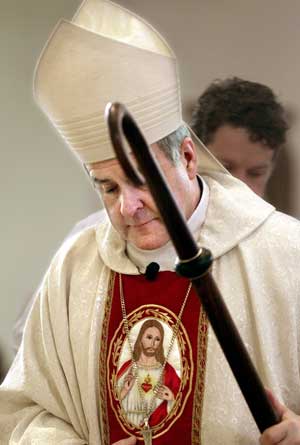 Bishop Robert J. Carlson during a prayer service for the Pope Saturday at St. Stanislaus Catholic Parish, Bay City, Michigan.
Photo by Michael Hollenbeck


Carlson replaced a bishop whose views often put him at odds with the Vatican. Bishop Ken Untener led the Saginaw Diocese for 24 years and often spoke about the church's need to re-examine its stance on fundamental issues such as abortion, birth control and the ordination of women.

"It was considered a progressive, forward-looking diocese, in some ways, a model," said the Rev. James E. Falsey, a parish priest who served under Untener. "Of course, if you were conservative, it was considered a suspicious district."

Some parishioners felt the diocese and its leader at times strayed too far.

Within church circles, Carlson — who first led a diocese as bishop of Sioux Falls, S.D. — was known as a conservative who embraced moves by Pope John Paul II and Pope Benedict XVI to return the church to its traditional doctrine.

When Carlson accepted what looked to some like a lateral appointment to Saginaw, the message seemed clear: Change was in store for the diocese of about 130,000 people bordering Lake Huron.

"He was sent here with a particular charge from higher-ups and that was to shake this diocese up ... to make sure the practices of the diocese were in conformity with the expectations of Rome," said the Rev. Tom Sutton, who was administrator of the diocese before Carlson arrived.

By that time, many of the 100 or so churches in the diocese had loosened some traditional practices, such as kneeling, and allowed lay ministers, including women, to play a prominent role in church functions.

Seventeen parishes were administered by lay people, many of them nuns drawn from other parts of the country where bishops wouldn't allow them to preach.

Carlson followed Vatican orders and called for ending those practices, a move that angered some and pleased others.

"He works for the pope not the people," said Virginia Phelps, 87, a retired lay minister at a diocesan parish. "I don't think he was a shepherd of our flock. I don't think he listened to what people had to say."

The Rev. John Sarge, another parish priest, said Carlson emphasized that a church is bigger than a parish or diocese. Still, Sarge said it was difficult to see changes dismantled that he'd supported during 35 years in the diocese.

"Putting the brakes on is psychologically hard for a lot of us," he said.

Many priests say Carlson simply conformed with the wishes of church leaders.

"What's going on there is a bishop implemented what the church has asked us to do ... nothing more, nothing less," said the Rev. Denis Heames, 36, a former seminarian who followed Carlson to Saginaw from Sioux Falls.

Some parishioners, including Leonard and Gerry LeFevre, both 76, thought the changes Carlson helped enact were long overdue.

Both said they had grown unhappy with the direction of the diocese and uncomfortable with a bishop that talked about priests being allowed to marry and the ordination of women.

"I don't believe in that," Gerry LeFevre said.

While some described Carlson as warm and caring, others said he had a hard time connecting with people, including priests. Some say he had a tough act to follow.

Untener often shed his clerical collar and mixed easily with priests and parishioners, playing hockey, drinking beer and playing piano at gatherings. He died from cancer in 2004.

Carlson, on the other hand, often came across as reserved in dress and manner, some said.

The Rev. Jim Heller, 67, who was Carlson's vicar general, said he was disappointed to see the church reverse changes made over the past 40 years that he said created excitement and encouraged experimentation in the Saginaw Diocese.

"I feel like Moses. I've seen the promised land, but I probably won't get to enter it," Heller said.

In St. Louis, Carlson follows an archbishop cut from similar cloth, Raymond Burke, who left to head the Vatican's supreme court. Carlson, who like Burke, is a canon lawyer, will be installed as leader of the Archdiocese of St. Louis within two months.

"He's being promoted upward for being a good, faithful servant," Sutton said.