Paquette Continued to Act As a Priest after Banishment

By Sam Hemingway
Burlington Free Press
May 8, 2009

http://www.burlingtonfreepress.com/article/20090508/NEWS02/905080314/-1/NEWS05

The Rev. Edward Paquette, suspended from the priesthood in 1978 after he was accused of molesting altar boys in Burlington, continued to act like a priest in his home state of Massachusetts for another 27 years, church documents say.

"You have frequently attended family functions wearing a Roman Collar," an Indiana diocesan official said in a letter to Paquette on May 16, 2005. "It is strictly forbidden for you to appear in public dressed in any way as a priest or to conduct blessings as a priest."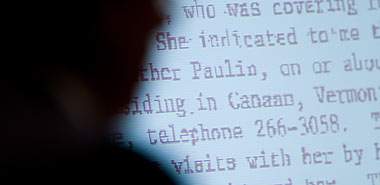 Defense attorney Tom McCormick projects past letters from the diocese concerning priest abuse and treatment as Wendell Searles, former Vicar General of the Roman Catholic Diocese of Burlington, took the stand in August 2008. The Roman Catholic Diocese was accused of being responsible for the molestation of a former altar boy by former priest Edward Paquette.



A letter, sent to Paquette from the Springfield, Mass., diocese in 1999, said it had learned that Paquette helped celebrate a Mass in Palmer, Mass. The letter ordered him not to do that again or to wear his priestly garb in public.

"You are forbidden to celebrate or concelebrate any sacraments publicly or to enter into any public ministry in the Diocese of Springfield," the June 7, 1999, letter said.

The two letters were released Thursday by Burlington attorney Jerome O'Neill after diocesan officials in Vermont, Indiana and Massachusetts disclosed that Paquette was formally laicized, or defrocked, by the Vatican on Jan. 31.

O'Neill said the church took too long to remove Paquette from the priesthood and acted only because of lawsuits filed by some of Paquette's alleged victims. Church documents show Paquette molested altar boys in Massachusetts and Indiana before his arrival in Vermont in 1972.

"Years of child molestation were not enough to get Paquette laicized," O'Neill said. "What it took was juries entering judgments against the diocese for what Paquette did." He said the letters were obtained from the Indiana diocese as part of the ongoing litigation of the Paquette abuse cases.

O'Neill represents 22 former altar boys who allege in lawsuits on file at Chittenden Superior Court that Paquette molested them when he served as a priest in Vermont in the 1970s at parishes in Rutland, Montpelier and Burlington.

Two of the cases resulted in jury verdicts of $3.6 million and $8.7 million last year. The diocese also has settled a number of other claims out of court, including one for $965,000 in 2004.

The alleged victims targeted the diocese in their lawsuits, claiming it knew Paquette was a pedophile but chose to hire him and put him in a position to molest children.

The 2005 letter to Paquette, who moved to Westfield, Mass., after his banishment from Vermont, said the dioceses in Springfield, Mass., and the Fort Wayne-South Bend area in Indiana had received information he had sexually abused a member of his own family.

"I am saddened that this further allegation has come forward," the Indiana diocese's vicar general, the Rev. Robert Schulte, wrote. "I trust that you realize the seriousness of this matter."

The letter said the alleged molestation occurred "many years ago" but did not say where it took place, or whether it occurred before or after his six-year stint in Vermont.

The Indiana diocese, which had ultimate responsibility for Paquette because it was where he was accepted as a practicing priest, announced this month that Paquette had been "returned to the lay state" by the Vatican.

Mark Dupont, a spokesman for the Springfield, Mass., diocese, said Thursday that his diocese sent a representative to Paquette's home in Westfield several weeks ago to inform Paquette of the action taken against him by the Vatican. He said his diocese did so as a "courtesy" to the Indiana diocese.

Monsignor John McDermott, chancellor of the Vermont diocese, said his office received a notice from the Vatican on Thursday that Paquette had been laicized.

Contact Sam Hemingway at 660-1850 or e-mail at shemingway@bfp.burlingtonfreepress.com. To have Free Press headlines delivered free to your e-mail, sign up at www.burlingtonfreepress.com/newsletters.