New Archbishop of New Orleans to Be Installed Today

By Bruce Nolan
The Times-Picayune
August 20, 2009

http://www.nola.com/news/index.ssf/2009/08/when_bishop_gregory_aymond_lef.html

When Bishop Gregory Aymond left his native New Orleans to lead the Catholic Church in Austin, Texas, nine years ago, he was a relatively new bishop without experience at the head of a regional church.

But as Aymond frequently told Texas friends in a series of farewells during the past three weeks, Austin taught him how to be a bishop.

The bishop Austin sends back, as Aymond awaits his installation this afternoon as the 14th archbishop of New Orleans, is described as a builder and quiet pragmatist who prefers to promote Catholic values in and out of his church without the public confrontations some colleagues willingly accept.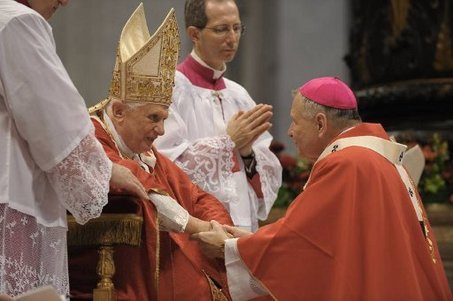 Pope Benedict XVI greets Archbishop Gregory M. Aymond of New Orleans after presenting a pallium to him during a Mass in St. Peter's Basilica at the Vatican on June 29.
Photo by L'Osservatore Romano


Bishop Aymond named Archbishop of New Orleans

In Austin, observers say, Aymond reorganized an explosively growing diocese, significantly multiplied vocations to the priesthood and managed doctrinal or cultural challenges to the church from both the left and the right.

On public matters, observers say, he speaks for himself. He tries to stay tuned to details, as well as the big picture. And in Austin he set up an advisory board of ordinary Catholic laypeople to escape the inner circle he said threatens to smother every bishop with uncritical approval.

"You know the joke, " he said recently. "There are two things every bishop can count on — never missing a meal, and never hearing the truth."

Politically, Aymond fully backs Catholic church teaching in the public arena — and while he says abortion and other life issues like euthanasia and embryonic stem cells research are fundamental, during the last election cycle he urged Austin voters also to be mindful of candidates' approach to other social issues, like the death penalty, racism and poverty.

"We're lucky to have had him, " said the Rev. Louis Brusatti, dean of the school of humanities at St. Edward's University in Austin. "He's moderate; he's consensual; he's low-key. He's not an ideologue. We could've done a lot worse."

Aymond will face enormous challenges in New Orleans, where the stresses of leadership will be radically different than those in Austin.

Still recovering from Hurricane Katrina, the Archdiocese of New Orleans, although older, more prestigious and culturally richer, is smaller, poorer and more troubled than the Diocese of Austin.

In the coming weeks, unhappy Catholics from several Uptown parishes will ask Aymond to revisit decisions by his predecessor, Archbishop Alfred Hughes, to shutter their beloved churches in a post-Katrina reorganization that closed nearly three dozen parishes.

As he did in his New Orleans introduction in June, Aymond said recently he was willing to do whatever he could to heal those wounds — but added that he was not now inclined to reverse Hughes.


"I would expect that in any diocese where such important decisions are made there has been prayer and a pastoral planning process, " Aymond said recently. "And I don't think it's appropriate for me to second guess that."

Aymond said he was aware of "the hurt and pain that goes with closing parishes, and if I can be a source of reconciliation and compassion in talking to (parishioners) I would want to do that, because they're part of the family.

"But I don't think it would be appropriate for me to re-look at that, because it's just not a parish or two — it's what, 34?"

The post-Katrina struggle

Aymond confessed that despite his continuing ties to New Orleans, his focus on managing Austin has left him largely uninformed on the details of the Catholic church's post-Katrina struggle here.

But Aymond has an advantage: He already knows the city, its rhythms and traditions.

Aymond grew up the eldest of three children on Piedmont Drive in Gentilly, literally within sight of Brother Martin High School — then called Cor Jesu High School — where he would graduate in 1967.

Like many New Orleanians, he grew up surrounded by cousins. He relished night parades during Carnival. The day after Hurricane Betsy in 1965 his family evacuated their flooded neighborhood by skiff.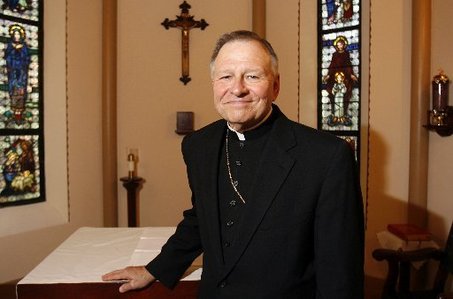 Bishop Gregory Aymond will be installed today as the 14th archbishop of New Orleans. He takes the helm of a diocese that is older, more prestigious and culturally richer but also smaller, poorer and more troubled than Austin, his last stop.
Photo by Michael DeMocker


Aymond took the short, direct route to the priesthood, straight from high school into seminary studies. Ordained in 1975, he taught at his alma mater, Notre Dame Seminary, then ran it as rector for 14 years. He became a bishop in 1997.

Except for the last nine years, Aymond, 59, has lived his entire life in New Orleans. A sister's family lives in Metairie. He already knows most of the priests of the archdiocese — many of whom he trained.

In Austin, Aymond managed a regional church stressed by explosive growth, yet accompanied by prosperity few other dioceses enjoy.

The growth is driven partly by a continuing influx of thousands of poor Hispanic immigrants whom the church seeks to serve — but also by software engineers and entrepreneurs moving into Austin's high-tech economy from the Midwest and Northeast.

With more than 450,000 Catholics now, compared with about 380,000 locally, the Austin diocese has doubled in the past 20 years. Church planners expect it to double again over the next 20.

"Austin has the feel of a young technology company, " said Scott Whitaker, the diocese's director of development. "People are coming here faster than we can keep up."

Early in his tenure Aymond reorganized the diocese, and more recently completed a second strategic plan to improve spiritual life in its 125 parishes. The diocese borrowed $80 million on Wall Street in 2005 for debt consolidation, school building and parish improvements; a year later, Aymond launched the diocese's first-ever capital campaign.

Aymond asked parishioners for $45 million; they gave him $84 million in pledges, which will probably translate to $70 million in collections, even in recession, Whitaker said.

About $5 million of that is earmarked to finance the education of new seminarians, who are pouring into the Austin church at a rate that far exceeds its growth.

"Austin has one of the best vocations programs in the country, " said the Rev. David Toups, associate director of the Committee of Clergy, Consecrated Life and Vocations at the United States Conference of Catholic Bishops.

Aymond and others point to a remarkably vibrant, diocesan-run campus Catholic ministry at Texas A&M University as a major supplier of seminarians.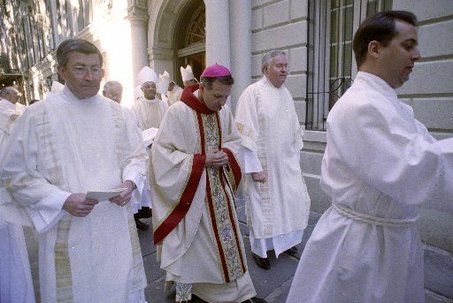 Gregory Aymond, then a monsignor and head of Notre Dame Seminary, is made bishop on Jam. 10, 1997, during ceremonial services at St. Louis Cathedral.
Photo by Ellis Lucia


Aymond said Austin currently has 46 men studying for the priesthood, the most in Austin's history; New Orleans has eight.

"Now when provincials or priests outside the diocese write (for permission) to come in, I have to write back and say, I'm sorry, I don't have a place for you, ' " Aymond said. "We have all of our parishes taken care of."

Lessons learned

Although Aymond arrived in Austin in 2000 with little front-line experience, his resume by then already included what he later described as a painful blunder involving a New Orleans sex abuse allegation.

In 1998 he allowed Brian Matherne, a teacher and coach at Sacred Heart elementary school in Norco, to remain on the job despite accusations from a parent that years earlier Matherne had molested his son, by then a young adult.

Acting on lawyers' advice, the archdiocese allowed Matherne to stay on the job because the young man, who was by then in therapy, refused to give first-hand testimony to Aymond. A year later the church was deeply embarrassed when the St. Charles Parish sheriff's office arrested Matherne, who was convicted of abusing many children — some after the church had been warned. He is now in prison.

Aymond's take-away from that episode, he said recently, was that he and the church hewed too closely to careful legal advice.

"I learned from that, " he said. "We all learned: When the allegation comes in, act as soon as possible. Even if it doesn't fit into the legal mode — act."

In nine years in Austin, Aymond removed three priests from ministry on grounds of sexual abuse. He updated that diocese's sex-abuse reporting policy and deployed education programs to teach children and adults the warning signs of abuse. He later headed American bishops' main committee on dealing with the sexual abuse crisis.

But neither he nor the church has yet won the confidence of organized sex abuse survivors.

Aymond opposed creation of a searchable Internet database recording the names of every credibly accused priest or Catholic volunteer, for fear inaccuracies would damage the reputations of dead but innocent priests. Advocates say the database would help still-isolated and suffering victims see they were not the only children abused by a particular person.

The New Orleans chapter of Survivors Network of those Abused by Priests said Aymond's position demonstrates that he is still not putting victims' needs first. Aymond's reference to his own pain in the Matherne affair also demonstrates a certain insensitivity, said spokesman Michael Kuczynski.

"The pain of Matherne's many victims ought to be our focus, not that of the archbishop-elect, " he said. "While bishops like Aymond are on the learning curve, those victimized in the past continue to suffer and more kids in all probability are being hurt."

Decisive actions

In Austin, Aymond several times moved decisively to protect the interests of the church as he saw them.

In 2007, he ordered Catholic school libraries to remove copies of Philip Pullman's fantasy, "The Golden Compass, " because of its anti-religion themes.

But at the other end of the spectrum, he also effectively banned from a local Catholic radio station Mother Angelica, a conservative Alabama nun and broadcaster whose commentary, Aymond thought, sounded "angry" and "judgmental."

Earlier this summer, he was among 80 or so Catholic bishops who wrote the president of the University of Notre Dame to protest its award of an honorary degree to President Obama, who favors abortion rights.

Yet Austin observers say that was rather atypical for Aymond, who did not usually go out of his way to confront distant issues — and who acknowledged he usually finds it more effective to quietly engage people over differences.

"I believe I have a responsibility as a bishop and a teacher to stand for the truth, " Aymond said. "I also have an obligation to do it with respect and to respect the people I disagree with. And not to embarrass them more than the situation calls for."

During the past few weeks, Aymond has been making the rounds of farewell banquets, saying good-bye to Texas priests and friends he has made since 2000.

At one, before an audience of priests, he offered a hint that he understands the challenges facing him in New Orleans.

As described by Brusatti, Aymond told them he had been reflecting recently on a Gospel passage in which Jesus observes to his own townspeople that a prophet has no honor in his own country.

"I hope it doesn't turn out that way for me, " he joked.

Bruce Nolan can be reached at bnolan@timespicayune.com or 504.826.3344.