Father of Abuse Victim Speaks, Urges Transparency by Catholic Church

By Courtney Shove
Columbis Missourian
August 25, 2009

http://www.columbiamissourian.com/stories/2009/08/25/victims-father-speaks-after-recent-settlement-catholic-dioceses/

COLUMBIA — Since Monday, four new allegations of sexual abuse by a former Boonville priest have come to light, and the father of one victim called on the Catholic Church to be more transparent about possible abuse in its parishes.

Steve McAllister, father of Mark McAllister, addressed a crowd of fewer than 10 outside of the St. Thomas More Newman Center on Tuesday to talk about what happened to his son and encourage others to come forward.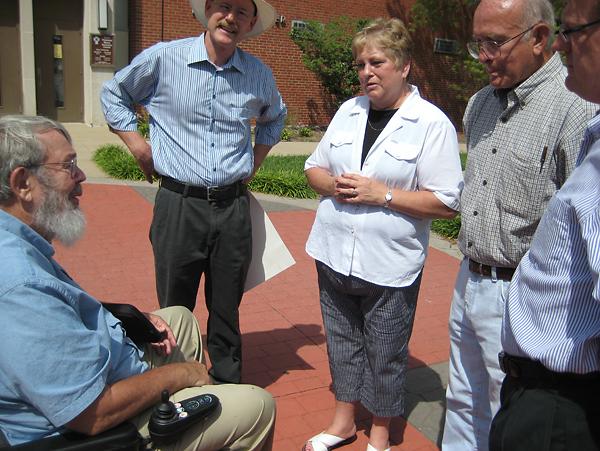 From left, Don Manson, Don Asbee, Mary McAllister, Steve McAllister and David Clohessy discuss wanting to put the Rev. Gerald Howard behind bars after a news conference outside the St. Thomas More Newman Center on Tuesday. Steve McAllister confirmed that his son Mark McAllister was abused by Howard in the 1980s.



The news conference came just a day after Mark McAllister of Roanoke, Va., formerly of Boonville, released information about the sexual abuse he said he suffered under the Rev. Gerald Howard in Boonville in the 1980s. Mark McAllister recently received a $600,000 settlement from the Newark, N.J., Archdiocese, the Jefferson City Diocese and Servants of the Paraclete.

As previously reported in the Missourian, Carmine Sita, before legally changing his name to Gerald Howard, pleaded guilty to a charge of molesting a teenage boy and distributing marijuana while serving as a priest in New Jersey. After spending time at a Servants of the Paraclete treatment center, Howard was placed at Saints Peter and Paul Catholic Church in Boonville in 1983.

Steve McAllister was clearly heard above the din of city buses and students walking by and chatting on their cell phones. "His career has been jeopardized, if not destroyed," McAllister said of son Mark, who has suffered emotional problems in recent years. Mark McAllister graduated from medical school but never completed his medical residency and now has a suspended medical license. During the news conference, Mary McAllister, the victim's mother, stood by silently with a white handkerchief in hand.

According to Steve McAllister, the abuse began when his son was 12 or 13 years old and continued through high school. Mark McAllister was a star athlete at Boonville High School and shared the highest academic rank there with another student, his father said. At the time there was no indication of the abuse.

Howard was a "very charismatic, impressive individual," Steve McAllister said. "I remember feeling at the time it was so great to have Father Gerry take Mark under his wing."

Steve McAllister, who used to teach psychology at Kemper Military School and College, said that when his son was in his 30s he began having night sweats and traumatic nightmares and performed acts of self-mutilation. Mark McAllister went through extensive rehabilitation, and "the Jefferson City Diocese did underwrite the cost of treatment," Steve McAllister said.

David Clohessy, executive director of Survivors Network of those Abused by Priests, said the purpose of the conference was threefold: to hear from Steve McAllister; to announce that at least four new victims — two from mid-Missouri — have come forward since Monday; and to appeal to every adult in mid-Missouri for any information about Howard. The names of the latest victims have not been released.

We are here to "heal the wounded and protect the vulnerable," Clohessy said. "Don't assume that you are powerless."

"Just the act of coming forward" has been therapeutic for Don Asbee, who is an abuse survivor and a co-founder of SNAP's mid-Missouri chapter.

"When victims and witnesses stay silent, nothing changes," Clohessy said.