Metro Columnist Dan Casey: a Haunted Heart

By Dan Casey
Roanoke Times
September 29, 2009

http://www.roanoke.com/columnists/casey/wb/220614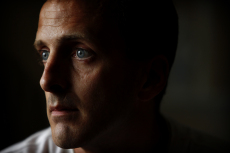 Dr. Mark McAllister grew up in Boonville, Mo., where his family welcomed the new priest into their home. McAllister says the priest, convicted of sex abuse in 1982, also sexually abused him for years. McAllister now lives in Roanoke and used to work for Carilion Clinic.



At the root of Mark McAllister's problems is "the monster" he says once abused him: his priest.

For years, Dr. Mark McAllister hasn't felt comfortable in his own skin.

You can sense that as the 39-year-old sits in a Roanoke coffee shop for an interview. His large eyes dart around the room as the words pour out. There's an edgy tone in his voice.

He looks haunted. When you hear his story, you understand why.

It involves years of sexual abuse by a trusted authority figure, narcotics addiction that has plagued him for more than a decade and grave questions over whether he'll ever have a medical career.

At the root of it is a man he calls "a monster," a parish priest whom McAllister met in his formative teenage years growing up in Missouri.

The monster introduced McAllister to drugs when he was 13. First tobacco, then alcohol and marijuana. Then, hallucinogens and cocaine.

He groomed McAllister, and convinced the boy he was "special."

So began five years of repeated sexual abuse that McAllister says he had no memory of until a couple years ago, shortly after he moved to Roanoke, and not long after the birth of his son.

Today, McAllister's medical license is suspended. He cannot perform surgery or see patients. He's in treatment for addiction. He ekes out a living as a medical instructor at a Roanoke technical school.

McAllister began speaking out about his experience in August, after he reached a $600,000 settlement with the Catholic Church.

The lawsuit and settlement revealed a long-buried secret about his abuser: The priest had been convicted of sexually abusing another boy in New Jersey, before he and McAllister had ever met.

Catholic church officials in New Jersey had known about that, sent the priest into treatment for a while, then approved his reassignment to Missouri after he had changed his name.

David Clohessy, the director of the Chicago-based Survivors Network of those Abused by Priests, says that story is depressingly familiar to anyone who has paid attention to the wave of sex-abuse scandals that has rocked the Roman Catholic Church during the past seven years.

By 2005, according to an analysis by The Associated Press, those already had cost the church more than $1 billion.

"This basic pattern of proven, admitted or credibly accused priests being sent from one place to another with no warning is painfully familiar. It's the crux of the crisis," Clohessy says.

The cool new priest

When McAllister met him, the monster's name was the Rev. Gerald Howard.

That was in the fall of 1983, in Boonville, a blue-collar farming community of fewer than 8,000 along the Missouri River, roughly halfway between St. Louis and Kansas City.

The only child of devoutly Catholic parents, McAllister lived in a brick rancher half a city block away from Saints Peter and Paul Catholic Church.

Howard, then in his late 30s, made an immediate impression on the parish.

"He was a very accomplished public speaker. His sermons were mesmerizing," McAllister recalls.

Howard also related easily to many of the parish's youths.

Off duty, he shucked his religious garb in favor of street clothes. He smoked and listened to loud rock 'n'roll music.

"He talked to us like he was one of the guys," McAllister recalls. "In kids' language, he was 'cool.' He took us to rock concerts. He was the father that we all wished we had."

Howard appeared one day at the Catholic school McAllister attended, and gave each student in his class a personality test.

Through it, Howard determined McAllister's personality type, and told the teenager he'd scored the same as Howard had. Their score was the most rare, McAllister recalls Howard telling him. It meant that McAllister was special, like him.

"He put me on a pedestal above everyone else."

Closer and closer

The priest and the boy grew closer. Soon, Howard was a welcome guest in the McAllister household, almost a part of the family. He would walk in the door without knocking, McAllister says.

He would invite McAllister to go for rides with him. He shared his cigarettes.

They would discuss things the teen had never before talked about with anyone, such as philosophy or psychology.

It was about that time that Howard began talking about bisexuality.

"It was tied in with the idea of bisexuality being normal," McAllister recalls.

Howard told him that he'd had a previous relationship with a boy in New Jersey named "Jimmy," McAllister says. That was the boy with whom Howard had been caught having sex in 1982.

In that case, Howard, whose name at the time was Carmine Sita, was fined $25, put on probation, sent to a treatment center -- and later to McAllister's parish in Missouri with a new name.

Howard used that story of his relationship with Jimmy to leverage himself closer with McAllister.

"If I wanted to hang with him, I had to be more like Jimmy," McAllister says. Within a few months of meeting, they began a sexual relationship.

It continued even after Howard left the church -- after officials there discovered marijuana in his room at the rectory.

Howard stayed near Boonville, McAllister says -- where he obtained a job as a youth counselor.

Distinction -- and drugs

McAllister says he and Howard had sex on thousands of occasions. Usually, they used drugs, most often cocaine.

McAllister says his parents had no idea what was going on. They were pleased he felt so close to a priest.

"I thought it was a good thing," says his father, Steve McAllister, who still lives with his wife in Boonville. "He was a very obviously intelligent Catholic priest taking an interest in my son. Mark seemed to respond to his influence, and I was kind of in favor of it."

Despite the sexual and drug abuse, McAllister flourished as student. He was a star athlete at Boonville High School. He had girlfriends and served as class president. He was co-valedictorian at his 1988 graduation.

The University of Missouri-Kansas City accepted him into a challenging, six-year program in which students concurrently earn a bachelor's degree and a medical degree.

The abuse ended when McAllister went away to college. By then, Howard was living in Columbia, about 25 miles east of Boonville and more than a two-hour drive from Kansas City.

Though McAllister's use of marijuana grew while he was in college, he earned his medical degree in 1994. The prestigious Cleveland Clinic offered him a surgical residency, and he later changed his residency to anesthesiology.

Flashbacks

It was in Cleveland that his drug abuse grew out of control. During his anesthesiology residency, McAllister stole fentanyl, a painkiller more powerful than morphine, and became addicted to it.

But he got caught, and that launched a 12-year saga of medical license suspensions and reinstatements, drug treatment and other jobs inside and outside of medicine.

With his problems under control by 2007, Ohio reinstated McAllister's medical license. Carilion Clinic offered him another chance to fulfill his dream of being a surgeon. He and his wife moved here in January 2007 so McAllister could continue his training.

Shortly after the birth of his son, now 3, McAllister began having terrible, sweat-soaked nightmares. Soon, he began have flashbacks during the day. The memories of Howard that he had repressed for so long came flooding back.

That drove McAllister crazy. He relapsed into fentanyl abuse and was caught again.

He entered residential drug treatment again, this time in Williamsburg. And he lost his job at Carilion.

"He is not employed by Carilion Clinic," says Eric Earnhart, a Carilion spokesman.

A search for closure

During his treatment in Williamsburg, a counselor told McAllister he exhibited classic symptoms of a sexual abuse victim. "That was the first time I had ever heard it called 'abuse,' " McAllister says.

He told his parents about what had happened decades before.

They approached the Catholic dioceses of Jefferson City, Mo., and Newark, N.J., which eventually agreed to pay for much of his treatment.

Two officials in the Diocese of Jefferson City in Missouri did not return my phone calls about McAllister or the priest he says abused him. But an Aug. 13 statement the diocese issued said it found McAllister's allegations credible.

The statement noted the priest's previous 1982 sex abuse conviction, his subsequent name change and his reassignment to McAllister's hometown of Boonville, Mo., in 1983.

"We do not know why Bishop [Michael] McAuliffe agreed to accept the priest or exactly what he knew of this priest's background at the time," the statement said.

It is unclear where Howard is today, or whether he is an active priest in the Roman Catholic Church.

Part of the settlement with McAllister requires the church to defrock Howard, a process McAllister says could take years. He says he has been unable to get a Missouri prosecutor interested in pressing criminal charges.

McAllister says he's speaking out today because "I know" there are more victims out there.

And he knows from personal experience that burying what happened can have devastating consequences to a victim's health, relationships, career and faith.

Since McAllister went public about his settlement last month, nine other alleged victims of Howard have come forward, McAllister says.

"What really is healing today is, as far as I'm concerned, knowing that nine other people are better off because I came forward.

"Those nine people have a shot at a better life."

In terms of his faith, McAllister calls that "a work in progress."

"Do I believe in the God that the Catholic Church gave me as a lad? Absolutely not," McAllister says. "No God that I can conceive of puts children in harm's way, like the Catholic Church does.

"But, would I be sitting here today without somebody looking over me?

"Probably not."