Documents Shed Light on Church's Treatment of Allegations against Priests

By Dave Altimari, Edmund H. Mahony, Matthew Kauffman and Alaine Griffin
The Hartford Courant
December 2, 2009

http://www.courant.com/community/bridgeport/hc-bridgeport-priestabuse-1202.artdec02,0,6515817.story
[See below for timeline.]

CONNECTICUT -- Even as a young seminary student, Raymond Pcolka's psychiatric problems caused doctors to question whether he should be a priest.

Early in his studies, seminary officials sent Pcolka home for a year to "recover control of his nerves." But after returning to school, a Bridgeport psychiatrist deemed Pcolka to be suffering an "obsessive compulsive type neurosis." Another doctor diagnosed a neurotic reaction and "adjustment problems of late adolescence." Still another recommended further psychiatric examination for the "uncommunicative" Pcolka.

>> Transcript of Oct. 7, 1997 Videotaped Deposition of Bishop Edward Egan

>> Transcript of Sept. 23, 1999 Videotaped Deposition of Bishop Edward Egan
>> Transcript of Nov. 11, 1995 Videotaped Deposition of Monsignor Andrew T. Cusack

>> Transcript of Nov. 18, 1996 Videotaped Deposition of Monsignor Andrew T. Cusack
"If there is any question of this man's stability or ability," one doctor wrote, "I would recommend psychological testing before final vows."

Despite his odd behavior, Pcolka was ordained in 1965 by then-Bridgeport Bishop Walter Curtis and assigned to St. Benedict's Parish in Stamford. Within months, he allegedly fondled an altar boy at the church.

By the time then-Bishop Edward Egan relented and removed him from the priesthood 28 years later, Pcolka had left behind a trail of victims, both male and female, who claim they were molested in churches, in his private quarters at church rectories and at a home he owned in New Hampshire.

One of those victims, George Rosado, eventually sued the diocese in 1993, triggering a deluge of lawsuits against the diocese that led to secret settlements costing millions of dollars and a seven-year court battle to keep those files secret.

Pictures: Key Figures In The Priest Abuse Scandal

On Tuesday, thousands of pages of court files from the Rosado case were released to the public. They show that both Curtis and Egan either ignored complaints against Pcolka and other abusive priests, or simply did not believe them.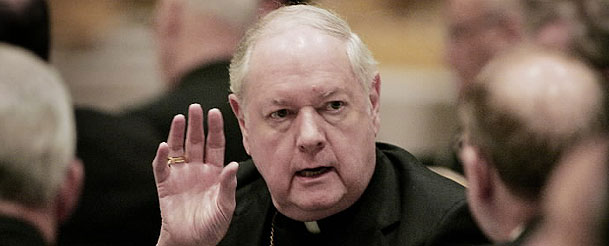 New York Cardinal Edward M. Egan, while serving as bishop of the Bridgeport Roman Catholic Diocese from 1988 to 2000, allowed several priests facing multiple accusations of sexual abuse to continue working for years.
Photo by SCOTT OLSON

The newly released documents include graphic descriptions of alleged rape and other sexual abuse, letters from the parents of victims urging church officials to take their complaints seriously and depositions in which church leaders reacted dismissively to repeated allegations of abuse.

The diocese issued a statement calling the documents "old news" that had been reported extensively by the press.

"Contrary to the naysayers, this is very old news. Between 1993 and 2002, media reports were published about these and other cases, including extensive Hartford Courant coverage in 2002 in an article that published, without permission, many of the sealed documents. The coverage included the names of the accused priests, critiques of the Diocese's handling of the complaints, victims' accounts, and many other details," the diocese said in a statement.

"Over the past decade, the Diocese of Bridgeport — and, indeed, the Catholic Church throughout the United States — has brought about a significant culture change regarding the knowledge of and ability to deal with sexual abuse."

But even as the diocese announced Tuesday that it was complying with a court order to release the documents, it withheld nearly 1,500 pages, asserting that those records were privileged under state and federal law and still subject to a court-ordered seal. The withheld documents include 685 pages taken from personnel files of as many as 17 priests who were the subjects of sexual abuse allegations.

The Courant in 2002 obtained Pcolka's personnel file, along with other documents that included depositions from Egan and Curtis, and published a series of stories that showed Egan had failed to aggressively investigate some abuse allegations, reassigned priests he knew had allegations against them and generally downplayed allegations made against many of the priests.

Over the course of five depositions, which were among the documents released Tuesday, Curtis testified that he kept "secret archives" from which he regularly purged "antiquated" complaints of sexual abuse. Curtis also said he viewed pedophilia as "an occasional thing" and not a serious psychological problem, and indicated that he was more concerned with weeding out potential gays among clergy applicants.

In one deposition, Curtis claimed that there had been no complaints of children being sexually abused by a priest between 1961 and 1988 — even though multiple complaints had been filed.

Although a dozen people eventually said they were abused by Pcolka, Curtis testified that he didn't remember any complaints against the priest, while Egan admitted that he dismissed many of the claims, simply saying in a deposition, "The 12 have never been proved to be telling the truth."

Egan told attorneys for 23 alleged victims that he wasn't interested in allegations — only "realities." He added that "very few have even come close to having anyone prove anything" against a priest.

In 448 pages of depositions Egan was forced to give as part of 23 now-settled lawsuits against seven priests, the bishop showed little compassion for the alleged victims and instead argued with attorneys that only a "remarkably small number" of priests have ever been accused of wrongdoing.

"These things [sexual abuse complaints] happen in such small numbers. It's marvelous when you think of the hundreds and hundreds of priests and how very few have ever been accused, and how very few have even come close to having anyone prove anything," Egan said in a deposition.

"Claims are one thing," he said. "One does not take every claim against a human being as a proved misdeed. I'm interested in proved misdeeds."

But Egan also acknowledged that he never attempted to seriously investigate the truth of such allegations — accusers were not interviewed, witnesses were not sought and no attempt was made to learn of other possible victims.

The files released Tuesday include an affidavit from a friend of Rosado's sister who accompanied Rosado, his sister, his brother and Pcolka to Pcolka's New Hampshire home sometime after 1977. The girl claims that she saw Pcolka rape the youngest boy and then sawone of them urinating on Pcolka while he was on the bed laughing.

Egan left to become the archbishop of New York in 2000. He was named cardinal of New York shortly before the lawsuits were settled in 2001. He retired earlier this year.

Critics of the diocese have said that church officials fought for nearly seven years to keep the documents sealed to protect Egan's reputation while he was still active. The diocese appealed to the U.S. Supreme Court, which earlier this year declined to hear the case, paving the way for Superior Court Judge Barry Stevens in Waterbury to unseal the files.

"As awful as Cardinal Egan is, he had and has plenty of accomplices," said David Clohassy, national director of SNAP, the Survivors Network of those Abused by Priests. "The church hierarchy's self-serving culture of secrecy is widespread and well-entrenched. He alone didn't hide child sex crimes. His predecessor, successor and staff all helped enable child sex crimes, deceive parishioners, stonewall prosecutors and endanger children.

Of the seven priests involved in the lawsuits, one — Joseph Gorecki — has died. Five others — Pcolka, Laurence Brett, Charles Carr, Martin Federici and Philip Coleman — have been removed from the priesthood. One priest — Joseph Malloy — was exonerated, according to the Bridgeport diocese, and is now pastor at the St. Clement of Rome Parish in Stamford.
Timeline: Roman Catholic Diocese of Bridgeport Priest Abuse Case

Research by Rosa Ciccio and Tina Bachetti of Center for News Research and Archives
The Hartford Courant
December 1, 2009

March 2001. The Roman Catholic Diocese of Bridgeport settles 23 lawsuits brought against seven unnamed priests for an undisclosed amount of money. The court orders the documents sealed and church officials believe eventually destroyed. Four newspapers – the New York Times, Hartford Courant, Boston Globe and Washington Post, file an emergency appeal in April 2002, seeking to have the documents preserved and unsealed. The diocese embarks on what would be more than a seven-year battle against the newspapers.
March 17, 2002. The Courant publishes a story based on thousands of pages of sealed court documents and testimony from civil suits against six priests. Among the findings:
New York Cardinal Edward M. Egan, while serving as bishop of the Bridgeport Roman Catholic Diocese from 1988 to 2000, allowed several priests facing multiple accusations of sexual abuse to continue working for years.
Former Bridgeport Bishop Walter Curtis, who ran the diocese for 27 years before Egan, testified in 1995 that the diocese deliberately shuffled pedophile priests among parishes to give them a "fresh start," and admitted destroying records of complaints against some priests. Curtis also said he didn't believe pedophilia was a permanent condition.
In 1964, a teenage student at Sacred Heart University accused Father Laurence Brett, a spiritual director of the university, of performing oral sex on him and biting his penis to prevent him from ejaculating. Bishop Curtis discussed the situation with the Vatican representative in Washington, D.C., and decided not to suspend Brett but to send him out of state. Diocese officials were told that "hepatitis was to be feigned" as an excuse for Brett's absence. In seeming exile, Brett was supported financially by the Bridgeport diocese and was permitted to perform priestly functions. Brett held a variety of ecclesiastical positions in New Mexico, California, and Maryland for the next thirty years, becoming a writer and television minister. In 1991, Egan investigated Brett's case and allowed him to remain in the ministry. When more accusations against Brett surfaced, Egan suspended his priestly faculties.
In 1991, Egan appointed Rev. Charles Carr parochial vicar of Saint Andrew Parish in Bridgeport, where he was allowed to minister to children, despite ongoing complaints about pedophilia that had forced Carr into treatment at Hartford's Institute for Living for evaluation at least twice. When the first lawsuit against the diocese in connection to Carr was served in 1995, Egan suspended Carr and placed him on an indefinite leave of absence.
Church officials had received abuse complaints about Rev. Raymond Pcolka since his first assignment, in 1966, at St. Benedict's Parish in Stamford. He was transferred several times over the years and sent to the Institute of Living for evaluation at least twice. Egan eventually suspended Pcolka in 1992, but continued to pay his salary, provide health benefits and cover the cost of his attorney's fees for several years. In addition, Egan did not make any effort to remove Pcolka from the priesthood, saying he didn't have sufficient evidence that Pcolka had abused anyone. In 1994, Pcolka exercised his Fifth Amendment privilege more than 100 times when questioned about abuse allegations involving more than a dozen victims over several decades.
March 18, 2002. Bishop William E. Lori speaks to the media, vowing to introduce initiatives to root out pedophiles in the diocese.
March 20, 2002. Egan, now Cardinal of New York, releases a statement labeling pedophilia an "abomination." He responds to the recent Courant story, saying the report "omitted certain key facts and contained inaccuracies," and that he is "confident that these cases were handled appropriately." Egan refuses to pledge that the church would report all abuse allegations to authorities, saying that in some circumstances, the diocese would decide whether there are sufficient grounds to notify authorities.
March 22, 2002. The Courant reports that sealed documents reveal the Roman Catholic Church hired in at least one case a private detective to dig into the personal life of an alleged victim and report findings to then-Bishop Egan's top aide, even though the accused priest had faced other sex complaints and had admitted to biting a teenager during oral sex in 1964.
March 24, 2002. Doctors at Hartford's Institute of Living, a nationally renowned psychiatric hospital that for years has treated clergy accused of sexual misconduct, say they were deceived by the Roman Catholic Church into providing reports that the church used to keep abusive priests in the ministry.
April 12, 2002. The Courant reports that Egan, while serving as bishop in Bridgeport, failed to notify police about a sexual relationship between a 15-year-old member of a church youth group and a priest, even after the teenager became pregnant with the priest's child in 1989, two months after her 16th birthday.
April 21, 2002. Bishop William E. Lori announces the departures of four of the seven "John Doe" priests. During a press conference he announces the suspension of Rev. Stanley N. Koziol of St. Mark Parish in Stratford and the resignation of Monsignor Gregory M. Smith, director of the Institute for Religious Education and Pastoral Studies at Sacred Heart University in Fairfield. He also reveals that two other priests who had left their parishes without explanation in 1997 had at the time been removed for sexual misconduct on orders from then-Bishop Edward M. Egan. Those priests were Rev. Joseph Moore and Monsignor Charles W. Stubbs. The "John Doe" priests were individuals referred to, but never publicly identified during years of litigation against the diocese by victims of other priests.
April 24, 2002. Lawyers for The Courant and The New York Times argue in Waterbury Superior Court that sealed files from the sexual misconduct lawsuits, slated for destruction because the cases were settled out-of-court, should be released for public inspection.
April 29, 2002. Rev. William D. Donovan of Fairfield resigns after the Diocese of Bridgeport, for the first time, reports an allegation of sexual abuse by a priest to state criminal investigators. A second priest, Rev. Alfred J. Bietighofer, assistant pastor of St. Andrew Parish in Bridgeport, resigns after two men complained to the diocese that he sexually abused them when they were minors.
May 16, 2002. The Rev. Alfred J. Bietighofer, 64, commits suicide by hanging himself in his room at St. Luke Institute in Silver Spring, MD, one of the nation's premier hospitals for the treatment of troubled clergy.
August 2002. A Hartford Courant investigation locates the Rev. Laurence F.X. Brett, who disappeared in late 1993, living on the Caribbean island of St. Maarten. Called a criminal and "evil man" by Church officials in Bridgeport and Baltimore, Brett faced allegations that he had abused more than two dozen children in Connecticut, New Mexico, California and Maryland dating back to the early 1970s.
October 16, 2003. Bridgeport Bishop William Lori apologizes to sexual abuse victims, asking for forgiveness, as he announces a $21 million settlement with 40 people who say they were molested by priests.
November 4, 2005. The state Supreme Court rules to affirm a lower court decision effectively granting four newspapers, including The Courant and The New York Times, permission to intervene and seek access to sealed documents relating to a Bridgeport priest sex scandal previously settled. Emphasizing the presumption that court records are open to the public, the Supreme Court sends the case back to Superior Court in Waterbury for a new hearing on the merits of the newspapers' motion to open the files.
December 6, 2006. A Superior Court judge rules that the public has the right to view sealed court documents from nearly two dozen sex abuse lawsuits files against the Bridgeport diocese that were settled in 2001, saying that the original reason for their secrecy – to ensure a fair trial – is no longer relevant. Four newspapers, including The Courant, had sought to have the documents unsealed in 2002. The Diocese later appeals the decision.
May 22, 2009. The state Supreme Court rules for the second time that the public should have access to nearly all of the 12,675 pages pertaining to some of the 23 lawsuits alleging sexual abuse claims against at least seven priests from the Bridgeport diocese. The Courant obtained copies of some of the sealed documents in 2002, resulting in a number of articles detailing how then-Bishop Edward M. Egan and other officials in Bridgeport ignored accusations or protected abusive priests.
November 2009. In an attempt to keep the documents secret, the Diocese of Bridgeport admits in a court filing that it is aware of 32 claims of sexual abuse allegedly committed by eight priests in the parish of St. Theresa's in Trumbull between the years of 1968 and 2000.
December 1, 2009. 12,600 pages of documents released.