SNAP Petitions Church over Members' Actions

By Jennifer Hall
The News-Press
January 14, 2010

http://www.stjoenews.net/news/2010/jan/14/snap-petitions-church-over-members-actions/?local

MISSOURI -- A survivors' support group is worried that recent actions of a few local church members is sending the wrong message to sexual abuse victims.

Barbara Dorris of the Survivors Network of those Abused by Priests (SNAP) went to the New Life Bible Church Wednesday to deliver a letter to the church's leaders. The letter is intended as a peace offering to work with members to be supportive of possible victims.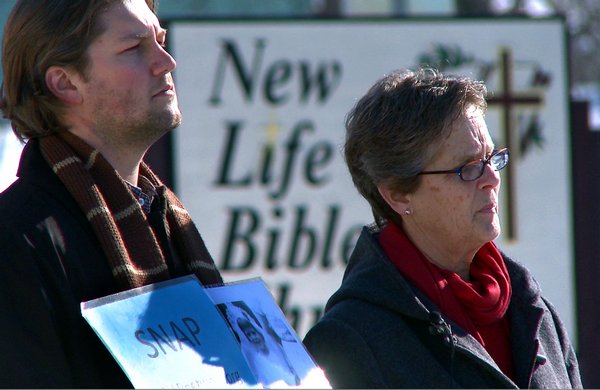 Adam Walker and Barbara Dorris from Survivors Network of those Abused by Priests held a press conference Wednesday at the New Life Bible Church. SNAP was protesting the recent abuse case of a pastor at the church.
Photo by Eric Keith


Ms. Dorris said SNAP's members believe that the recent sentencing of a former pastor of the church was too lenient and that the congregation that attended the hearing acted inappropriately in supporting the man.

Judge Dan Kellogg sentenced Mike Landy, 57, to seven years in prison, then suspended the execution of that sentence in lieu of five years of probation and 120 days of shock detention. The charge was committing statutory sodomy in the second degree.

Mr. Landy, the former regional director of OATS Inc., pleaded guilty to sexually abusing a girl from 1996 to 1999. The victim was 13 and Mr. Landy was 43 when the relationship started. Mr. Landy met her while working with the youth program at the New Life Bible Church.

Ms. Dorris said the fact that members of the congregation rallied around Mr. Landy and not the victim, who was also a member of the church, sends the wrong message.

"It tells (victims) that no matter what you say, the community will rally around the predator instead of the victim," she said. "This message is dangerous and damaging."

SNAP members feel there are most likely more victims, and that the display in the courtroom could deter others from coming forward to confront their abusers.

"I'm not necessarily saying that (Mr. Landy) abused others," Ms. Dorris said. "But there could be other children in the church who may have been abused by someone else. A teacher. A parent. Victims are probably now too scared to come forward."

No one was at the church Wednesday afternoon to answer Ms. Dorris' knocks. But she vows to try again to make contact with the church's leaders.

"We just want to try to deliver the letter and meet and work together to offer encouragement and support (to the church)," she said.

SNAP members have put together a list of ways individuals can offer support of those accused of committing abuse. Ms. Dorris said she is not condoning the fact that church members supported Mr. Landy, but said the support should be done in a less public way.

Jennifer Hall can be reached at: jennhall@npgco.com