50 Years of Secrets

By Bill Dries
The Daily News
April 8, 2010

http://www.memphisdailynews.com/editorial/Article.aspx?id=49118

Catholic priests accused of child sexual abuse in Memphis moved to different parishes and cities without parishioners or authorities being alerted, according to recently opened Circuit Court records.

More than 6,000 pages of records covering a 50-year span also show in later years the Memphis Catholic Diocese sent those suspected of such abuse to counseling centers. The priests were suspended, took leaves of absence or were urged to quit.

But diocesan leaders never went public about the allegations, even when several of the priests confessed to sexual abuse.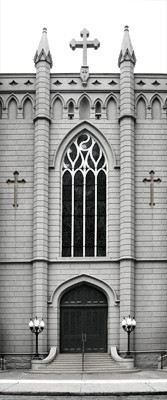 Shown: St. Peter Catholic Church, where the Rev. Juan Carlos Duran once lived.



They also didn't report the abuse to authorities until 2005, when pressure mounted from the media and local prosecutors. And they didn't ask questions about past abuse by priests who were still active.

"I don't think we – anybody in society, I don't care what profession – would have understood the abuse of minors then as we do today," Monsignor Peter Buchignani said in a 2008 deposition that included questions about the past cases as well as those during his tenure as vicar general of the diocese.

"I think for a priest back then, it would have been seen probably as moral failure that could be corrected."

The documents deal with not only the specifics of the case but with other allegations against 15 Memphis priests.

Duran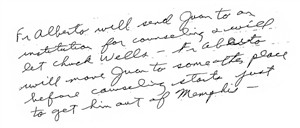 Handwritten notes from Catholic Diocese attorney James Kleiser in 2000 advise how to handle sexual abuse allegations against Fr. Juan Carlos Duran: "Fr. Alberto will move Juan to some other place before counseling starts just to get him out of Memphis."



Five of the priests, including Father Juan Carlos Duran, assigned to Church of The Ascension in 1999, have been named in civil lawsuits filed since 2004.

The depositions and diocesan documents were made public after The Daily News intervened in a 2004 Circuit Court lawsuit.

The suit alleged Duran repeatedly sexually abused a 14-year-old boy over a six-week period in 2000 and that the diocese, as well the Dominican religious order to which Duran belonged, covered up the incident as well as past child sexual abuse by Duran.

John Doe testified and said in the final incident of abuse, he and Duran got drunk on wine while watching pornography in a church classroom. Doe passed out and woke up hours later on the floor with his pants undone and Duran lying with an arm over him wearing no pants at all. The boy began vomiting.

Duran drove the boy home, where the boy told his mother he had been sexually abused by Duran for approximately six weeks. They immediately contacted church leaders in Memphis.


The Catholic Diocese of Memphis was founded in 1971. All four of its bishops have dealt with allegations of child sexual abuse by priests. The bishops are, counterclockwise, Carroll T. Dozier, Francis Stafford, Daniel Buechlein and J. Terry Steib, who is the current bishop.



Handwritten notes in the immediate aftermath from James Kleiser, attorney for the diocese, list three "options available:"

"1.) arrest priest 2.) file claim for ins(urance) 3.) discuss with Diocese and get help for priest and family."

"Juan says he exposed himself and was aroused, but did not masturbate himself," Kleiser wrote of his interview of Duran. "Juan admitted he had gone to a sex shop and bo(ught) a machine for masturbation."

Like other priests accused of child sexual abuse, Duran immediately was sent to one of several counseling facilities used by various dioceses across the country – St. Luke Institute in Silver Spring, Md.

The 10 pages of notes ended with Kleiser writing "Fr. Alberto (Rodriguez) will move Juan to some other place before counseling starts just to get him out of Memphis." Rodriguez was one of Duran's Dominican superiors in Louisiana.

Duran did not complete the counseling and is no longer a priest.

"I've got depression. I've got anger. I've got rage. I'm furious," Doe testified in a February 2007 deposition. "I can't believe that this would happen to me. I can't believe I have to go thinking in life about if I'm gay or if I'm straight, what should I do with my life."

He complained of flashbacks in which he would suddenly see Duran, flashbacks involving the sexual abuse and confusion about his sexual orientation, and anger.

The diocese told the victim's family not to say anything about the incident and didn't report it to authorities, even when attorneys on the Diocesan Review Board urged church leaders to report the abuse to the Department of Children's Services.

"Why did you not order your people to report him, whether they were required to or not?" Gary K. Smith, attorney for John Doe, asked Memphis Bishop J. Terry Steib at one point.

"Because my people were also working with the Dominican group, and the Dominican group had then taken that under its wing to work through," Steib replied.

Attorneys for the diocese also believed that they were not required to report such abuse if the victims were 13 to 18 years old.

Kleiser said he consulted with the church's outside general counsel, William A. Carson, about whether Duran should be reported and arrested.

In February 2000, shortly after the abuse, they both agreed there should be no report "because Doe was over 13 years of age and Duran did not have custodial care of Doe," Kleiser responded in a 2007 affidavit.

"Mr. Carson further advised that, in view of the fact that a report was not required by law, the diocese should not report the matter to the Department of Human Services," Kleiser continued, saying that was the policy agreed upon in a "previously formulated plan."

Three years later, before Doe filed the lawsuit, the Diocesan Review Board recommended reporting the abuse to authorities. Carson again advised no report, according to Kleiser's affidavit. Kleiser agreed and Steib did not report it.

The DRB is a group of eight laypeople not affiliated or employed by the diocese who hear complaints of such abuse and make recommendations to the Memphis bishop.

Shelby County District Attorney General Bill Gibbons said two years later, in 2005, that the diocese is required under state law to report such abuse, as well as other allegations, regardless of the victim's age.

Gibbons' public statement led to a series of private meetings, in which diocesan officials agreed to voluntarily turn over the names of priests involved in all past and any future allegations.

But attorneys for the diocese continued to insist they aren't required to make those disclosures.

The John Doe civil suit against the diocese and the Dominican religious order was settled in February 2009, just as it was about to go to trial. The diocese paid the victim $1.5 million and the Dominicans paid $500,000.

The combined $2 million settlement is the largest one for a single case ever acknowledged publicly by the diocese.

Duran's Dominican superiors in Louisiana testified they were told in writing of earlier problems with Duran, including that Duran had been expelled from the Franciscan order because of sexual abuse allegations.

Handwritten notes from Catholic Diocese attorney James Kleiser in 2000 advise how to handle sexual abuse allegations against Fr. Juan Carlos Duran: "Fr. Alberto will move Juan to some other place before counseling starts just to get him out of Memphis."

The records include a December 1994 letter from Father Patricio R. Rearden of the Dominican Vicariate in Cochabamba, Bolivia.

Rearden wrote to Rev. Carl Trutter, one of Duran's provincial Dominican supervisors in Metairie, La.

"(Duran's) entrance into our vicariate was very dubious to say the least," Rearden wrote. "He was previously expelled from the Franciscan order here for immoral behavior."

Trutter responded in January 1995 and said the provincial councils "did have rather thorough information … including the past."

"As far as I can judge, the events of the past are truly past, and he seems to have a good prospect in the Order for the future," Trutter wrote. He also described Duran's life with the Dominicans as "truly exemplary."

In his 2007 deposition, Trutter testified that the "immoral behavior" by Duran was the sexual abuse of a boy. Another Dominican superior, Rev. Alberto Rodriguez, wrote in a 2001 letter to Pope John Paul II that Duran "sexually abused some minors while ministering at a Children's Home in Cochabamba."

But Rodriguez denied Dominican officials knew of that or other abuse before the Memphis incident.

However, by June 1996, Rodriguez already was seeking records on Duran from the Chicago area and from Bolivia. Rearden was also providing copies from Bolivia.

In July 1998, Trutter wrote a letter to John C. Favalora, Catholic archbishop of Miami, in which he said Duran was a member in good standing of the Dominican order.

"I am aware of nothing in Father Duran's background which would render him unsuitable to work with minor children," Trutter wrote.

By November 1998, Memphis diocesan officials were considering Duran to be the first priest in the diocese with a ministry devoted to the city's growing Hispanic and overwhelmingly Catholic population.

Two days after Christmas, the uncle of two teenage boys complained to campus police at St. Louis University that Duran had made lewd gestures in the whirlpool area of the school's recreation center and had watched both boys undress in the locker room.

One of the boys asked his uncle "why the other man in the whirlpool was putting his finger in his mouth … and why was the man putting his finger in his butt," the report reads.

The uncle said he then saw Duran watching them undress and moved them to the shower area to get them out of Duran's sight. He called police, who arrived after Duran had left.

Duran said he was massaging his back and buttocks area because of recent surgery, and denied any lewd gestures. The uncle didn't pursue charges.

Campus police told Duran's Dominican superiors.

On Jan. 18, 1999, Trutter again sent a letter saying Duran was a priest in good standing with the order.

This time the letter, identical to the one to Miami's Archbishop, went to Michael J. Sheridan, auxiliary bishop of St. Louis.

Duran was later charged in a 2004 arrest warrant by St. Louis prosecutors with sodomizing a boy there between 1999 and 2002.

In March 1999, Trutter confirmed that Duran had permission to come to Memphis.

Deacon and Chancellor Charles R. Wells mentioned a letter of good standing, which was also a part of Memphis diocesan procedures for priests new to the area.

But unlike diocesan officials in St. Louis and Miami, Wells never followed through and never got the letter with its specific assurance that Duran would be able to work with minor children.

Wells never questioned Duran about allegations of child sexual abuse in general.

Duran's Dominican superiors testified in depositions that they didn't know why they failed to tell Memphis diocesan officials what they knew in late 1999 when Duran came as the first minister to the city's growing and overwhelmingly Catholic Hispanic community.

Steib said the letter of good standing was overlooked and should not have been.

But he offered no explanation for the oversight.

"I am told no, we did not get the letter of good standing, but that our chancellor had been in touch with the provincial or whatever," Steib said. "Why the letter of good standing was not forthcoming – it should have been – I don't know."

No one on either side of the case ever disputed that Duran abused the boy, who filed the suit four years later when he turned 18.

The issue was whether the diocese and the Dominicans could or should have known Duran was a danger.

Eighteen people, including Steib and all of Duran's Dominican superiors, were questioned in depositions by attorneys on all sides of the case.

Duran was not deposed. Diocesan officials have said they assume he has returned to Bolivia.

One of the documents from his Dominican superiors states that Duran would not be allowed to return to Bolivia because of prior child sexual abuse allegations against him there.

A 2003 memo from Father Martin Gleeson, the Dominican prior provincial in Metarie, said Duran is "no longer a Dominican. Furthermore, he may not wear the religious habit. In addition, he may not exercise any priestly ministry unless he finds a 'benevolent bishop.'"

It also reads that Duran should not be given a good recommendation if anyone including a Bishop asks.

"Be truthful. Explain that he is not longer a Dominican because of incidents of sexual abuse of a minor," Gleeson wrote.

15 Priests Accused of Sex Abuse

Fifteen Catholic priests are accused of child sexual abuse in the thousands of pages of records released this week from a 2004 civil lawsuit accusing the Memphis Catholic Diocese of covering up such abuse.

The court filings, depositions and church documents stretch from 1959 to 2009.

The Catholic Diocese of Memphis was founded in 1971. All four of its bishops have dealt with allegations of child sexual abuse by priests.

The bishops are, counterclockwise, Carroll T. Dozier, Francis Stafford, Daniel Buechlein and J. Terry Steib, who is the current bishop.

Memphis Catholic Bishop J. Terry Steib, in his Aug. 14, 2006, deposition estimated there had been six allegations of sexual abuse by priests during his 17 years as Memphis bishop. He also estimated there were between six and 10 allegations prior to his tenure since the founding of the Diocese of Memphis in 1971.

Prior to 1971, what is now the diocese was part of the Diocese of Nashville.

In the 2004 nationwide survey of priest sexual abuse allegations by the John Jay College of Criminal Justice, Memphis diocesan officials reported only seven abuse allegations.

The Rev. Juan Carlos Duran, who sexually abused a 14-year-old boy over a six-week period in 2000, was not included in the Memphis tally.

That is despite the boy's family reporting it to church leaders at the end of the six weeks, when the boy's mother confronted him and the boy told her everything. Duran later acknowledged to a diocesan attorney that he had abused the boy.

Diocesan officials later testified in depositions that the Duran case was not included in the Memphis numbers because Duran was a Dominican priest and the diocese assumed the Dominican province in Metairie, La., would include Duran in its total.

Four years later when he turned 18, the boy filed a John Doe civil lawsuit in Shelby County Circuit Court alleging the Diocese of Memphis and the Dominicans should have known Duran was a danger to children.

The lawsuit was settled for $2 million and The Daily News then petitioned the court to open the files, including depositions and Diocesan documents of other abuse allegations.

Among the 15 Memphis priests identified, either by name or by number, in the court documents are:

The Rev. Richard Mickey, who was named in another 2004 lawsuit filed shortly before the Duran lawsuit.

The diocese settled the lawsuit filed by Blain and Blair Chambers alleging abuse by Mickey in 1980 before he was a priest and when they were students at Bishop Byrne High School.

Diocesan officials testified that they never believed the allegations. But Mickey was suspended and sent for counseling because of a deposition in the case by a man who claimed he and Mickey were a "couple" in the 1990s while the man was a senior at Memphis Catholic High School and Mickey was the school's chaplain.

The man kept dozens of cards and letters Mickey sent him in which Mickey professed his love. Mickey said he acted inappropriately but denied any sexual contact.

Counselors recommended that Mickey not have any contact with children and never be allowed to set foot on a school campus. Mickey disagreed with the finding and diagnosis but remains a priest under those conditions.

The Rev. Paul W. St. Charles, who was the first diocesan youth director, holding the job from 1971 to 1973.

No other priest from Memphis has been accused more in civil lawsuits than St. Charles, who served in Memphis from the early 1960s to the mid-1980s, when he retired and moved to Nashville.

St. Charles acknowledged he retired under pressure after diocesan officials confronted him about "rumors" of sexual misconduct.

The first accusations to go public involving St. Charles were ones that were made to church officials and handled by the Diocesan Review Board.

In 2004, two years after the first complaint, the DRB found it "more likely than not" that St. Charles had abused a teenager in the late 1970s. Steib suspended St. Charles from all priestly duties and St. Charles appealed. Steib delayed sending the appeal on to the Vatican for two years.

When attorney Gary K. Smith asked about the delay, Steib testified in his deposition, "I couldn't tell you. I would have to look back."

St. Charles claimed his innocence until he died in December. But the DRB found multiple allegations against St. Charles to be credible.

The Rev. Joseph Nguyen, who was named in three 2006 Jane Doe lawsuits.

The diocese settled each for more than $100,000 and provided counseling. Two of the girls moved to Memphis from New Orleans in the mid-1990s and were sexually abused "dozens of times" by Nguyen over a four-year period starting when they were 11 or 12 years old, according to the lawsuit.

The third girl lived in Memphis and was also abused by Nguyen dozens of times, according to the lawsuit, including an incident in the confession room at Blessed Sacrament Church.

The Rev. Daniel Dupree, who wrote a confession letter in 1992 in which he listed as many victims and incidents as he could recall.

The 40 incidents with 14 people, some minors and some adults, ranged from flashing to anal sex and began in 1985.

There were enough victims that then-Bishop Daniel Buechlein put together a panel of mental health professionals, attorneys and pastors to contact the victims. Dupree began a 14-year leave of absence and underwent therapy. He stayed in touch with Buechlein and Buechlein's successor, Steib.

Dupree was named in a 2006 John Doe civil lawsuit against the diocese in which a man claimed Dupree sexually abused him as a teenager in the mid-1980s while Dupree was at Church of the Resurrection and later while Dupree was a chaplain and guidance counselor at Christian Brothers High School. The Tennessee Appeals Court dismissed the case, saying the claim was beyond the statute of limitations.

Priest No. 3, who was accused of child sexual abuse a year and a half after he was ordained in 1957 in Mississippi.

It was the first of a dozen allegations over the years. He was relieved of his duties in Memphis in 1973.

Five years later, he approached Memphis church leaders about being reinstated in 1978. He returned to the priesthood in 1980. A new abuse complaint surfaced and Bishop J. Francis Stafford suspended him.

By the 1990s when Steib became bishop, Steib encountered relatives of priest No. 3 who told him the priest was still celebrating masses despite the suspension.

Priest No. 18, who came to Memphis in 2005 as part of a Redemptorist order presence in the city.

A parishioner found articles in the St. Louis Post-Dispatch on three allegations of sexual harassment involving adults that resulted in lawsuits that were settled.

The allegations stemmed from a session in which priest No. 18 invited several adult males to watch pornography. The order didn't say anything about the lawsuits to the diocese of Memphis, but no one from the diocese apparently thought to research the priest's name online.

The Diocesan Review Board recommended removing priest No. 18, who was pastor of an unnamed Catholic church. Steib kept him as pastor after a meeting with the parish council at which priest No. 18 was present.

Priest No. 4, who was accused in June 2003 of abusing a 10-year-old boy.

But the allegation was not made to church leaders. The Department of Children's Services got the complaint, investigated and concluded it was unfounded. That was when diocesan leaders learned of the allegation.

Priest No. 10, who was accused in February 1990 of sitting on schoolboys and being rough with them.

One boy's grandmother complained he would kick the boys in the shins.

The diocese investigated and concluded he intended no harm but was too brusque.

In 2005, a parent complained when priest No. 10 picked up a boy who knelt to receive communion. The priest said he was correcting the boy. Steib said he did not believe it was inappropriate.

The Rev. William Kantner, who was accused in 2002 of abusing a teenager in 1978. Then a fellow priest accused Kantner of sexually abusing him too.

Kantner adamantly denied abuse of any kind. Nevertheless, Monsignor Peter Buchignani, the diocesan vicar general, concluded it probably happened.

The Diocesan Review Board investigated and determined the cases happened when both men were adults. Since the DRB's charge is to investigate cases of child sexual abuse, the group did not make a finding.

Kantner was sent for counseling but there are no restrictions on his service.