Judge Orders Joint Trial for 20 Paquette Sexual Abuse

By Sam Hemingway
Burlington Free Press
April 21, 2010

http://www.burlingtonfreepress.com/article/20100421/NEWS02/100421001/Judge-orders-joint-trial-for-20-Paquette-sexual-abuse-cases

A Chittenden County judge has ordered that 20 pending clerical-sexual-abuse lawsuits be handled in an unprecedented joint trial beginning Sept. 20 and lasting through the end of November.

The trial would take place if ongoing mediation discussions fail to resolve the cases. Judge Helen Toor, in her joint-trial order, extended the deadline for mediation to May 31.

The 20 cases involve claims by former altar boys who say they were molested by the Rev. Edward Paquette in the late 1970s. Fifteen of the 20 focus on incidents at Christ the King Church in Burlington; the other five target conduct by Paquette when he was at parishes in Rutland and Montpelier.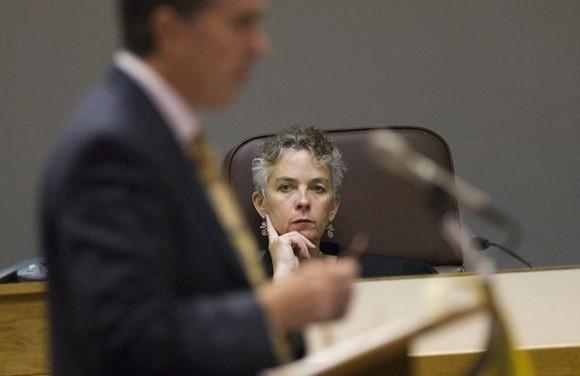 Judge Helen Toor has called for a joint trail of 20 sexual abuse cases involving former Vermont Catholic priest Edward Paquette.



The 20 plaintiffs are suing the state's Roman Catholic diocese for damages on grounds it hired and continued to employ Paquette knowing he was a child molester. Paquette, who is retired and living in Westfield, Mass., is not a defendant.

The diocese does not dispute the abuse occurred, but in four trials involving claims by alleged Paquette victims, church attorneys have argued the diocese relied at the time on the advice of church psychologists who said Paquette's sexual deviancy had been corrected.

Toor's order followed a closed-door meeting Monday at Chittenden Superior Court in Burlington between the judge and lawyers in the case. Toor has several times expressed frustration with how long it is taking to resolve the clerical-sexual-abuse lawsuits.

The oldest of the 20 cases was filed five years ago. In addition to those cases, seven more allege molestation of youths by other priests; the oldest of those cases was filed in 2004.

The judge's order drew a cautious reaction Tuesday from attorneys for the former altar boys and the diocese.

"Anytime we can get our cases to court, it's what we want to do," said Jerome O'Neill, lead attorney for the former altar boys. "We do not necessarily agree with the court that this is the best method, but we want to get the cases to court."

Thomas McCormick, a diocesan attorney, said he also has some concerns with the joint-trial approach.

"I have no experience trying that many cases at the same time," McCormick said. "I don't think anyone in the state does."

Toor, in her order, deferred a decision on the details of how such a trial would be conducted.

"The court will schedule a status conference in mid-June to address the procedural aspects of the trial, including issues regarding jury draw, peremptory challenges, and how the damages portions of the individual claims will be tried," Toor wrote in her order.

McCormick said he hopes all the cases will be settled before the September start date for the joint trial. Neither he nor O'Neill would comment about the status of the ongoing mediation talks.

Also Tuesday, federal Judge William Sessions III rejected a request by the diocese to dismiss a case alleging the diocese fraudulently conveyed ownership of diocesan property and investments to separate trusts in order to claim it lacked the money to pay court damage awards in the clerical-abuse cases.

The diocese had claimed a case making an identical claim was pending in state court, and the lawsuit in federal court amounted to unnecessary duplicate litigation.

The case in federal court was filed by seven former altar boys now living out of state. The state court action was filed by former altar boys who are Vermonters.

"These people have the right to select the forum they wish," Sessions said in turning down the dismissal request.

Contact: shemingway@burlingtonfreepress.com