Salinas Priest's Victim Describes Suicide Attempts

Salinas Californian
May 5, 2011

http://www.thecalifornian.com/article/20110505/NEWS01/105050303/Salinas-priest-s-victim-describes-suicide-attempts?odyssey=nav%7Chead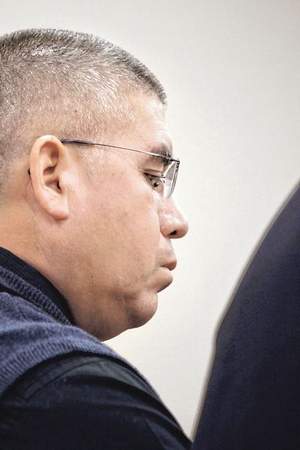 The Rev. Antonio Cortes, 43, listens to his sentencing Wednesday at the Monterey County Superior Court in Salinas. Cortes was sentenced to one year in jail and three years probation after pleading no contest to 14 counts that included sodomy, and child molestation.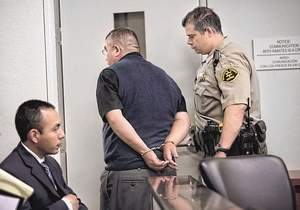 The Rev. Antonio Cortes, 43, is handcuffed and taken into custody after his sentencing Wednesday at the Monterey County Superior Court in Salinas. Cortes was sentenced to 1 year in jail and three years probation after pleading no contest to 14 counts.



Standing next to the prosecutor with his right leg shaking uncontrollably, a 16-year-old boy shared the hurt and pain a Salinas priest caused by sexually molesting him two years ago.

"I have been in mental hospitals three times ... and every time [it's] because I've tried to commit suicide," the boy said Wednesday during the sentencing of the Rev. Antonio Cortes. "It's been really hard for me. It's something that I don't wish on no one. My depression came because of the guiltiness I was feeling."

The boy spoke publicly for the first time since Cortes' arrest in April 2009 while he was a priest at St. Mary of the Nativity Church in Salinas.

Cortes pleaded no contest in March to 14 counts that included sodomy, child molestation, possession of child pornography, furnishing liquor to a minor, child endangerment and immoral acts in the presence of a minor. The sodomy and possession of child pornography counts are felonies while the balance of charges are misdemeanors.

Shortly after the boy spoke, Monterey County Superior Court Judge Terrance Duncan sentenced Cortes to a year in jail and three years of probation. Duncan called the defendant's behavior "shameful and scandalous," and spoke of a potentially harsher consequence to his actions.

"When he finishes his jail sentence he will be transferred to a federal prison

[where he faces] deportation by the United States to a country of his origin, but a country where his family no longer resides — they are all here," Duncan said. "He'll be deprived of the comfort and friendship of all the people that he has befriended here in this country. He will be defrocked by the Catholic Church .... Essentially, his life as he's known it is over."

Defense attorneys declined to name the country where Cortes will likely be deported to. As part of his sentence, Cortes will also be required to register as a sex offender for life.

Miguel Hernandez, one of Cortes' private Salinas attorneys, said after the hearing that it's likely his client will finish his sentence in six months.

Through his other lawyer, Eugene Martinez, Cortes expressed "his sincere remorse" over the acts he'd committed and the devastation he caused.

The boy and his loved ones embraced one another after exiting the courtroom following the sentencing hearing.

A few feet away stood a congregation of Cortes' supporters — some of whom were crying profusely.

Hours after the hearing, the Diocese of Monterey issued a statement by Bishop Richard Garcia who expressed empathy for the boy and his family.

"My heart goes out to the young man and his family," said Garcia in the statement. "I am so sorry to hear of all that he has suffered these last two years. I would like to renew the Diocese of Monterey's offer to him and his family for counseling. I will continue to pray for him, his family and all involved in this terrible situation. They are truly in my heart and prayers."

With the conviction, diocese spokesman Tom Riordan said Wednesday that they plan to submit "in a matter of weeks" Cortes' case to Vatican City in accordance to the church-law process. It is likely, Riordan said, that Cortes will be stripped of his priesthood.

While still receiving funds for living expenses, Cortes remains suspended and hasn't functioned as a priest since his arrest in 2009.

In his statement before the judge Wednesday, the boy repeatedly pleaded for the judge to view the situation through his and his family's eyes. The teen also shared that he tried to commit suicide soon after receiving notice about Cortes' plea in March.

"Sincerely, I've tried to feel anger about him, but I just can't," he said. "[Cortes] was more than a priest — he was my friend .... He was a great person to talk to, but I think just probation and [jail time] is not enough ...; it's not enough for the pain."