Letter Released by SNAP Shows That Parents Were Concerned about Father Shawn Ratigan

By Mike Markewinski
NBC Action News
May 27, 2011

http://www.nbcactionnews.com/dpp/news/crime/a-newly-released-letter-by-snap-shows-that-parents-were-concerned-about-father-shawn-ratigan

[A letter to the Archdiocese of Kansas City-Saint Joseph]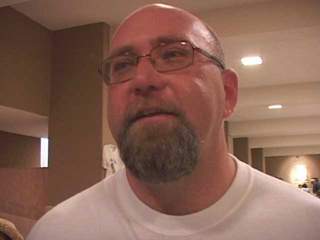 Rev. Shawn F. Ratigan (Photo courtesy of KQ2 - St. Joseph)



KANSAS CITY, Missouri - New allegations have surfaced against a priest charged with possessing child pornography.

The Survivors Network of those Abused by Priest, also known as SNAP, said the principal of St. Patrick School wrote a letter to the Archdiocese of Kansas City-Saint Joseph back in May 2010 about Father Shawn Ratigan.

In the letter, Principal Julie Hess said she wrote it because of a growing concern by parents over the inappropriate behavior of Ratigan around children. The letter said that Ratigan seemed to have "no physical boundaries."

Hess said several parents brought in material they believed show that the actions of Ratigan mimicked a child predator.

Ratigan faces three counts of possessing child pornography. He appeared before a Clay County judge via video on Monday as his attorney sat in the courtroom.

Court documents say Ratigan's cache of child pornography was discovered when he took his laptop in for repair in December of 2010.

The alleged letter was sent six months before he tried to commit suicide.

Part of the letter reads "Although concerns about Father Shawn surfaced early in the school year, in the last week they have grown much stronger. The proverbial "straw that broke the camel's back" was reported to me (Hess) by phone last Thursday, May 13, 2010. During a school field trip to Platte Falls, Father allowed a fourth grade girl to sit on his lap and lean her body back against him. He did not immediately move to re-direct her; she sat there for at least five minutes, until teachers moved to stand next to him. Then he rose and went to play Frisbee with a group of students."

Ratigan was arrested on May 18th. Shortly after the images were found, the Dioceses contacted Kansas City police. At the time, it was determined that it was not child pornography.

The Diocese has come under fire for its timeliness in this matter.

NBC Action News heard first hand from the Kansas City, Missouri Police Department why there wasn't action taken in December.

Captain Steve Young explained, "A member of the Diocese contacted a member of this department and told that member of the department that they'd found a computer and on that computer was a single image of a naked young girl."

The Diocese asked if the photos were pornographic.

He continued, "The answer to that is no, it is not child porn. It is not a prosecutable offense."

The letter also claims Ratigan was obsessed with one fifth grade girl and took hundreds of pictures of the children while on field trips and doing their everyday school activities, something that concerned some parents.

Detectives have also contacted a church in St. Joseph where Ratigan previously worked. The church turned over a computer that Ratigan had used and police said they found more child pornography.

His next court appearance is June 16.