Group Wants Proof That Diocese Is Abiding by 2008 Agreement

By Glenn E. Rice
Kansas City Star
June 8, 2011

http://www.kansascity.com/2011/06/08/2937492/group-wants-proof-that-diocese.html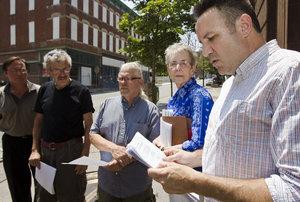 Abbot Durocher (right) read a protest letter Wednesday outside the Diocese of Kansas City-St. Joseph, demanding proof that the church is honoring a 2008 agreement.



Several plaintiffs in a $10 million lawsuit settled with the Diocese of Kansas City-St. Joseph demanded Wednesday that church officials abide by the terms of their agreement.

In the wake of allegations against two priests, the group is asking diocesan officials if they have complied with a number of agreed-upon reforms that were designed to protect children who attend Catholic schools and churches from possible abuse.

"This isn't a lawsuit, it's a demand letter," said Mike Hunter, leader of the Kansas City chapter of the Survivors Network of those Abused by Priests. "We want answers from the diocese. We want proof they're honoring the commitments they've made to us about child safety."

In 2008, the diocese agreed to pay a $10 million settlement to 47 plaintiffs who said they were abused by priests.

The settlement also included several nonmonetary commitments. Among them were setting up victims' advocacy programs and immediately reporting any abuse or suspicion of abuse to law enforcement authorities in accordance with Missouri statutes. The diocese also agreed to adopt a whistle-blower policy.

Rebecca Summers, diocese spokeswoman, said church officials and the sexual abuse claimants reached agreement on all points relating to the non-financial commitments.

Summers said the diocese has followed the actions that were agreed to and were published in a report by the diocese in December 2008. For example, the diocese sent apology letters to those victims who requested them.

Hunter said that if the diocese has not responded to the letter in 10 days, the plaintiffs would consider legal action.

"Our request is reasonable because the evidence and allegations that have surfaced in recent months strongly suggest church officials haven't changed and kids are still at risk here," he said.

The group said the recent incidents involving two priests occurred because of breaches of the commitments by the diocese.

Last month, Clay County authorities charged the Rev. Shawn F. Ratigan, 45, with three counts of possessing child pornography. Ratigan has pleaded not guilty and remains in custody on $200,000 bond.

A week ago, the diocese announced that Bishop Robert Finn had removed another priest from his duties because of "credible reports" of sexual misconduct with minors.

The priest, the Rev. Michael Tierney, was accused in a civil lawsuit last year of molesting a 13-year-old Missouri boy in 1971. At the time the lawsuit was filed, a lawyer representing Tierney said his client had done nothing wrong.

To reach Glenn E. Rice, call 816-234-4341 or send e-mail to grice@kcstar.com.