Another Church Sex Abuse Lawsuit Hits Yakima Diocese

By David Mance
Kapp
July 14, 2011

http://www.kapptv.com/article/2011/jul/13/another-church-sex-abuse-lawsuit-hits-yakima-dioce/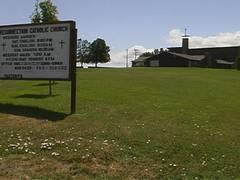 Church of the Resurrection in Zillah



Another sex abuse lawsuit hits the Catholic Diocese of Yakima after a Portland man claims he was raped by a priest in Zillah in 1999. Now more on how a former diocese employee helped bring the case to the courts.

"To have that person violate you, it's as bad or worse than having your father rape you," says Robert Fontana of Yakima.

He's talking about a lawsuit filed against the Catholic Diocese of Yakima by an Oregon man. The victim claims Deacon Aaron Ramirez, drugged and raped him at the Church of the Resurrection in Zillah twelve years ago when the reported victim was 17.

"It twists your mind, it wounds your soul, it kills your spirit," says Fontana.

The suit claims former Bishop Carlos Sevilla warned Ramirez police were going to arrest him, which prompted Ramirez to flee to Mexico shortly after the alleged incident. But Diocese leaders say Bishop Sevilla tried to help the victim, who wanted to remain anonymous.

"Bishop Sevilla, who was our bishop at the time, immediately reached out to the family, we offered counseling to the young man, who was abused, and he declined that help," says Rev. Robert Siler.

Depending on who you talk to you, the Yakima Diocese either tried to warn others about the sex abuse that allegedly happened here in Zillah back in 1999, or tried to cover it up.

After leaving the Diocese in 2005, Fontana began helping victims of church sex abuse. He became concerned that Ramirez, once in Mexico, may have taken work with another church.

"I learned that the Bishop knew Ramirez had become an Episcopal priest, he did nothing to alert the Episcopal authorities and kids were at risk," says Fontana.

But the yakima diocese says sevilla did warn other Mexican bishops about the allegations against ramirez.

"Bishop Sevilla, if contacted by the Catholic bishops, would fully disclose what had happened," says Rev. Siler.

The victim never pressed criminal charges against Ramirez, but his civil lawsuit, filed in U.S. Federal court last week, may go to trial sometime next year.

The Catholic Diocese of Yakima tells us it is dealing with three other sex abuse lawsuits currently in the courts.