Gambling Priest Gets 60 Days in Jail

By Clifford Ward
Chicago Tribune
August 17, 2011

http://www.chicagotribune.com/news/local/ct-met-gambling-priest-sentenced-081720110817,0,2249962.story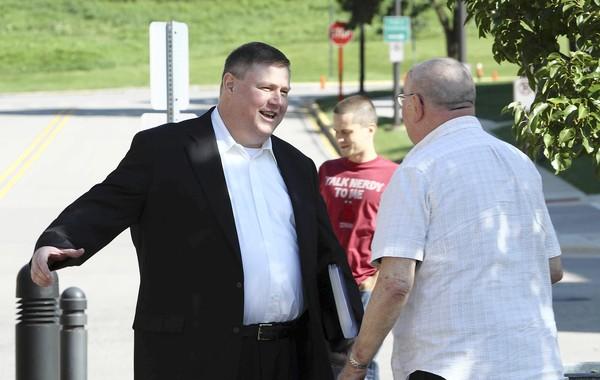 The Rev. John Regan hugs former parishioner Dee Bonnan on Tuesday in Wheaton. Regan, convicted of stealing $300,000 from his St. Walter Parish in Roselle, was sentenced to 60 days in jail.



A former parish priest who had a gambling habit that his attorney described as akin to demonic possession was sentenced Tuesday to 60 days in jail for stealing at least $295,000 from his church to fuel that habit.

At the end of a daylong hearing during which he admitted what he did was "absolutely wrong," the Rev. John Regan, 47, former pastor of Saint Walter Parish in Roselle, was handcuffed and taken into custody at the DuPage County Jail to begin his sentence for felony theft.

Judge John Kinsella said the sentence was intended to teach humility to the man a prosecutor described as "the riverboat priest."

After serving 60 days, Regan will begin a 150-day work-release sentence, during which he will spend his nights and weekends at the jail. He then must complete 40 days laboring in a sheriff's work program and also perform 500 hours of community service. The judge ordered Regan to find a menial job and begin paying back the money he stole from his parish. He was also placed on four years of probation.

"You need to understand the folks at Saint Walter went out in the real world and worked hard for their money," said Kinsella, who described Regan's actions as "despicable."

Those actions created divisions at Saint Walter that linger, said parishioner Bryan Mraz, who testified he still felt angry and bitter. He recalled that when Regan's arrest was announced at a Saturday evening Mass in 2008, he felt he had "been punched in the stomach."

But Ron Searls, a deacon at Saint Walter, said of Regan, "more people love him than are angry with him."

Afterward, Mraz said the end of the episode may help the parish move ahead.

"I can live with it," Mraz said of the sentence. "I think our parish can live with it."

According to prosecutors, Regan created a "special needs" account at the church within weeks of being named pastor in 2006, an account only he had access to. He deposited church funds in the account and then drew on them to fuel his gambling habit at riverboat casinos in Elgin and Joliet.

Regan testified during the hearing that he knew he had a gambling problem the first time he walked into a casino in the 1990s.

"I'm a compulsive gambler, and what I did was absolutely wrong," said Regan, who has been in rehabilitation and is a Gamblers Anonymous member.

"I wasted a huge sum of my parish's money on this gambling addiction," said Regan, who has been suspended from any public aspect of priesthood.

He described the pull of a riverboat across the street from the office where he served the Joliet diocese as its director of vocations before his appointment to Saint Walter. Regan said he spent a small inheritance gambling, and then ran up the limits on seven credit cards. He said his mother took out a home equity loan to pay his $40,000 in credit card debt, but he was back in the casino a month or two later.

Regan attorney Jack Donahue suggested probation for a man who had led charitable missions to Bolivia. "What we're dealing with is a good man who has been possessed by the demon of a gambling addiction," Donahue said.

Assistant State's Atty. Helen Kapas suggested a 10-year prison sentence. "There's no greater position of trust than that of a priest," Kapas said.

The judge said he struggled crafting an appropriate sentence, but added that he did not think any good would come of a lengthy prison term.