Editorial: in Kansas City, an Indicted Bishop Must Explain His Priorities

St. Louis Post-Dispatch
October 18, 2011

http://www.stltoday.com/news/opinion/columns/the-platform/article_1442d984-e1a6-5061-977b-43003152e776.html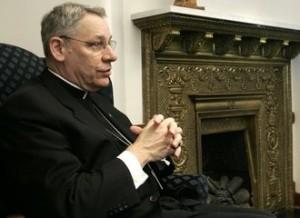 Bishop Robert W. Finn (Kansas City Star photo)



Section 210.115 of the Revised Statutes of Missouri defines a list of 26 professions whose members are obliged under penalty of law to report child abuse or neglect, or the reasonable suspicion thereof, to the Missouri Children's Division. The so-called "mandated reporter" law dates from the mid-1970s.

In 2003, in response to the national priest abuse scandal, the Legislature added another law making it clear that "ministers" are mandated reporters if they are "responsible for or ... [have] supervisory authority over one who is responsible for the care, custody, and control of a child or has access to a child."

On Friday, Jackson County Prosecuting Attorney Jean Peters Baker announced that eight days earlier, a county grand jury had indicted both Bishop Robert W. Finn and the Diocese of Kansas City that he leads with one misdemeanor count of violating the mandated reporter law. If convicted, the maximum penalty for a Class A misdemeanor is a year in jail and a $1,000 fine.

Bishop Finn, 58, thus becomes the highest-ranking church official since the clerical abuse scandal began to emerge three decades ago to face a criminal charge relating to covering up the actions of one of the priests under his jurisdiction.

He may be the first bishop indicted, but he surely is not the first one to have been accused of covering up for a priest. Indeed, perhaps the most galling part of the priest abuse scandal is how often abusive priests were transferred from one job to another.

In 2002, the U.S. Conference of Catholic Bishops promulgated new rules requiring bishops to establish independent review boards within their dioceses; all accusations of abuse were to be reported to civil authorities. In 2008, as part of a $10 million civil agreement with 47 abuse victims, Bishop Finn agreed to even more stringent reporting regulations.

But in the case of Father Shawn Ratigan, 45, Bishop Finn seems to have ignored all of them in favor of the historic Catholic tradition that within his diocese, the bishop is the law unto himself.

It is a tradition that he grew up with in St. Louis, where he served as a priest, teacher and editor of the St. Louis Review. He was a protégé of Archibishops Justin Rigali and Raymond Burke before succeeding Bishop Raymond J. Boland in the diocese of Kansas City-St. Joseph in 2005.

Until recently, Bishop Finn was best known for his attempts to remake the relatively liberal Kansas City diocese along the lines of the Rigali-Burke conservative church of St. Louis.

But in May 2010, a grade-school principal sent the diocese a detailed letter suggesting that Father Ratigan fit the profile of a child predator. In December 2010, a computer technician turned over to the diocese hundreds of images of young children that he found on Father Ratigan's computer, including "upskirt" photos of young girls and at least one of a young girl naked from the waist down.

The diocese counseled him, particularly after a suicide attempt, but allowed his continued access to children. Not until last May was he reported to civil authorities.

Bishop Finn has promised a full and vigorous defense. The questions will be not only what he knew and when he knew it, but where in God's name are his priorities.