Psychiatrist Who Examined Ratigan Has Ties to Group Supporting Accused Priests

By Judy L. Thomas and Glenn E. Rice
Kansas City Star
November 17, 2011

http://www.kansascity.com/2011/11/16/3270664/psychiatrist-who-examined-ratigan.html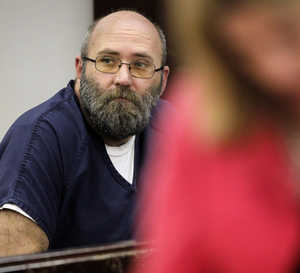 Shawn F. Ratigan briefly appeared in Clay County Associate Circuit Court on Thursday, June 16, 2011.



A Pennsylvania psychiatrist whose evaluation led Bishop Robert Finn to keep the Rev. Shawn Ratigan in ministry is an adviser to a group that supports priests accused of sexual abuse.

Richard Fitzgibbons, who examined Ratigan in January after disturbing photographs of children were found on the priest's computer, is an adviser to Opus Bono Sacerdotii, according to the group's website. The nonprofit organization provides services to accused and imprisoned priests, including financial, legal and emotional support.

After his evaluation, Fitzgibbons told Finn that Ratigan was not a pedophile and that his pornography problem was a result of loneliness and depression, according to a report commissioned by the Kansas City-St. Joseph Diocese.

Finn relied on Fitzgibbons' opinion in his decision to send Ratigan to a Vincentian mission house in Independence, where he remained a priest and allegedly continued to take lewd photographs of children, the report said.

Ratigan now faces child pornography charges in Clay County and federal court.

News of Fitzgibbons' connection to Opus Bono Sacerdotii — whose name means "work for the good of the priesthood" — stunned the attorney who represents several of Ratigan's alleged victims.

"This is one more incident that seems to show that the diocese is more interested in protecting its own … than in a true search for the truth and ferreting out those who might be causing harm to children," said Rebecca Randles. "It's very, very disheartening."

On Wednesday, Randles filed a fourth civil lawsuit against Ratigan, alleging that he used his cellphone to surreptitiously take pictures of a 10-year-old Northland girl on multiple occasions earlier this year.

Ratigan contacted the girl on Facebook weeks after Fitzgibbons treated him, according to the lawsuit filed in Clay County Circuit Court by the girl and her parents. The family — unaware of Ratigan's troubling behavior and restrictions placed on him by Finn — invited Ratigan into their home numerous times, the suit says.

Responding to the suit, diocesan officials issued a statement: "The diocese would like to directly say to the parents of this child, 'Our concern is for you, your daughter, and your family. We condemn the disturbing and destructive behaviors attributed to Shawn Ratigan.'?"

In response to questions Wednesday about whether he should have evaluated Ratigan, Fitzgibbons declined to comment. He referred questions to Detroit-based Opus Bono Sacerdotii. Its founder did not respond to calls or an email.

But an ethics expert said a common-sense approach would have been for Fitzgibbons to recuse himself.

"I'm sure he does excellent work and I'm sure there are falsely accused priests, but when you've got kind of a dicey situation and he is on the advocacy side of things, it seems like he ought to pull himself out on even just the perception of a conflict of interest," said Clancy Martin, philosophy department chairman at the University of Missouri-Kansas City.

Fitzgibbons has criticized the "zero-tolerance" policy for priests accused of sexual abuse that U.S. bishops established in 2002, arguing that many accusations are false. He told the National Catholic Register in April that bishops need to address how to handle false allegations and how to protect the rights of all accused priests.

Rebecca Summers, spokeswoman for the local diocese, declined to comment about Fitzgibbons, citing privacy and confidentiality grounds.

Finn sent Ratigan to Fitzgibbons for an evaluation to help determine whether to remove the priest from ministry, according to a report issued in September by former U.S. Attorney Todd Graves, whose firm the diocese hired to investigate its handling of the Ratigan case.

The bishop had referred other priests to Fitzgibbons for issues such as alcoholism, the report said.

Ratigan went to Pennsylvania on Jan. 9 and returned Jan. 11. According to the report, Fitzgibbons later told Finn that Ratigan was not a pedophile but was suffering from loneliness and depression — caused in part, Fitzgibbons said, by the fact that the St. Patrick School principal was "out to get him."

Several weeks later, Fitzgibbons asked for a copy of the pictures on Ratigan's laptop, according to the report. The diocese's attorney sent a CD by express mail, the report said.

Even so, Fitzgibbons "seems to have ultimately advised Bishop Finn that Fr. Ratigan was not a pedophile and that his pornography problem was a result of his previously-identified depression," the report said.

The report also indicated that Vicar General Robert Murphy and Chancellor Bradley Offutt had concerns about Fitzgibbons' evaluation of Ratigan. Murphy recalled that he suggested a second evaluation, but Finn did not remember that, the report said. Months later, Offutt advised Finn through an email that he "should consider further clinical analysis."

But no further evaluation was done, the report said.

Graves told The Star on Wednesday that he couldn't comment beyond what was written in the report.

The lawsuit filed Wednesday names Ratigan, the diocese and Finn as defendants and seeks unspecified damages.

According to it, diocesan officials had been warned about Ratigan's inappropriate behavior around children in 2006 and 2010 but failed to alert parents and parishioners at St. Patrick School and parish, where Ratigan served as pastor. The family filing the lawsuit belonged to St. Patrick parish.

A diocesan spokeswoman said the lawsuit contained inaccuracies, including the allegation that diocesan officials learned of Ratigan's troubling behaviors as early as 2006.

According to the lawsuit, Ratigan took pictures of the clothed girl with his cellphone from beneath the family's dinner table on multiple occasions. The parents thought he was texting someone, the suit said. Because they did not know about the lewd photos on Ratigan's laptop computer, they had no reason to suspect that he was taking inappropriate pictures, the lawsuit said.

"They thought it was weird that he would be texting at that angle, but it was not until someone told the parents that Ratigan had been accused of taking up-the-skirt photos that it finally hit them," said Randles, the attorney representing the family. "It wasn't texting."

After church officials learned of the laptop photos in December, Ratigan attempted suicide. Parishioners were told that he had an accident and was suffering from carbon monoxide poisoning. They were told to pray for him.

So when Ratigan contacted their daughter on Facebook weeks later, the mother sent him an email asking about his accident, the lawsuit said.

The two exchanged more emails, the lawsuit said, which led to the visits.

"The parents felt sorry for Ratigan and invited him over for dinner as a form of Christian healing," Randles said.

To reach Judy L. Thomas, call 816-234-4334 or send email to jthomas@kcstar.com .To reach Glenn E. Rice, call 816-234-4341 or send email to grice@kcstar.com.