Priest on Leave after 'Inappropriate' Images Found on Computer

By Meghan Lane
Connect Mid-Missouri
December 2, 2011

http://www.connectmidmissouri.com/news/story.aspx?id=692285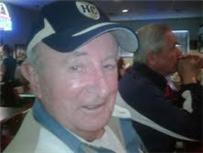 Fr. Brendan Doyle is on a leave of absence after a computer technician trying to remove a virus from Doyle's computer found inappropriate images. The computer was turned over to an unnamed law enforcement agency. / Courtesy: facebook.com



Update: Friday, Dec. 2, at 11:20 p.m.

Deacon Dan Joyce of the Jefferson City Catholic Diocese previously stated Father Doyle was no longer staying at his Immaculate Conception residence; however, he contacted us Friday to say Father Doyle is in fact staying at his residence at Immaculate Conception.

Update: Thursday, Dec. 1, at 7:00 p.m.

The diocese hopes to have answers from law enforcement regarding the pictures within days.

And just a day after the announcement of a Jefferson City priest put on leave, we're learning just how the catholic community is reacting.

The diocese put father Brendan Doyle on leave after a computer technician found "inappropriate images" on his computer.

It's not clear exactly what kind of photos those are, or how they got on there.

Right now everyone is staying pretty tight lipped about the investigation of the pictures found on Father Doyle's computer.

However, members of the Jefferson City community said they are standing behind the priest.

"He's been a member of this community for several decades and just a great influence, not only on younger people but on more mature people as well," St. Peter's parishioner Bill Farr said.

Bill Farr isn't the only person speaking out on behalf of father Doyle.

We've had dozens of comments on our web site and Facebook page.

"I pray he is cleared & his reputation restored," Susan wrote on our Facebook page. "He has helped many students."

"Shame on the people that think that way about him," Jennifer wrote on our Facebook page. "We all need to pray for him and that the truth prevails."

"This man is trusted my many, and he has more supporters than anyone can imagine," Danielle said on KRCG's Facebook page.

Many said they believe a virus or hacker is behind the images that were found.

"If this is found on his laptop, I think there is a virus or a hacker involved or something," Farr said. "He's just not that, forgive me father for saying this, but he's just not that computer savvy."

We also went to Helias Catholic High School, where he works as the spiritual director, to get reaction from students.

Students said they are coming together as a community and they too are supporting Father Doyle.

Father Doyle is an associate pastor at Immaculate Conception Church and also lived there.

The diocese sent an e-mail to parents at Helias Wednesday, some say the shouldn't have released any information without final results of the investigation.

Original Story:

The Jefferson City Catholic Diocese issued a statement Wednesday after placing one of their priests on a leave of absense.

Spokesman Deacon Dan Joyce said Fr. Brendan Doyle is currently on a temporary leave of absence after someone found inappropriate photos on Doyle's computer.

The statement said Fr. Doyle reported a virus on his computer and asked for technical assistance. That's when the images were found.

According to the statement, Doyle's computer was given to law enforcement, but Jefferson City Police Spokesman Capt. Doug Shoemaker said his department did not have any information on the case. Joyce would not release which law enforcement agency received the computer. He said it was turned over in an abundance of caution.

Joyce said the Jefferson City Diocese is still waiting on a report from the unnamed law enforcement agency on the images.

Joyce would not clarify why Doyle's computer was turned over to police, but said it was not a religious interpretation of the images, but a common man interpretation that led them to give the computer to authorities.

Fr. Doyle responded through local law firm Schreimann, Rackers, Fracka and Blunt, LLC. The statement they released said "Father Doyle is aware of the ongoing investigation that was publicly disclosed by the Diocese today at is looking forward to the conclusion of that investigation. Unfortunately, Father Doyle is unable to make any comments regarding this matter until the investigation is concluded."

Joyce said Doyle's leave of absence was officially announced on Wednesday, but that it began when the individual who found the images came forward.

Doyle is not participating in any of his diocesan work during the leave of absence and the diocesan review board was notified of the situation, according to Joyce.