Retired Louisville Archbishop Thomas Kelly Dies

By Peter Smith
The Courier-Journal
December 15, 2011

http://www.courier-journal.com/article/2011312140076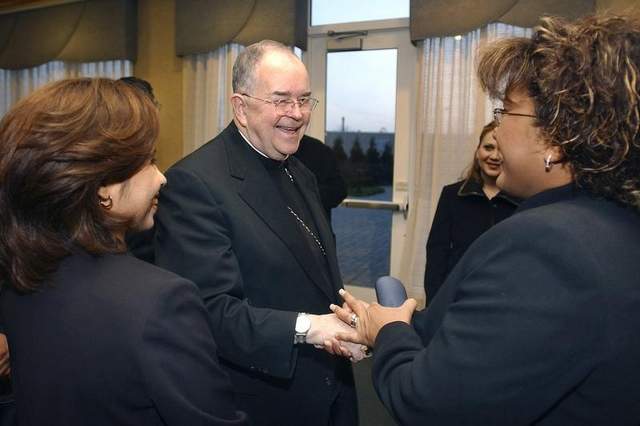 Archbishop Thomas C. Kelly, center, greeted Rosemary Alfaro, left, and Liliana Alfaro, right at a Catholic Hispanic awards ceremony. Jan. 7, 2005 / Mary Ann Gerth/The Courier-Journal



Archbishop Thomas C. Kelly left a complex legacy as the spiritual leader for Louisville-area Catholics over a quarter-century — beloved for his simplicity, incisive preaching and renewal efforts but damaged by revelations that he knowingly kept sexually abusive priests in the ministry.

Kelly, who led the Archdiocese of Louisville and its estimated 200,000 Catholics from 1982 to 2007, died Wednesday morning, the day after he participated in an afternoon Mass at Holy Trinity Church. He was 80.

Kelly died in his sleep at his home at the rectory of Holy Trinity on Cherrywood Road in eastern Jefferson County, according to his successor, Archbishop Joseph E. Kurtz. The cause of death was not known.

"He had an extraordinary sense of faith and prayer, and he had an extraordinary ability to seek out those who were the most disadvantaged," Kurtz said. "... From all we can see he died very peacefully of natural causes."

Funeral plans are still in the works, but archdiocesan officials said they expect services will be held next Tuesday at the Cathedral of the Assumption.

Kelly said toward the end of his tenure: "I hope I have been a good pastor. That's what I wanted to be."

His legacy was highlighted by his work to renovate the Cathedral of the Assumption in downtown Louisville, promote lay leadership in parishes and make two major rounds of painful choices to close or merge dwindling parishes.

He promoted interfaith ties, such as with the creation of the annual Festival of Faiths and his helping the city recruit the Presbyterian Church (U.S.A.) to move its headquarters to Louisville in the 1980s. Both the cathedral and the Presbyterian projects were seen as boosts to downtown revitalization efforts.

Kelly also became known for a self-deprecating sense of humor — he introduced himself as the "has-been" at Kurtz's installation in 2007 — and a simple lifestyle lived out of a walk-up apartment next to the cathedral.

Even his embarrassing admission in 1996 that he was seeking treatment for addictions to alcohol and pain medications won praise for its candor.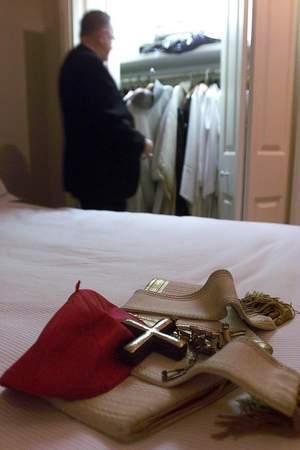 Archbishop Kelly carefully put away his vestments in the closet at the Archbishop's Residence, a third-floor apartment on Fifth Street. 1/29/02 / Michael Clevenger/The Courier-Journal



But the 2002 eruption of the sexual-abuse crisis in the Roman Catholic Church also rewrote the narrative of his legacy. And he resisted calls to resign for years.

The crisis brought revelations that Kelly had reassigned priests he suspected or knew had sexually violated children and teenagers.

The archdiocese reached a $25.7 million settlement in 2003 with 243 victims of sexual abuse by more than three dozen priests and others associated with the church in the previous half-century.

That was then the second-highest settlement by a diocese in U.S. history, but one that was later dwarfed by other settlements. Layoffs and other budget cuts at the archdiocese soon followed.

In all, the archdiocese has spent nearly $30 million on settlements and other abuse-related costs.

In a 2006 interview, Kelly called the crisis his "greatest heartbreak."

While he was well aware of abuse by priests, Kelly always said he never knew of the breadth of the problem until the explosion of lawsuits.

The court-ordered release of documents showed Kelly had a role in several cases.

The archdiocese, under his watch, had settled about a dozen cases before that time, the documents showed.

Soon after taking office, for example, Kelly had retained a priest in ministry and reached a financial settlement with a victim in an effort to avoid public scandal, church documents showed. Another lawsuit said that priest later abused another boy.

Others who stayed in ministry, with some restrictions, were Louis Miller and Daniel Clark, who have been convicted of sexual abuse. It was only after Kelly's fellow bishops approved a zero-tolerance policy at the peak of the crisis in 2002 that he removed them and other known abusers from ministry.

"I regret that so much," Kelly said once said. "I did that with the approval of (mental-health) professionals."

At a 2004 healing service at Holy Spirit Church, attended by some of the victims, Kelly walked through the sanctuary and sprinkled holy water on doorways to the sacristy and school — places where Miller had accosted young victims.

"The sprinkling of water seems so ineffective," Kelly said then. "I could have got down on my hands and knees and scrubbed and scrubbed, but the memory, the stain of what happened here, would never be washed away. It takes instead the power of Christ."

Kelly called his failings those of "a very imperfect man among you."

He said victims were "wronged first by the abuse itself, and then by a church that did not take responsibility for what had occurred."

"Nobody, I think, was really well prepared for the extent of the problem: the impact, the harm and injury that could be done to people," Kelly said in an interview in 2006 in which he looked back on his legacy. "And I have to admit to my own absolute incredulousness that such a thing could be prevalent here and I not know about it. It took a couple of kicks to make me understand the extent of the difficulty."

In addition to the healing service, Kelly met with several victims individually.

"We don't feel he went far enough" in reaching out to victims, said Cal Pfeiffer of the Louisville chapter of the group Survivors Network of those Abused by Priests.

Pfeiffer said that, while Kelly may have met with some victims, there were many others he did not reach. As far back as the early 1990s, when the archdiocese adopted its first formal policies on abuse, Kelly said it was important to reach out to victims.

"We hope he did," Pfeiffer said, but added that he saw little evidence of such outreach at that time.

Survivors Network member Jeff Koenig said Kelly talked "a good talk" but that the archdiocese failed adequately to monitor abusive priests.

He decided to be priest in his mid-teens

Kelly was born July 14, 1931, in Rochester, N.Y. He was 4 years old when his father, an attorney, died in an auto accident; his late mother, Katherine Conley, then moved with him and his sister to New York City.

In high school, Kelly's Jesuit teachers put him through their legendary intellectual rigors. Kelly once recalled riding the subway back and forth from Manhattan, holding the strap with one hand and an open Greek textbook with the other.

By his mid-teens, he decided to enter the priesthood and the Dominican order because of its commitment to simplicity, scholarship and preaching.

He was ordained a priest in 1958 and crowned his academic career in 1962 with a doctorate in canon law from the University of St. Thomas in Rome.

Kelly joined the staff of the Vatican's diplomatic delegation to Washington in 1965 and moved to the National Conference of Catholic Bishops in 1971, becoming its general secretary in 1977.

Kelly also did groundwork for the bishops' controversial 1980s documents criticizing American nuclear and economic policies. He accompanied Pope John Paul II on his first visit to the United States, which drew massive crowds.

John Paul II assigned Kelly in 1982 to the Archdiocese of Louisville, which currently has 24 ranges from the Ohio River to the Tennessee line. (Seven rural counties moved to the Diocese of Lexington when it was created in 1988.)

Simple life echoed his simple message

Kelly lived in a third-floor walkup apartment on Fifth Street — becoming the first archbishop in 100 years to live next to the cathedral in an effort to restore the church, which was decaying physically and dwindling in membership.

That sent "a very significant message that he truly cared about the urban core of the city and the cathedral," said Christy Brown, a leader of the restoration efforts.

Not only was the building restored, but the congregation grew, in part by attracting gay and divorced people and older singles — with the goal of welcoming people while upholding church teachings on marriage and sexuality, said its former pastor, Ron Knott.

Knott recalled Kelly telling him, "You've got a job to do and I've got a job to do. You be a pastor."

Knott said Kelly gave him the duty of preaching the midnight Christmas Mass — the only time of the year some Catholics come to church, and usually a showcase for a local bishop — to reach out "directly to marginal hurting Catholics who felt left out."

Kelly promoted the use of lay ministers and other professionals for jobs previously held by priests. And he promoted the use of five-year strategic plans. He also helped in the formation of the Catholic Education Foundation, which provides tuition aid to pupils with financial need.

Controversial plans to merge parishes

In the 1990s, Kelly approved controversial plans to close or merge a dozen parishes. And in 2006 he approved merging 17 parishes into six. He said both actions were painful but necessary responses to shifts of the Catholic population from urban to suburban neighborhoods. He also approved other parish transitions and school mergers.

Through the Catholic Conference of Kentucky, Kelly and other bishops repeatedly called for legislation restricting abortion, capital punishment and same-sex marriage and urging humane treatment of immigrants and the poor.

"He was always an advocate for the poor," said the Rev. William Hammer, pastor of the Basilica of St. Joseph in Bardstown and president of the archdiocese's Priests' Council.

In 1996 doctors confronted Kelly about his continued use of alcohol and painkillers after a lung operation in 1994. Shortly thereafter, he announced he was entering a rehabilitation center for addictions.

"As embarrassed as I was to own up to this, it did more good,"' Kelly said in a 2002 interview. "There were so many people whose lives have been touched by alcoholism, and they were so sympathetic and supportive."

Kelly continued to be active after he retired — preaching and assisting at Masses at Holy Trinity and regularly accompanying Kurtz for events.

"He was a great mentor and a great friend, but I know he's at peace," said Evansville, Ind., Bishop Charles Thompson, a former Holy Trinity pastor who had lived with Kelly. He said he tried to prevail on Kelly to take three rooms in the rectory, including a sitting room to receive guests, but Kelly said two were enough. "I'm a monk," Kelly told Thompson.

Thompson said Kelly told him many times in recent years: "I'm ready to see the face of God."

The archdiocese hopes to accommodate Kelly's request to be buried next to some of his predecessors in the crypt of the Cathedral of the Assumption.

Reporter Peter Smith can be reached at (502) 582-4469.