Judge Rules for Catholic Diocese in Alleged Privacy Invasion
By Bill Sherman
Tulsa World
May 24, 2012

http://www.tulsaworld.com/news/article.aspx?subjectid=18&articleid=20120524_18_A13_CUTLIN802878&r=6177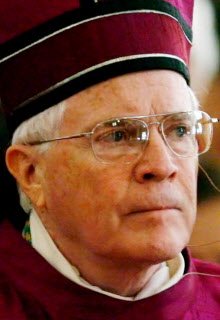 Bishop Edward Slattery: He and the Tulsa Diocese win a case related to charges of sexual abuse.



Tulsa County District Judge Daman H. Cantrell ruled Monday in favor of Bishop Edward J. Slattery and the Diocese of Tulsa in a lawsuit filed against them by an alleged victim of sexual abuse and his father.

"This is the end of the case, unless there is an appeal," said attorney Joel Wohlgemuth, who represented Slattery and the diocese.

He said the judge granted his motion for summary judgment, ruling in favor of the defendants after determining that there were no disputed facts in the case that would require a jury trial.

Kelly Kirk and his father, Gordon Kirk, alleged that Slattery and the diocese inflicted intentional emotional distress on them. Kelly Kirk also alleged invasion of privacy.

The accusations stem from a 2002 slander lawsuit against the Kirks filed by the Rev. Paul Eichhoff, a priest in the diocese. As a result of that lawsuit, the Kirks' names were made public.

Eichhoff sued the Kirks for slander after Kelly Kirk accused him in 2000 of sexually assaulting him in the late 1970s while he was an elementary student at a Catholic school.

The allegations surfaced while Kelly Kirk was in treatment for substance abuse, according to court documents.

No criminal charges were filed in the case.

When Slattery learned of the allegations of abuse, he put Eichhoff on administrative leave and initiated an investigation.

Cleared by the investigation, Eichhoff was restored to his position as pastor of St. Cecilia's Catholic Church in Claremore, where he still serves.

When Eichhoff sued the Kirks for slander, they countersued for damages from the alleged sexual assault.

In 2004, a Tulsa County jury cleared Eichhoff of sexual assault in the civil suit, but also decided that he had not been slandered.

Oklahoma City attorney W.R. Cathcart, who represented the Kirks, said he had not had a chance to review the decision, and could not comment.