Priest on Leave after Abuse Allegation
By Meadhbh Monahan
Impartial Reporter
May 30, 2013

http://www.impartialreporter.com/news/roundup/articles/2013/05/30/401097-priest-on-leave-after-abuse-allegation/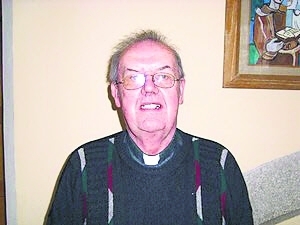 Canon John McCabe.



Parish priest of Rosslea, Canon John McCabe, has taken a "temporary leave of absence" from his ministry due to a child abuse allegation from "some years ago."

Parishioners who attended weekend Masses in St. Tierney's Church reported hearing gasps of shock when Canon Larry Duffy (parish priest of Clones) read out a letter on behalf of Bishop Liam McDaid. It said that "your parish priest" (i.e. Canon John McCabe) has requested a leave of absence while the allegation is investigated.

A spokesman from the Clogher Diocese has told The Impartial Reporter: "The Diocese of Clogher has been informed of a child safeguarding allegation in relation to a priest of the Diocese. The allegation relates to some years ago. The allegation has been reported to the civil authorities and all procedures laid down by the National Board for Safeguarding Children in the Catholic Church in Ireland are being observed. The priest involved has been granted temporary leave of absence from priestly ministry while the matter is being investigated."

He added: "The safety and well-being of children remain of paramount concern to the Diocese and all resources are being used to ensure this. We encourage anyone who has a child safeguarding concern to report the matter to the civil authorities and to the National Board for Safeguarding Children in the Catholic Church in Ireland."

Canon John McCabe has been parish priest of Rosslea since August 2010. Prior to that he had been parish priest in Mucknoo parish, Castleblaney for nine years. Canon McCabe had also served in Aghadrumsee parish in the late 70s and early 80s.

From Ballybay, County Monaghan, a young Fr. McCabe represented Ballybay and County Monaghan on the Gaelic football field. He attended St. Macartan's College, Monaghan and was Dean of St. Michael's, Enniskillen in the 70s.

Rosslea Sinn Fein Councillor Brian McCaffrey stated: "At this stage, people are obviously surprised and confused in that there's minimum detail being released and a lack of clarity in terms of where this goes from here."

He added: "For Rosslea, the memory of Father Jeremiah McGrath is still fresh in peoples' minds." This is in reference to the 65-year-old former parish priest in Rosslea, who was jailed for five years for aiding and abetting his lover, paedophile William Adams, to rape a 12-year-old girl.

The procedures laid down by the National Board for Safeguarding Children in the Catholic Church under the heading 'Guidance on Leave and Restriction from Ministry' state that when an allegation is made against a priest:

- the Bishop or congregational leaders should advise the National Office for Safeguarding Children in the Catholic Church that an allegation has been received, that it has been referred to the statutory authorities, and that a Church enquiry will commence.

- The Church inquiry is simply initiated and then suspended, pending the outcome of the civil investigation.

- No church investigation should interfere with the civil inquiries, which takes precedence at this stage.

- In the absence of an admission, the respondent enjoys the presumption of innocence, and all appropriate steps shall be taken to protect his/her reputation.

- The priest will be offered an adviser who will encourage him to obtain advice from both civil and canon lawyers.

It stipulates that a 'respondent' may be asked to withdraw public celebration of the Mass and other Sacraments during the course of any civil as well as church/canonical investigation and may be asked to cease from wearing clerical attire.

It is unclear at this stage whether An Garda Siochana or the PSNI are investigating the allegation.