Catholic leaders react to 'Spotlight's' big Oscar win
By Kelsey Dallas
Deseret News
February 29, 2016

http://www.deseretnews.com/article/865648905/Catholic-leaders-react-to-Spotlights-big-Oscar-win.html?pg=all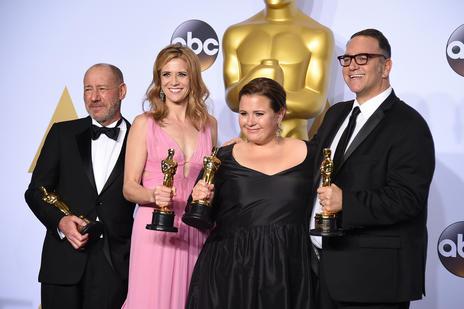 Steve Golin, from left, Blye Pagon Faust, Nicole Rocklin and Michael Sugar, winners of the award for best picture for "Spotlight" pose in the press room at the Oscars on Sunday, Feb. 28, 2016, at the Dolby Theatre in Los Angeles.
Photo by Jordan Strauss
"Spotlight" took home the top prize at Sunday's Oscar ceremony, earning "Best Picture" honors for its depiction of The Boston Globe reporting team who exposed years of clergy sexual abuse in the Catholic Church.Catholic leaders joined journalists, moviegoers and advocates for sexual abuse victims in celebrating the win, sharing their gratitude for the reporters whose work resulted in a global call for the church to address the problem."The priestly abuse of children (and) cover up by bishops is one of the most heinous scandals in history. Thank God journalists discovered it," tweeted Christopher Hale, executive director of Catholics in Alliance for the Common Good.
Archbishop Joseph Kurtz, who is president of the U.S. Conference of Catholic Bishops and leads the Diocese of Louisville, retweeted his November reflection on "Spotlight" in the wake of the Oscar win.
"We can only be healthy as a Church and as a society if we honestly confront the sexual abuse of children and rebuild relationships one at a time," he wrote on his blog around the time of the film's release.
"Spotlight" has had a similar impact on the Catholic community as the original reporting, leading sexual abuse survivors to step forward, talk about their experiences and, in some cases, join lawsuits against church leaders, The Boston Globe reported after Sunday's ceremony.
"I'm happy and I'm proud of the filmmakers and the actors," David O'Regan, the Boston-Worcester director of the Survivors Network of those Abused by Priests, told the Globe.
The Oscar win comes in the midst of another high-profile effort to punish those responsible for clergy sexual abuse. An Australian Royal Commission is investigating how Catholic leaders responded to incidents of sexual abuse over the last five decades, as the Associated Press reported.
"I am not here to defend the indefensible," said Cardinal George Pell, one of the Vatican's top leaders, during his testimony to the commission. "The church has made enormous mistakes and is working to remedy those."
As the hearing in Australia illustrates, the Catholic Church and other sexual abuse activists will continue to work to end clergy sexual abuse. "Spotlight" producer Michael Sugar addressed the importance of this effort in his acceptance speech.
"Pope Francis, it is time to protect the children and restore the faith," he said, as USA Today tweeted.
Contact: kdallas@deseretnews.com