'Spotlight' Win 'Vindication' For Chicago Activist Abused By Priest
By Joe Ward
DNAinfo
March 1, 2016

https://www.dnainfo.com/chicago/20160301/river-north/spotlight-win-vindication-for-chicago-activist-abused-by-priest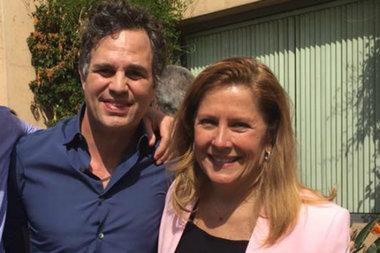 Actor Mark Ruffalo with Barbara Blaine outside a Los Angeles Church before the Oscars Sunday. The two were part of a rally advocating for those abused by priests.
CHICAGO — With its Oscar win Sunday, "Spotlight" not only honored the Boston Globe reporters who uncovered the sex abuse scandal plaguing the Catholic Church but it also shined a light on a Chicago-based group that has been fighting for victims of priest abuse for decades.
The film shows how SNAP (Survivors Network of Those Abused By Priests) helped Globe reporters find victims and track down pedophile priests in Boston. While that was happening, SNAP leader Barbara Blaine was in Chicago trying to make it very clear that this issue went much further than Boston's Irish Catholic enclave.
"This movie is vindication," Blaine said Monday. "It says what we've been wanting to say for a long time."
Before the film won Best Picture, "Spotlight" actor Mark Ruffalo joined the film's writers and director to attend Blaine's rally in Los Angeles. Their message? The film was a victory, but there must be more accountability in the Catholic Church's handling of its sex abuse scandal.
Blaine, a River North resident, said her group is working to capitalize on the buzz surrounding "Spotlight," which shows how reporters exposed pedophile priests who had abused hundreds of children in Boston.
"We're calling on all Catholics to see 'Spotlight,'" Blaine said by phone from Los Angeles.
Blaine, herself a survivor of sexual abuse by a priest, started SNAP in Chicago in 1988 and has since worked to establish a support group for survivors as well as fight to hold the church accountable.
SNAP actually played a pivotal role in uncovering the scandal. The group's leader in Boston, Phil Saviano, worked with Boston Globe reporters to find victims and the priests who abused them. He was portrayed in the movie.
The attention and accolades being heaped at "Spotlight" has done a lot to progress their cause, Blaine said.
"The real winners are not the ones who walked away with trophies," Blaine said of the Oscars. "The winner is the children. [The country is] having its eyes opened. We think that makes children much safer."
SNAP organized rallies in 20 cities Sunday that coincided with the Oscars broadcast. Ruffalo, who was nominated for an Oscar for his role in "Spotlight," attended the Los Angeles rally. So did the movie's writers, Tom McCarthy and Josh Singer, who won the Oscar for best original screenplay.
McCarthy also directed "Spotlight" and was nominated for best director.
Blaine said seeing Hollywood rally around her cause has meant a lot.
"It was really exciting," she said of the Los Angeles rally. "Mark [Ruffalo] really cares ... he wants to keep the children safe."
The movie's timing couldn't have been better, Blaine said, as the fight to uncover pedophile priests is still very much ongoing.
The Australian government has commissioned a special investigation into the country's top church official, Cardinal George Pell, about his involvement in covering up sexual abuses at the hands of priests.
SNAP is also a vocal critic of Pope Francis's handling of the sex abuse scandal. Francis has asked bishops who allowed pedophile priests to stay in ministry to voluntarily step down.
Blaine called the stance a "joke."
"These incidents are ongoing," she said. "While Pope Francis is making all these statements and getting accolades ... It doesn't bare out in his actions."
SNAP is calling on the church to publicly name all bishops that allowed pedophile priests to stay in the church.
The group is also asking Catholics to work to ensure their local parishes are not harboring pedophile priests. She said SNAP estimates that about 2,800 pedophile priests in America have yet to be named.
"Hopefully it will inspire Catholic parishioners and employees to examine if they have done anything to contribute to the problem," she said. "It's never too late."