'What kind of fresh media hell is this?': Sky News under fire for sending harsh child sex abuse royal commission critic Andrew Bolt to report on Cardinal Pell's testimony in Rome
By Lucy Thackray
Daily Mail
March 1, 2016

http://goo.gl/7UQYz4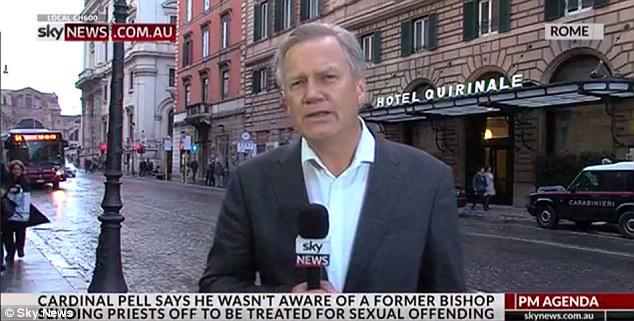 Sky News is being slammed for their bizarre choice to send controversial commentator Andrew Bolt to report on the royal commission into sex abuse in Rome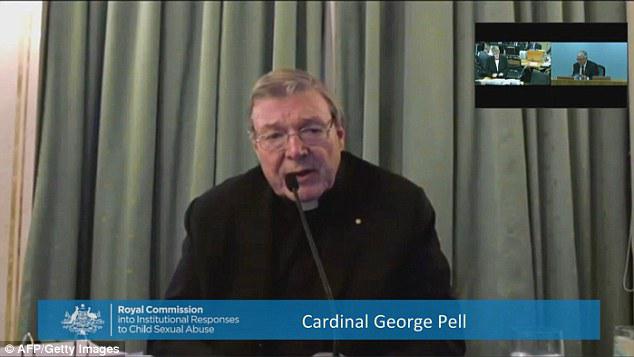 Bolt has previously referred to Cardinal George Pell as 'the victim of a witch hunt.' Cardinal Pell is appearing via video link from Rome at the Royal Commission into Institutional Child Sexual Abuse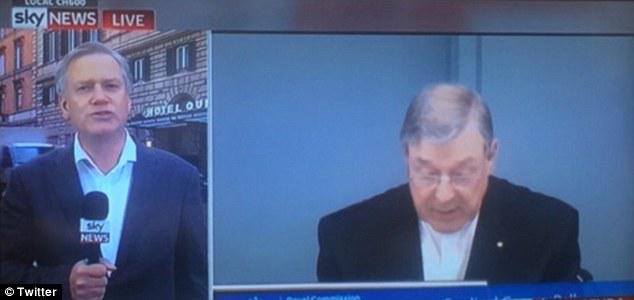 Assuming the role of 'Sky News contributor', Bolt has spent much of his time on air defending Pell and speaking against 'the enormous hate campaign' against the cardinal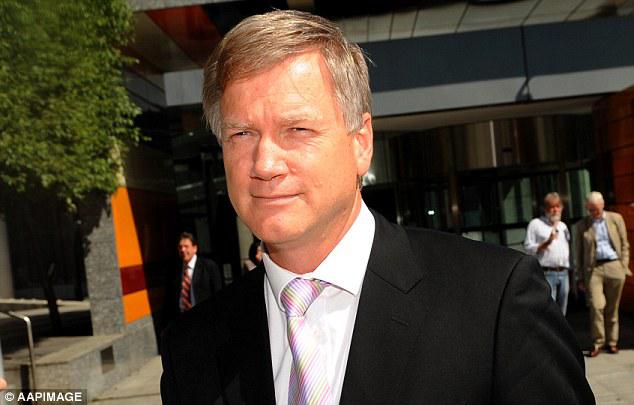 Last month Bolt wrote a column for News Corp proclaiming: 'Cardinal George Pell is the victim of one of the most vicious witch hunts to disgrace this country. It is shameful. Disgusting. Frightening'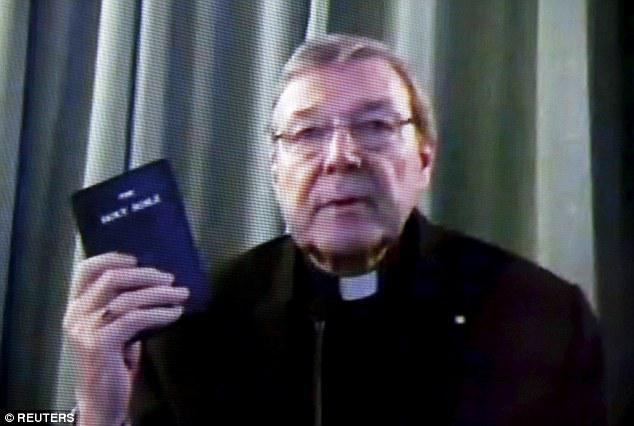 Australian Cardinal George Pell is seen on a screen via video link from Rome holding a bible, as he prepares to testify at Australia's Royal Commission into Institutional Response to Child Sexual Abuse
Australian Cardinal George Pell, pictured at the Vatican in 2015


[with video]



Sky News is being slammed for sending controversial commentator Andrew Bolt to report on the royal commission into sex abuse in Rome, as Bolt has previously referred to Cardinal George Pell as 'the victim of a witch hunt.'

Social media users have voiced their shock after seeing the columnist reporting from Rome, where Cardinal George Pell is appearing before the Royal Commission into Insitutional Responses to Child Sexual Abuse. Pell is being questioned about his knowledge of the abuse of children by members of the Roman Catholic church in Australia in the 1970s and 1980s.

Assuming the role of 'Sky News contributor', Bolt has spent much of his time on air defending Pell and speaking about 'the enormous hate campaign' against the cardinal.

Last month Bolt wrote a column for News Corp proclaiming: 'Cardinal George Pell is the victim of one of the most vicious witch hunts to disgrace this country. It is shameful. Disgusting. Frightening.'

'There is no mercy and no attention to the facts. There is just the joy of hatred.'

On 2GB on Monday Steve Price claimed Bolt is hoping to secure 'an exclusive, one-on-one' interview with Pell this week.

Cameron Price is in Rome as Sky News' reporter while Bolt takes on the role of 'contributor.'

Bolt also used his time on air while speaking from Rome to point out 'incorrect allegations' against the Pell from victims and relatives of victims. He says Pell needs 'more benefit of the doubt.'

'We have to remember that in these cases of these priests we're talking about, (Pell) was not in the position of authority over them, he was not in the direct line of communication. There are allegations that some people told him but at least three or four of those allegations are clearly not right,' Bolt said on Sky News.

'He was in Oxford for a year when one victim's brother said he warned Pell… There's a lot of claims but I'm not sure there's the smoking gun about his direct knowledge.'

'I think George Pell's problem is that he's the most senior Catholic around. He's a tough, tall figure with a booming voice - he looks a perfect villain in a sense.'

'One would hope that this inquiry can go forward in the spirit of actually finding the truth, not being a witch hunt and perhaps giving George Pell more benefit of the doubt than a lot of media has given him.'

Social media has responded with bewilderment at the choice to send Bolt to Rome.

'Miranda Devine defending George Pell and Andrew Bolt reporting from Rome. What kind of fresh media hell is this?' tweeted Em Rusciano.

'Whaaaaat? Andrew Bolt is in Rome reporting on the George Pell headings? He's on Sky right now. Breathtaking bias,' tweeted Bevan Shields.

'Thank goodness Andrew Bolt is there in Rome covering George Pell #Spindoctorattheready,' tweeted Seb Lacey.

Cardinal Pell is appearing via video link due to his ill health and on Tuesday admitted the offences of Australia's worst pedophile priest were sad, but not of much interest to him.

During a day of tough questioning before the child abuse royal commission, the cardinal repeatedly told the hearing he knew nothing of the predatory activities of notorious pedophile Father Gerald Ridsdale around Ballarat in the 1970s and 1980s.

'It's a sad story and it wasn't of much interest to me,' the cardinal said via video link from the Rome hotel where he is giving his evidence.

'I had no reason to turn my mind to the evils that Ridsdale had perpetrated.'

The statement drew incredulous laughter from survivors of sexual abuse who have travelled from Australia to witness Cardinal Pell giving evidence.

He laid blame on former Ballarat Bishop Ronald Mulkearns, saying his then superior had known of the complaints about Ridsdale interfering with children but had lied to him about them.

Abuse survivor Phil Nagle said outside the hearing that Ridsdale's offending was well-known in two Victorian communities.

'Cardinal Pell is a very astute, very bright man, so how can he say he didn't know?' he said.

Ridsdale's nephew and victim, David Ridsdale, said Cardinal Pell was 'either culpable or an ignorant buffoon'.

'I don't believe he's the latter and we have no evidence of the former so we have to wait for the commission to do its job,' he said in Rome.

Mr Ridsdale said the survivors weren't convinced by the evidence.

'We feel like we've watched a performance rather than evidence,' Mr Ridsdale said.

The cardinal will resume his evidence in Rome on Wednesday.