Somerset priest to serve nearly 17 years in prison for molesting boys
By Liz Zemba
Tribune-Review
March 2, 2016

http://triblive.com/news/adminpage/10066603-74/maurizio-orphanage-prison


The Rev. Joseph Maurizio Jr.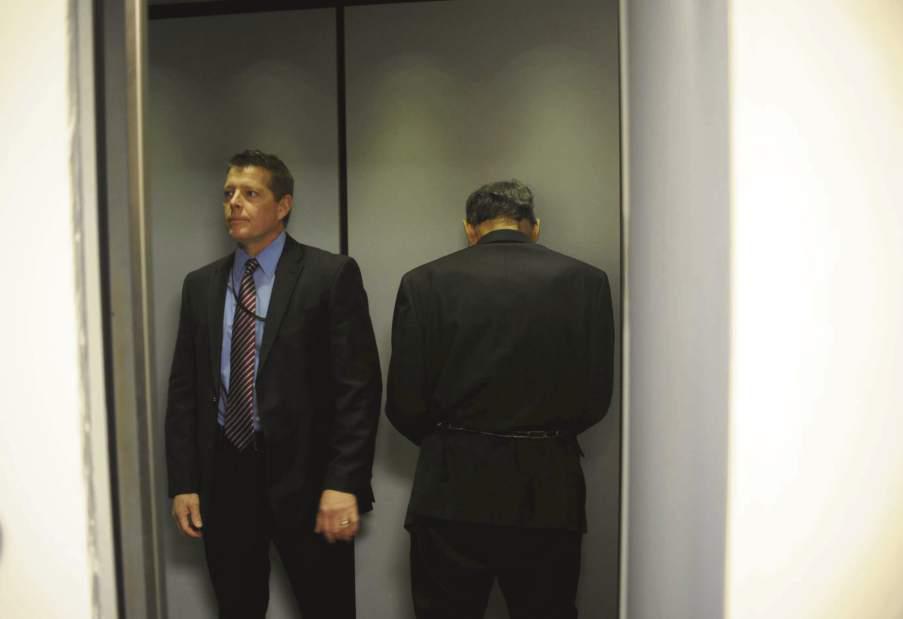 The Rev. Joseph Maurizio turns his back to the camera while shackled inside an elevator on Wednesday, Mar. 2, 2016, after being found guilty of sexually abusing children at a Honduran orphanage. Maurizio was sentenced to a federal prison for 16 years and 8 months.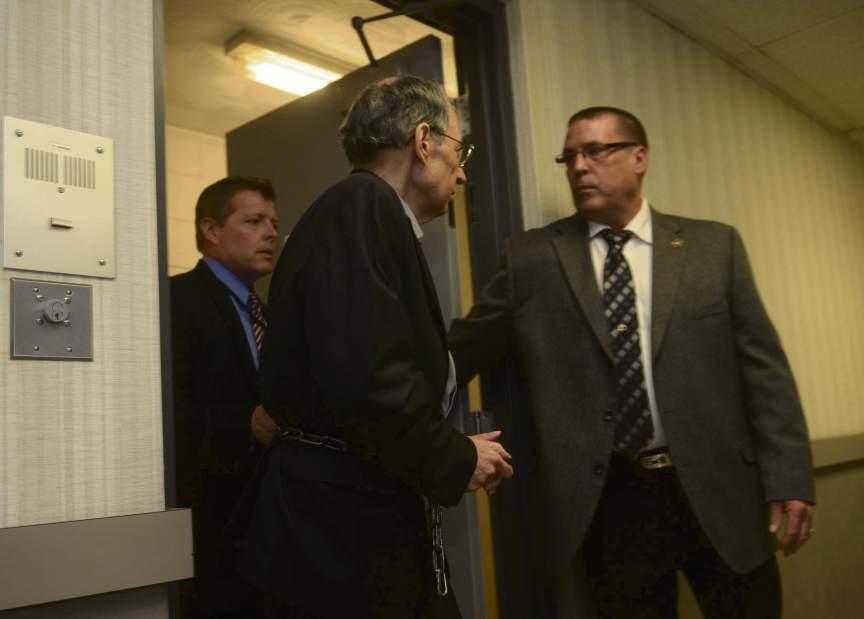 The Rev. Joseph Maurizio is led out of the courtroom in shackles by U.S. Marshalls on Wednesday, March 2, 2016, to an awaiting elevator after he was sentenced to 16 years 8 months of federal prison after being found guilty of sexually abusing children at a Honduran orphanage.
A Roman Catholic priest will serve up to 17 years in a federal prison for molesting boys at a Honduran orphanage, despite pleas for leniency from nearly a dozen friends and relatives who insisted he was falsely accused.
The prison term a federal judge imposed Wednesday on the Rev. Joseph D. Maurizio Jr., 70, of Somerset County is less than the 27 years prosecutors wanted.
"In light of the potential sentence ... we have to be fairly happy with the results today," said Maurizio's attorney, Steven Passarello of Altoona, following the sentencing hearing in U.S. District Court in Johnstown. "It's still a life term."
Prosecutors said Maurizio used a self-run charity based in Johnstown, Humanitarian Interfaith Ministries, to visit a ProNino orphanage near San Pedro Sula numerous times between 1999 and 2009, promising candy and cash to boys to watch them shower, have sex or fondle them.
Judge Kim R. Gibson sentenced Maurizio to 16 years, eight months in prison on two counts of engaging or attempting to engage in illicit sexual conduct in foreign places and one count each of possession of child pornography and money laundering.
Maurizio did not testify during his trial or comment before sentencing. Handcuffed and in leg shackles, the priest hid his face from news photographers and declined to comment as a U.S. marshal led him from the courtroom.
Through Passarello, he has maintained his innocence. He plans to appeal, Passarello said.
Two of Maurizio's sisters and nine other relatives, friends and former parishioners asked Gibson for leniency. They described him as a generous, caring priest who always put others' needs before his own, including those of the Honduran boys who benefited from the nearly $1 million his charity spent to build and maintain the orphanage.
Rose Mary DiLoreto, 74, said her brother "had a calling" to help poor children overseas, but when he did so, they came "after him in the worst way possible, with false allegations."
His sister Angela Maurizio, 63, of Windber said her brother "is not the monster the government insists he is."
Some who spoke on Maurizio's behalf blamed his convictions on a societal, preconceived notion that all accused Catholic priests are guilty.
"No matter how hard they try, a jury is unlikely to be completely impartial when a Catholic priest is charged with sex crimes," testified Daniel Thomas of Thomas Mills. "This has been a factor in his conviction."
Passarello questioned the timing of Attorney General Kathleen Kane's announcement Tuesday, a day before Maurizio's sentencing, of the results of a two-year, statewide grand jury investigation into the Altoona-Johnstown Catholic Diocese. The probe revealed an alleged cover-up lasting for decades of child sex abuse by predator priests.
"It was coordinated," Passarello said. "The timing was completely planned."
The grand jury's report lists Maurizio, the former pastor of Our Lady Queen of Angels Church in Central City, among dozens of diocesan priests accused of child sexual abuse but allowed to have contact with children. The diocese had an investigator translate the Honduran victims' claims and even contacted the FBI "to confirm an investigation was taking place," according to the grand jury's report, but did nothing when a "high-ranking Diocesan official" concluded "the alleged conduct was impossible."
Elizabeth Williams, the former president of ProNino USA who is credited with notifying the diocese in 2009 of the abuse, called Maurizio's sentencing a "milestone in a very tragic case of sex abuse against children."
But it will do little to help his victims, she said.
"Unfortunately, there is no punishment that will ever undo the harm that Father Joe perpetrated against these kids," said Williams after the hearing. "I am, however, hopeful that the sentence will in some small way validate their courage in coming forward, and in some small way contribute to their healing."
Williams blamed the diocese for failing to act for five years, with two former bishops allowing him to "freely interact with kids" until his arrest in 2014.
Williams said she will demand that Pope Francis refer the case to the tribunal he formed in 2015 to investigate bishops accused of covering up allegations of child sexual abuse.
Prosecutor Amy Larson on Wednesday said Maurizio "ruthlessly exploited" impoverished children by offering them gifts in exchange for sex. She described him as "a predator" who persuaded friends, parishioners and others to donate to the nonprofit he used to access the children.
Maurizio, who lists his net worth at $586,831, was ordered to pay a $50,000 fine and make $10,000 in restitution to each of two minor victims.
Gibson said he imposed a sentence below guidelines partly because the convictions were for two victims during a two-week time period in 2009. Maurizio has no prior record, served honorably in the Navy during Vietnam and will be vulnerable to abuse in prison, Gibson said.