Unanimous Agreement As Cardinal George Pell Told the Royal Commission He Was 'not Cut from the Same Cloth'
By Charles Miranda
Perth Now
March 2, 2016

http://www.perthnow.com.au/news/unanimous-agreement-as-cardinal-george-pell-told-the-royal-commission-he-was-not-cut-from-the-same-cloth/news-story/a6c1a46012b73e0266637c8373425874

IF THERE was a single line that attracted unanimous nods of agreement in Cardinal George Pell's third day in the witness box, it was that he was very much a unique character.

"They realised very clearly I was not cut from the same cloth," he told the child abuse royal commission hearing sitting in Rome to a couple of stifled chuckles in the room.

For anyone who has sat though his late night testimony there was never any doubt of that.

Never in the field of human conflict have so many, sought to deceive so few.

Cardinal Pell on Wednesday added to the list of those who have deceived him during his rise through the ranks of the clergy to where he is today.

In the second day of evidence, it was his diocese bishop and several colleague priests in a committee that marry priests to parishes, that actively sought to deceive him and in some instances lie about at least one of those priests being a paedophile.

That was largely in the 1970s and early 1980s.

But the cardinal's career carried on and so too did his cross-examination but again during the 1980s to 1990s the cardinal alleged more senior clergy had deceived him, this time his archbishop, his vicar and collectively the Catholic Education Office just to name a few.

The deception in all of these decades was the same — to keep him ignorant of the truth and thereby expose him to their own human frailties when it comes to dealing with paedophile priests.

Cardinal Pell told the commission he could not be held accountable for one particular priest, Father Peter Searson, who the commission heard was a dangerous sexual predator prone to killing birds with screw drivers, threatening to gut a nine-year-old girl as he held a knife to her chest, pulling a handgun on a boy who didn't do his gardening, torturing a cat and a catalogue of sexual abuse in the confessional box and elsewhere.

Rather than be sacked or arrested and charged, the church allowed Searson to carry on in the community because, Cardinal Pell by this stage an auxiliary bishop, told the hearing he did not have the knowledge of his crime to sack him.

That knowledge, from numerous complaints from parents, students and teachers, was simply not known by him because key clergy including the archbishop himself and all those who briefed him in the Catholic education Office kept it away, fearful he would expose their culpability in Searson's crimes.

Ignorance, the hearing heard, that was not wilful exonerates those who may have acted otherwise.

The mere fact Cardinal Pell could be so ignorant was branded as "completely implausible", by Gail Furness SC directing the commission's cross examination, adding it appeared his evidence was "designed to deflect blame".

Not true said the cardinal, as he too was a victim of a "cover up" several times, in several locations, by several men of the cloth.

Indeed many agreed at the end of a gruelling hearing day, he was not cut from the same cloth.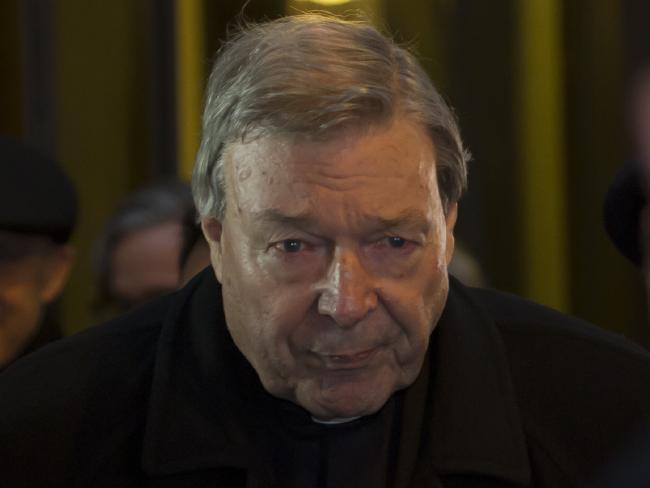 Cardinal George Pell claimed he too was a victim of several cover-ups by several men of the Catholic Church. Picture: David Mirzoeff / i-Images