Cardinal George Pell gives evidence in Rome to the royal commission into child sexual abuse: Day 4
By Shannon Deery
Herald Sun
March 2, 2016

http://goo.gl/f6GKVZ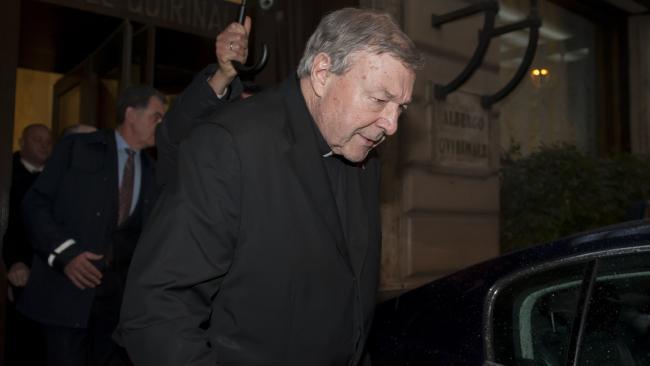 Cardinal George Pell leaves Hotel Quirinale in Rome after giving evidence to the royal commission.
Photo by David Mirzoeff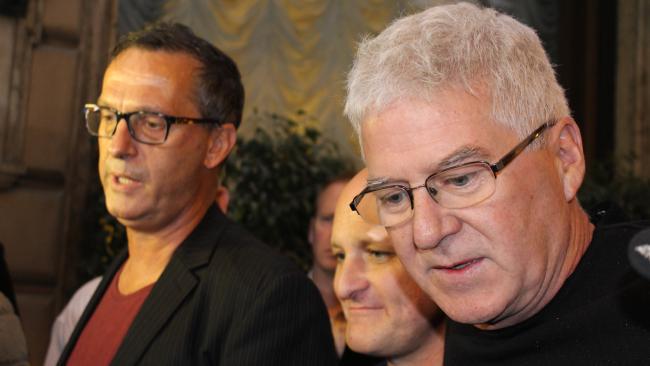 Abuse survivor David Ridsdale (left), Andrew Collins and Phil Nagle front the media outside the hearing.
Photo by Lloyd Jones


[with video]



[live stream]

CARDINAL George Pell has sensationally accused the Vatican of not backing his decision to force a paedophile priest to resign.

During his four days of evidence the cardinal accused a string of top church officials of covering up abuse, lying and deceiving him to protect paedophiles.

But in an explosive allegation today, the cardinal said was backed by documented evidence, he said the church's problem with handling abuse went all the way to Rome.

He said a decision to force Doveton priest Fr Peter Searson to resign in 1997, in line with church law, was not backed by the Vatican.

Fr Searson had fought the move, but rumours about him molesting and abusing kids were widespread.

Cardinal Pell admitted he was "in the loop" about Fr Searson from about 1991.

He said Fr Searson fought his resignation and said following the decision: "Rome found against me".

"I'm not sure of the exact wording, but they didn't support the way things had been done or my decision. There is evidence available on this.

"I was quite clear in my obligation to the community, so I must say I just ignored the Roman decision and Rome didn't push the point."

In other evidence today the cardinal admitted he never stepped in to stop child abuse, unless asked.

The cardinal repeatedly tried to defend his inaction on abuse by saying he stepped in when asked, but otherwise did nothing.

He was forced to defend inaction over a complaint against Christian Brother Ted Dowlan in the early 1970s, and a complaint about Gerald Ridsdale by his nephew David in 1993.

"I didn't withhold any such meagre information as I had," he said of the complaint about Dowlan who continued to abuse children until the 1990s.

It was suggested that Cardinal Pell had information about Dowlan's abuse that he withheld from the Christian Brothers.

"If I had been asked, I certainly would have proffered that view and any contribution that my evidence might have made was, I would suggest, not over significant and somewhat minimal."

"I had no idea that the Christian Brothers were covering up in the way in which it's now apparent.

"I mentioned it to the principal and he said the matter was being looked after."

Former St Patrick's College, Ballarat, principal Br Paul Nagle has told the commission he never received the complaint.

Cardinal Pell also said he did nothing after a complaint by David Ridsdale, again because he wasn't asked to.

He also said as Melbourne's auxiliary bishop, it wasn't a matter for him to become involved in because the abuse was perpetrated in Ballarat.

Cardinal Pell's failure to act on abuse prompted commission chair Peter McClellan to ask: "Why was it necessary for people to ask you to do something, rather than for you to accept the information and initiate your own response?"

"Obviously that is not the case," Cardinal Pell said.

He said as he climbed the ranks of the Church he had become more aware of his obligations but said: "I don't excuse my comparative lack of activity".

Cardinal Pell will meet with abuse survivors at 9.30pm Melbourne time tonight.