Priest gets 17 years for molesting Honduran children
WPXI
March 2, 2016

http://www.wpxi.com/news/news/local/priest-gets-17-years-molesting-honduran-children/nqcCr/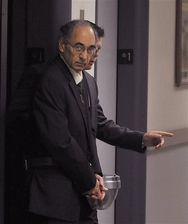 Rev. Joseph Maurizio is led into Federal Court for jury selection in Johnstown, Pa., Wednesday, Sept. 9, 2015, by U.S. Marshals. A key witness in the trial of the U.S. priest charged with traveling to Honduras to molest poor street children during missionary trips has recanted on the stand.


[with video]



JOHNSTOWN, Pa. —

But a federal judge agreed to less time due to Maurizio's age, charitable works and other legal factors.

Maurizio turned his back and hung his head after leaving a federal courtroom after learning he will spend 16 and a half years in prison.

"I think it was coordinated and the timing was completely planned," said Steven Passarello, Maurizio's attorney.

The 71-year-old priest had a number of supporters to speak to the judge, begging for leniency. Supporters, like Loretta Jean Tay thinks he is being targeted.

"I don't think priests should be targeted," Tay said. "All these crimes, it's in the general population, it's in society. Certain people shouldn't be targeted."

The Roman Catholic Diocese of Altoona-Johnstown suspended Maurizio after federal prosecutors filed charges in September 2014. His attorney said the priest is doing fine.

"He's doing okay for a 71-year-old priest, even with the dramatic deviation from the sentence is still a long time," Passarello said.

Prosecutors contend Maurizio used a self-run Johnstown-based charity to travel to an orphanage for several years ending in 2009. He was convicted of promising candy and cash to two boys to watch them shower, perform sex acts or fondle them.

In addition to prison time, Maurizo was ordered to pay both victims $10,000 and must pay a fine of $50,000 within ten days of Wednesday's sentencing.

The defense says Maurizio maintains his innocence and plans to appeal.