Hugs and Tears As Pell Finishes Evidence
Herald Sun
March 3, 2016

http://www.heraldsun.com.au/news/breaking-news/abuse-survivors-up-for-pell-meeting/news-story/d25c6636d70f398768bb84b1d0b83acb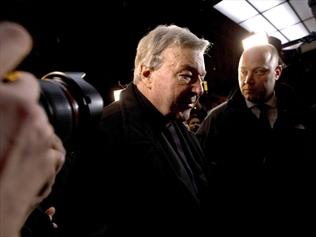 The Pope is getting daily updates on Cardinal George Pell's evidence to the abuse royal commission.



Hugs and tears as Pell finishes evidence

Survivors of child sex abuse who were crowdfunded to Rome to see George Pell give evidence before a royal commission say they've achieved "times a thousand" what they set out to do.

The group, many of whom were sexually abused as children by priests and brothers in the Victorian town of Ballarat, hugged and shed tears at the end of Cardinal Pell's four nights of testimony from a Rome hotel.

The survivors vowed to continue their campaign to ensure children are protected from sexual abuse, including ensuring the Catholic Church changes its systems to prevent such abuse.

They meet with the cardinal later on Thursday and hope to meet with Pope Francis on Friday to put their case and explain the reality of trauma for abuse victims.

Survivor group spokesman David Ridsdale said they had achieved "times a thousand more" than they set out to do, with their campaign gaining global media attention.