Pell denies attempt to silence victim
By Peter Trute
7 News
March 03, 2016

https://au.news.yahoo.com/a/30997378/pell-to-face-victims-lawyers/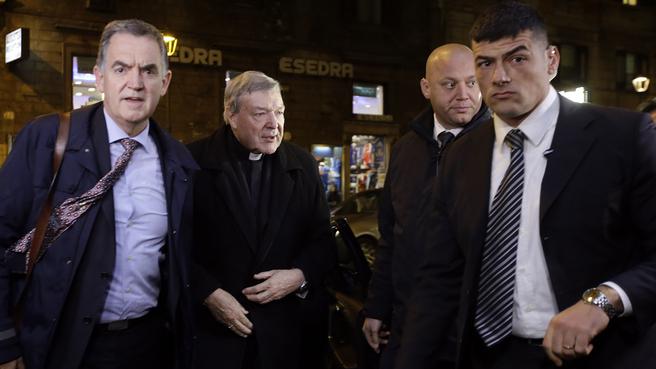 Cardinal George Pell is set to be questioned by sex abuse victims' lawyers at the royal commission.
Cardinal George Pell was told over four decades ago that a pedophile Christian Brother was "misbehaving with boys".
Asked in the child abuse royal commission on Thursday what he did with this very serious matter, Cardinal Pell replied: "I didn't do anything about it."
"The boy wasn't asking me to do anything about it, but just lamenting and mentioning it," Cardinal Pell told Commissioner Peter McClellan.
With the experience of the intervening 40 years since that 1973 conversation, Cardinal Pell accepted he should have done more but, he said, "people had a different attitude then" and the evidence was unspecific.
Eventually he raised the matter with the chaplain of St Patrick's College, the Ballarat school where Brother Edward Dowlan was violently abusing boys, and was satisfied when he was told the matter was being looked after.
Commissioner McClellan asked the cardinal why he had to be asked to take action.
"You and I have had this discussion on more than one occasion," he said.
The Cardinal also told the commission he had done nothing to help David Ridsdale, the nephew and victim of notorious Ballarat pedophile priest Gerald Ridsdale.
Cardinal Pell was a family friend of David Ridsdale and David's father was a carpenter who did work for the diocese.
In 1993 David told him of his suffering in a phone call.
Mr Ridsdale - one of the survivors of abuse who travelled to Rome to watch Cardinal Pell after he was ruled too ill to return to Australia - told Cardinal Pell, then a Melbourne auxiliary bishop, that his family was "struggling".
Cardinal Pell never provided any help to David, the commission heard, or tried to obtain counselling for him.
"If he had asked me to do that I would certainly have been happy to do so," the cardinal said.
He repeated his denial of David Ridsdale's claim that he tried to silence him, allegedly asking what it would take to keep him quiet and that the 1993 phone call between the pair ended with Mr Ridsdale saying "f*** you George and everything you stand for".
The cardinal made strong denials to the evidence of a number of witnesses who have told the commission he ignored their complaints about pedophile priests and brothers.
Cardinal Pell has now ended four days of evidence to the commission, speaking via video link from Rome after it was accepted he is too ill to fly back to Australia.
In the course of his evidence he said he was deceived by a bishop, an archbishop, a priest and education officials about what was known about the offences of pedophile clergy operating in the diocese of Ballarat in the 1970s and 1980s.
He admitted knowing of some concerns, including those held by parents about Doveton parish priest Peter Searson who was entering the boys' toilets at the parish school, watching boys in the shower and taking children into the presbytery without permission.
He did not investigate the matter, he said, because it was the responsibility of the Catholic Education Office and the vicar-general, who served the Archbishop.
"If they'd asked my opinion I would have given it," he said.
He also said he had heard rumours about inappropriate behaviour by Ballarat Christian Brother Gerald Fitzgerald and Mildura priest John Day but took no action.
Survivors who watched Cardinal Pell in Rome were unimpressed with his evidence.
"The Ballarat survivors came to Rome to hear truth and honesty from George. We feel we have been deceived and lied to," survivor Philip Nagle said.
"We feel George has not been honest nor truthful. George will have to live with this chosen course."