With '7 ? 7 Laments,' Artist Explores Revelations of Sexual Abuse Within the Church, Evokes Discord with 'rays of Hope'
Eastern Mennonite University
March 5, 2016

http://emu.edu/now/news/2016/02/with-7x7-laments-artist-explores-revelations-of-sexual-abuse-within-the-church-evokes-discord-with-rays-of-hope/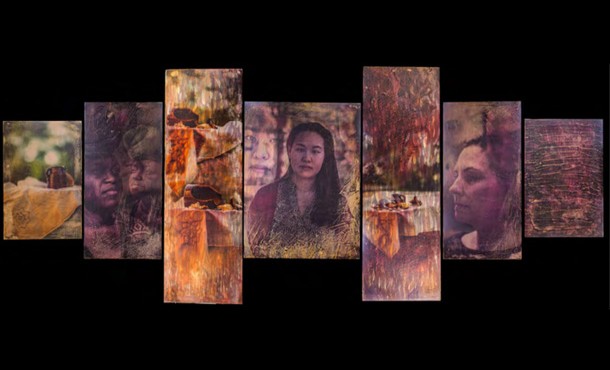 "Shattered Trinity: The Broken Table" by Professor Jerry Holsopple, is the centerpiece of the exhibit "7 x 7 Laments: For An Age of Sexualized Power," completed while he was on sabbatical as artist-in-residence at the Luce Center for Art and Religion in Washington D.C. The exhibit is at the Margaret Martin Gehman Art Gallery at Eastern Mennonite University.



When Jerry Holsopple entered his sabbatical at Wesley Theological Seminary's Luce Center for Art and Religion last year, he wasn't sure where it would take him. It ended up being a journey through new ground and some rather dark valleys.

Holsopple, professor of visual and communication arts at Eastern Mennonite University, heard about the Luce Center's Artist-in-Residence Program from a friend. It fit what Holsopple was looking for: a place where he could just focus on art, away from research and syllabi. The program provided a small stipend and an apartment on campus near a large and quiet studio space.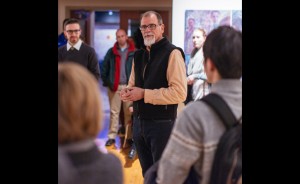 Jerry Holsopple speaks during an opening reception of his exhibit at the Margaret Martin Gehman Art Gallery at Eastern Mennonite University. (Photo by Joaquin Sosa)



"Why don't you apply?" his friend asked. And so he did.

Best known as a videographer and photographer, Holsopple instead spent his fall semester sabbatical in Washington D.C. engaging in a newer pursuit: painting. He says he "took the risk to learn how to paint" during his last sabbatical, a 2009-2010 Fulbright trip to Lithuania.

On that sabbatical, he learned the art of creating or "writing" icons in the Orthodox tradition. This time, he explored some darker places: stories of sexual abuse and the culpability of the church in some of those stories, particularly the revelations of sexual abuse by Mennonite theologian and church leader John Howard Yoder.

Holsopple explored this topic through a process of photo transfer. He began with thick, broad splashes of paint on each panel, then transferred inks from his photographs onto the paint. Using pallet knives, sandpaper and other tools, he added different textures to each piece, revealing or hiding various parts to create the desired effects.

"I began to think about how paint might change things," Holsopple says. "With the influences of color and texture, it can be very abstract." The very act of ripping and tearing into the paint with the sandpaper and knives was a metaphor in itself, he says, noting that it can be painful to get underneath the stories and reveal truth.

The subjects of the photos in about 75 percent of the panels are students or staff members from Wesley Theological Seminary, who interacted with Holsopple during his work.

"They said, 'I'd be happy to be part of this project,' " Holsopple says. "That's remarkable considering the project is not a real happy topic."

The various stages and layers of the paintings could take up to two days to dry, so Holsopple would have as many as 15 panels in process at any given time. In all, he created nearly 60 panels, most of which are part of an exhibit at EMU that debuted Feb. 12 in the Margaret Martin Gehman Art Gallery. Titled "7 x 7 Laments: For An Age of Sexualized Power," the exhibit drew a large crowd to the opening.

Holsopple says in the 52-page artist's statement that the title is a deliberate reference to the "classical biblical text about forgiveness (70 times seven)," but with a "twist of numbers … to suggest that I and the church need to enter the depths of lament before forgiveness is even broached."

"I started the first panel or two more timidly, then wondered what might happen, so I tried different things," Holsopple says. "I wanted to create discord and chaos—the emotional space this is in—a dark and painful place, but maybe with some rays of hope coming through. I hope it changes what people experience."

He says the act of painting itself was a way for him to deal with the difficult emotions brought up by the topic. He left some panels with no images, only the abstract swaths of paint, to describe his own journey through the process. The centerpiece of the show, he says, is "Shattered Trinity," which features three women and considers the ways that sexual abuse breaks trust and destroys safe spaces.

"It's part of my lifelong commitment to truth-telling as an artist, a commitment to relationships and people," Holsopple says. "I'm not good at doing art that's just beautiful. It's mostly dark."

In turn, he hopes that others will begin thinking and talking about these topics in meaningful ways. And he hopes his art students might gain some lessons not easily grasped from textbooks.

"When my students walk in there, I hope they're challenged—aesthetically, and in what they do and how they create art," Holsopple says. "I want them to realize that experimenting and taking risks is part of what it means to be an artist."