Jury Finds Cowboy Preacher Guilty of Sex Abuse
KWBE
March 5, 2016

http://kwbe.com/local-news/jury-finds-cowboy-preacher-guilty-of-sex-abuse/

A Fremont County jury has found the former pastor of Sidney's Cowboy Church guilty of sexual abuse and lascivious acts.

The verdict against Roger Craig Kissel, 67, comes after a four-day trial that included testimony of a girl who was five when she told her mother about sexual contact.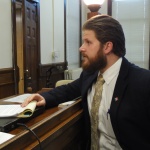 Corey Becker




Defense Attorney Michael Murphy said Kissel had been set up for a sexual abuse charge. He told the jury the girl told her mother in July of 2013, but the mother did not report it to police until late in September.

Those testifying included Kissel and his wife and the girl's mother.

In her closing statement, Assistant Attorney General Denise Timmons told the jury that if there are conflicts in evidence, it comes from the adults. "The most credible person is that girl," she said. " She was a five-year-old girl who wanted the abuse to stop."

Fremont County Attorney Corey Becker said it was a difficult case to bring to trial.

Becker: "Sexual abuse cases are never easy because it's a crime of secrecy. It's a crime that happens in the dark. The defendant chooses where to commit to this crime. He chooses not to do it in front of people."

During his testimony, Kissel talked about his moral and religious convictions and life-long contributions to society.

Becker said the county was interested in justice for the girl.

"The Fremont County Sheriff's Office and the Fremont County Attorney's Office isn't going to shy away from trying cases."

The jury deliberated about 2.5 hours. Sentencing is scheduled May 4.