Public asked to lay flowers on the graves of Magdalene women for Mother's Day
By David Kearns
Irish Independent
March 6, 2016

http://www.independent.ie/irish-news/public-asked-to-lay-flowers-on-the-graves-of-magdalene-women-for-mothers-day-34515476.html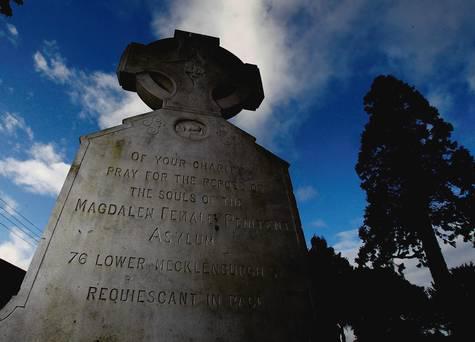 A memorial plaque to victims of the Magdalene Laundries in Glasnevin Cemetery, Dublin.
To mark Mother's Day members of the public are being asked to place flowers on the graves of Magdalene women.
A number of events are taking place today to honour the thousands of women who died in Magdalene Laundries, and Justice for Magdalenes Research (JFMR) is calling on the public to visit these graves and "lay a flower for those who lived and died behind convent walls".
The Magdalene laundries, also known as Magdalene asylums, were institutions, generally run by the Catholic Church, that ostensibly housed "fallen women".
Continuing to operate well into the late 20th century, an estimated 30,000 women are believed to have been confined in these institutions.
At least 1,663 former Magdalene women are buried in cemeteries across Ireland, many interred in unmarked graves.
Among the events this Mother's Day include Glasnevin Cemetery in North Dublin and St Joseph's graveyard, Tory Top Road in Cork, which both begin at 11:30am.
From 2pm, groups will gather to pay their respects at St Stephen's cemetery in New Ross and Ballygunner cemetery in Waterford.
While at 3pm there will be a remembrance service for members of the public in Bohermore cemetery in Galway and Mount St Lawrence cemetery in Limerick.
New Ross organiser Nancy Rochford-Flynn said: "Last year's event attracted a crowd and afforded the community of New Ross the opportunity to come together peacefully and respectfully to commemorate these women through poetry, song, reflection and the laying of flowers."
The former Good Shepherd's Magdalene Laundry was situated at the Mercy Convent in New Ross, and was one of ten laundries in Ireland. It closed its doors in 1967.
"St. Aidan's Industrial School was demolished in December 2015. The Magdalene grave at St. Stephen's cemetery remains the only focal point for survivors and family members," Ms Rochford-Flynn added.
Three years ago, Taoiseach Enda Kenny issued a formal state apology to women who had been sent to the Magdalenes laundries, describing the institutions as "the nation's shame".
"I, as Taoiseach, on behalf of the State, the Government and our citizens deeply regret and apologise unreservedly to all those women for the hurt that was done to them, and for any stigma they suffered, as a result of the time they spent in a Magdalene laundry."
Many Irish state institutions, as well as other prominent well-known Irish businesses, made use of the Magdalene laundries, where many of those confined did not receive payment for their work.