Back from the brink: taking back control after sexual assault
By Melissa Cunningham
Courier
March 6, 2016

http://www.thecourier.com.au/story/3771972/back-from-the-brink-taking-back-control-after-sexual-assault/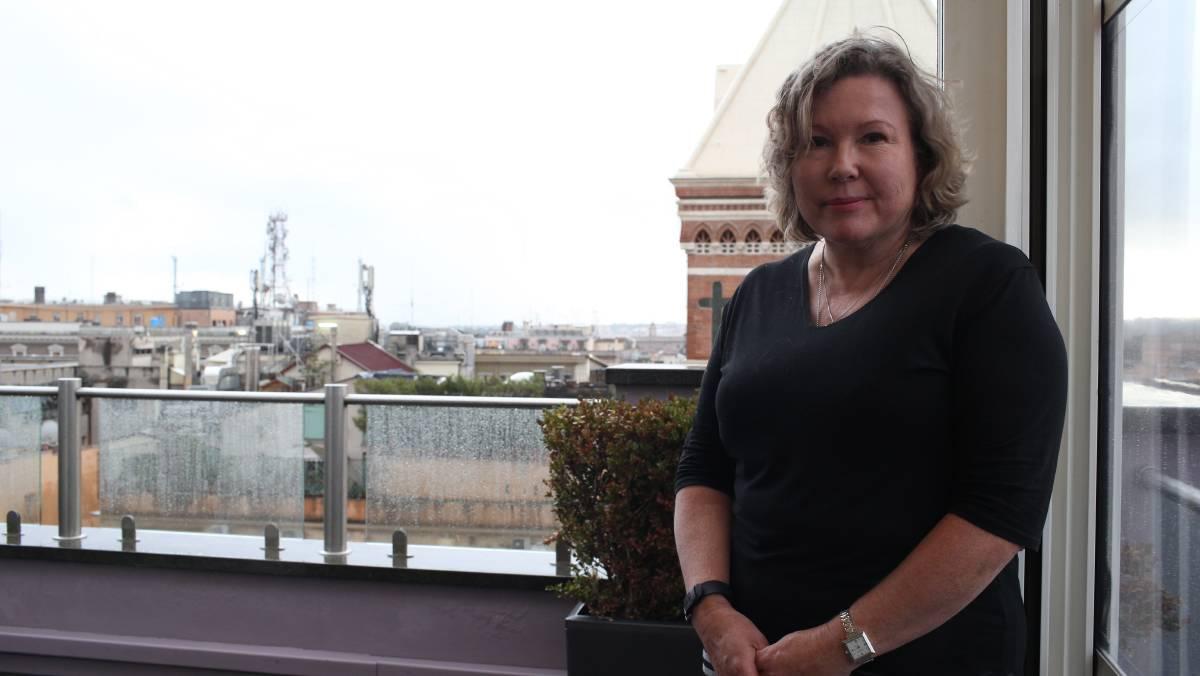 Senior Counselor Andrea Lockhart with Ballarat CASA in Rome last week with the survivors.
Their extraordinary bond was formed under the most harrowing of circumstances.
They call each other "brothers." They call themselves survivors.
They're the the men who form Ballarat's Centre Against Sexual Assault mens' survivor group.
All have survived sexual abuse in some form but many suffered it at the hands of Ballarat clergy.
Since it was established in 2013 in response to the Victorian Parliamentary Inquiry into Child Sexual Abuse the highly successful CASA men's group has grown to more than a 100 members.
Behind the scenes, CASA senior counsellor Andrea Lockhart has worked tirelessly for years, directly with the men to rebuild their shattered lives.
Many of the men credit her with bringing them "back from the brink".
Last week, Ms Lockhart was right beside them on arguably their biggest step in their a journey so far: A trip to Rome to bear witness to Cardinal George Pell's evidence to the Royal Commission into Institutional Responses to Child Sexual Abuse.
More than 16,000 kilometres away from home, Ms Lockhart said the geographical location and pressure of Cardinal Pell's long-awaited testimony meant the group's trip to Rome was more stressful for survivors than any of the public hearings preceding it.
It was a trip so daunting, many of the men would have been unable to undertake it three years ago.
"Some of the men were still not ready to make the journey," Ms Lockhart said. "But the ones who are here (in Rome) are the ones who were ready to come."
Emotions surface during any Royal Commission hearing and Ms Lockhart said it was paramount men received support not just during the inquiry but in the build up to the event and the aftermath.
"We've seen it during the hearings, often they will be on a bit of a buzz but they always crash afterwards," Ms Lockhart said.
"It is a whirlwind (for victims) and they've got to just withstand it and then cope with it after. I'm already thinking about what we will do, in the next week, or the next few weeks to support the men when they return home."
Reuniting the men with the other survivors back home was paramount.
"The support they get from the group is really powerful," Ms Lockhart said. "That will ground them back into reality.These all contribute to the group, it's what they bring to it. It's their willingness to share, to be vulnerable, to open themselves up, that's quite a commitment and what it does is create a rich bond between them. A safe place for them to just be."
Ms Lockhart said the impacts of sexual abuse in men are highly complex. At the heart of CASA's work is a pursuit to help them regain power over their lives and rebuild their self-esteem.
"Sexual assault is ultimately about power and control," Ms Lockhart said. "What's fundamentally important is that the men have control over any decisions they make on what is happening. We don't want to replicate the powerlessness in them. Men in particular are very isolated by sexual assault because they they don't talk about it."
Ms Lockhart said connecting with other men normalises the impacts of the abuse for victims.
"Even just the normalising of the impacts really assists them," she said. "We've got men who were abused in a family context, because in the end, it's all sexual assault regardless of who perpetrated the abuse and the impacts are the same for people so that's what helps in a group context. They realise what they are struggling with, it's not necessarily their craziness but the impact of the trauma."
Since the group was formed in 2013, it has continued to grow.
Monthly meetings were moved from the CASA office in Ballarat to the city's Trades Hall and two other CASA workers take turns in co-facilitating the group with Ms Lockhart.
"We have always set the group out around meals, so we'll have a pizza or that sort of thing," Ms Lockhart said.
"Coming together around food is always a safe thing, because it relaxes people."
Ms Lockhart said for the men seen giving evidence at the Royal Commission, what's not shown is the long journey it took to get them there.
"It's a slow and gradual building up of trust," she said. "With sexual assault fundamentally people blame themselves on some level. For men, in society, they see themselves as supposed to be strong and tough, but they weren't men when it happened, they were boys. It wasn't their job to be strong and tough. For them to shift that blame and realise it wasn't their fault is a big load off them but it's a slow process. Bit by bit they start to trust each other. You can see them blossom."
She said the Royal Commission has sparked unprecedented public dialogue about sexual assault and created awareness about the rippled effects the abuse can have.
"There is something very powerful about officials in society believing them," she said. "It's also removed the secrecy and silence about it so people are talking about."
Many of the men come from an era where sexual abuse wasn't spoken about but the acceptance the men get from other survivors breaks down barriers.
"You start to see things like a change in their appearance," she said. "They start to buy themselves new clothes and even that is an indication that they are starting to believe in themselves and feel a bit more proud of themselves because it's an external manifestation of feeling a bit more confident. They start taking more care of themselves."
Ms Lockhart said grass roots community driven campaigns like Ballarat's Loud Fence were educating the community and wrapping support around survivors.
"The trauma affects so many aspects of their lives," she said. "It impacts their relationships and their sense of trust and sense of confidence. They carry it with them.
"They often carry shame and the blame but the blame lies with the perpetrator. Loud Fence has made a big shift because they can see the physical manifestation that the community is supporting them and it's really given them confidence."
Ms Lockhart said the groups trip to Rome had been full of "incredible moments" including survivors speaking out about their abuse to the media for the first time..
CASA are bracing for an influx of victims coming forward in the wake of the recent public hearings.
In the last fortnight alone, the service has seen a 25 per cent increase on the already-high numbers coming forward.
"It's critical they are given support as soon as they come forward because there is a only a small window and they could withdraw again," she said.
Ms Lockhart said CASA supported the idea of a national redress scheme which could provide personalised and ongoing care for survivors of sexual abuse.
"There will be times in their lives when things will come up to the surface again and they need to be able to access support," she said.